Curt Dawe was born in Denmark on September 26, 1917. He commenced his career working for Danish travel agencies, at Bennetts Rejsebureau and Nordisk Resebureau. He joined SAL after World War II, as Information Officer and 2nd Purser on the MS Gripsholm and the MS Kungsholm. In 1955, at the age of 37, Dawe succeeded Hugo Billén as Chief Purser on the MS Stockholm. He retained the position as Chief Purser on the SAL liners, heading the "hotel & restaurant" department on board, until 1975.
During nearly 30 years, Curt Dawe, sailed on the SAL fleet, between the most exciting ports in the world, knowing his way around Rio de Janeiro, and Hong Kong, just as well as in New York City. As Chief Purser, he entertained and dined with aristocrats, multi-millionaires and world celebrities every day, on hundreds of cruises and Atlantic crossings.
Dawe served on the MS Stockholm at the time of the collision with Andrea Doria. He was later commended by the United States Department of Justice for his actions immediately after the accident during the MS Stockholm's return voyage to New York.
Curt Dawe passed away in Denmark in 1994.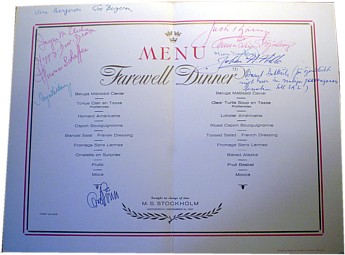 MS Stockholm's Christmas Voyage 1957
A First Class Farewell Dinner Menu featuring the
autograph of opera tenor Jussi Björling
and his wife Anna-Lisa.
Also on this crossing:
Professor Tor Bergeron (Uppsala University),
and his wife Vera (maiden name Romanovskaja).
From the Curt Dawe collection.
Click on the image to see what they had for dinner.