Stockholm of 1938 and 1940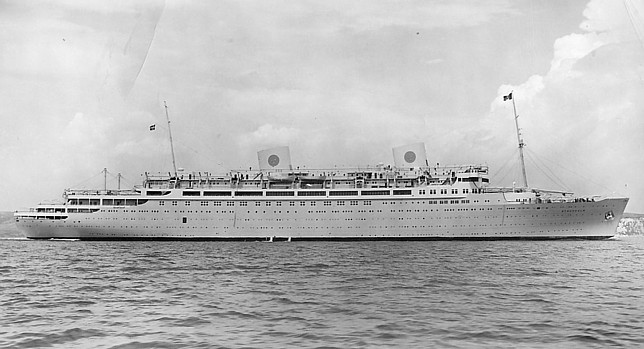 Stockholm 1938 and 1940.
From the Curt Dawe collection.

Two ships named Stockholm were built in Italy at Cantieri Riunti delli Adriatico, Monfalcone. These ships never sailed for SAL. The first ship was launched on May 29, 1938, On December 19 she was destroyed by fire. The nearly completed ship caught fire at Monfalcone during the night, strong winds and toxic smoke hampered fire fighting, and the large quantities of water pumped in to her caused a loss of stability and she sank at her berth. Investigation on causes of the fire were inconclusive, but she was beyond salvage.
A settlement was reached, and the agreement from 1936 was to be fulfilled. Equipment that had not yet been installed in the damaged ship was to be used in the new vessel. Parts of the engines that were undamaged were also to be used. The new ship was launched in 1940. She was sold to the Italian government in 1941 and renamed Saubadia. Sank outside Trieste in 1944.
---
Patrik Lindmark has informed us of an Italian website
with photos, and a film clip, showing the Stockholm of 1940.

See the photos and the film clip here.
The instructions are in Italian. Use Google Translate,
if necessary, to translate the site into your own language.
---
Read about the Stockholm of 1915
Read about the Stockholm of 1948
---