S/S Drottningholm
This card was posted in
Göteborg, February 2, 1924,
to Miss Hildur Karlsson,
Stockholm.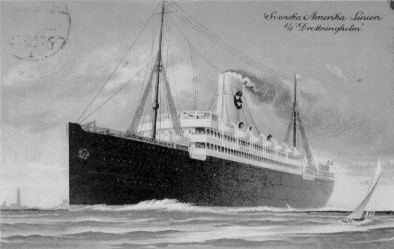 "My best wishes and thanks.
Think of me some time.
Your devoted Alice."
| | |
| --- | --- |
| Original name: | Virginian, (Allen Line) |
| Shipyard: | A Stephen & Sons, Glasgow |
| Year: | 1904 |
| Tons: | 11,285 |
| Delivered to SAL: | 1920 |
| Sold: | 1948 |
| Sold to: | Home Lines |
| Renamed: | Brazil |
| Today: | Scrapped in 1955 |
The Virginian and her sister ship Victorian were the first oceangoing merchant ships to employ steam turbines.
After having been acquired by SAL, the Virginian was renamed Drottningholm and was refitted with geared turbines in 1922.
Source: The Golden Age of Shipping, Brassey's (UK) Ltd. 1994
The Drottningholm served SAL until 1948 when she was sold and first renamed Brazil, later Homeland.
When the ship was dismantled in 1955, she was the oldest transatlantic passenger liner in service.
During her Swedish American Line years she had carried 222,925 passengers.

Passenger List from the Drottningholm, January 1923


Ken Sandholm has contributed this photo of
a rare luggage label from his mother's January 1948
passage from Göteborg to New York on the Drottningholm.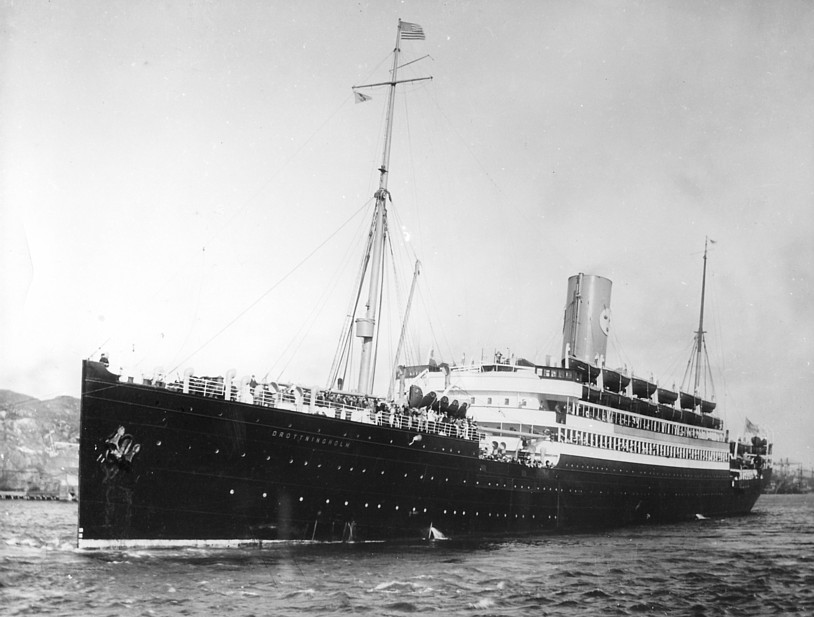 From the Dawe collection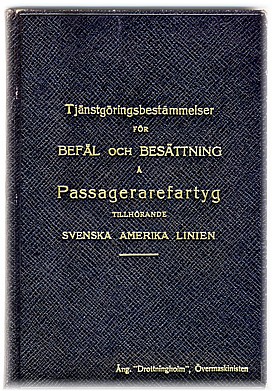 Rule book for Officers and Crew on
Passenger Ships Belonging to
The Swedish American Line
From the Dawe collection

Drottningholm 3rd Class
It is the duty of the 3rd Class Chief Steward:
to supervise that male passengers do not enter the female departments, and that passengers, except in the case of illness, leave their cabins at the announced time for cleaning, and that female passengers are in their cabins by 10 p.m.

to ensure that no unauthorized persons visit the 3rd class departments. 1st and 2nd class passengers have no reason or right to visit or intrude to that area, unless they have the written permission by the Captain or the Purser.
Bartenders
The Bartenders will keep the bars open and service obtainable therein at hours set by the Company. In 2 nd and 3 rd class, the bartenders will also serve beverages ordered in the dining room. In the 3rd class dining room and bar, only beer and soda is to be served.

In the 1st class beverages may be served in exchange for a signed receipt, for which payment is to be collected on the day before arrival, at the latest, after which only payment in cash will be accepted.

In 2nd and 3rd class, beverages may only be served in exhange for payment in cash.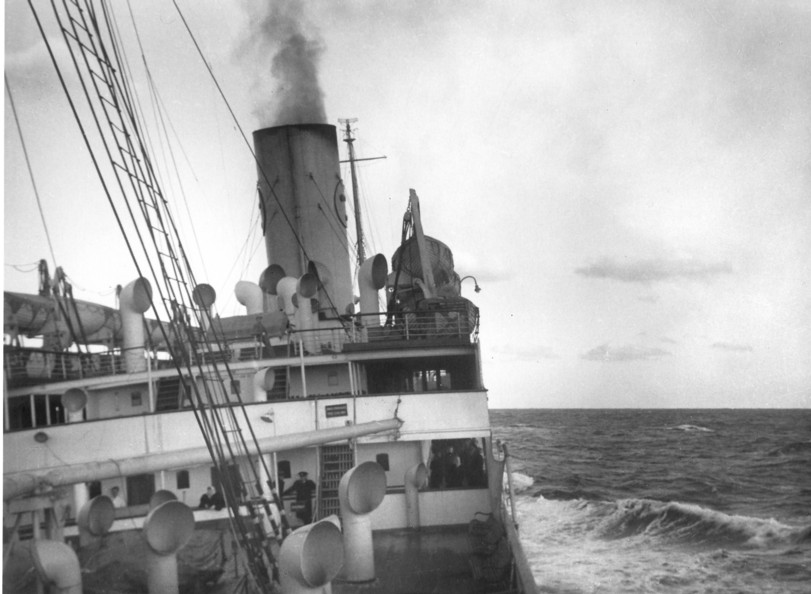 ---
The photos below are from the Lindblad collection. Read more about Maurits and Anna-Greta Lindblad, doctor and nurse during the 1930's here.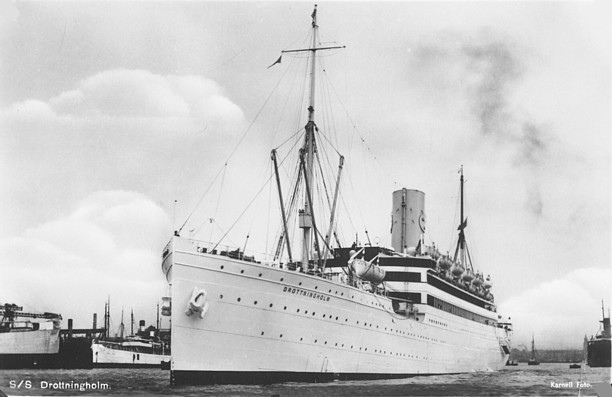 The S/S Drottningholm.
Lindblad collection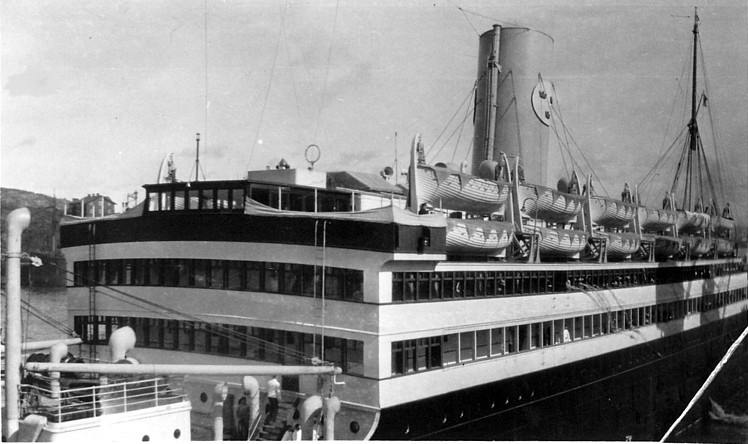 The S/S Drottningholm.
Lindblad collection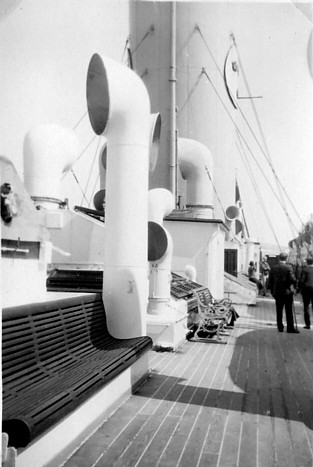 The S/S Drottningholm.
Lindblad collection
---
The Mercy Ship

During World War II, the Drottningholm was chartered to the United States, British and French governments for the exchange of diplomats and prisoners of war. She made 14 such voyages and carried a total of 18,160 passengers.
For more information about SAL's operations during World War II,
read about the repatriation voyages.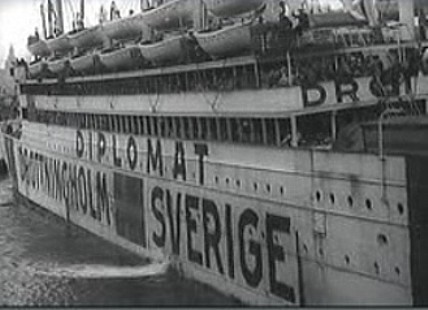 Read the story of a RAMC medical orderly returning home from a POW camp via Gothenburg.
For an eye-witness report of the mercy ship Drottningholm, read about Carl-Otto Claesson, who served 32 years on the bridge.
See a "March of Time" film cliip, showing Drottningholm arriving in US in 1942 with
diplomatic officers leaving Axis nations. The link connects to the Steven Spielberg Film and Video Archive at US Holocaust Memorial Museum. Many thanks to Susan Pentlin for this tip.Please note that you can view the clip in full screen mode by a right-button click on the film clip, and choosing zoom.
There is another film clip of the Drottningholm arriving in NY Harbor in 1940. The ship carried Rabbi Joseph I. Schneersohn (1880-1950), the Lubavitcher Rebbe, to freedom from war torn Europe. The film clip is from Lubavitch archives. (Link contributed by David Shatz.)
See a photo of wounded British POW's on the Drottningholm.
See interior photos of Drottningholm
Olympic Athletes Return to Sweden
on the Drottningholm in 1932
Swedish athletes return from the 1932 Olympic Games in Los Angeles on the Drottningholm.
---
The photos beolw have been contributed by Sean Fisher of Melrose, MA.
Sean Fisher's great grandfather, Joseph C. Langer, sailed from New York on July 27, 1946, to visit
his father in Aalborg, Denmark. The three photos below show the Drottningholm departing.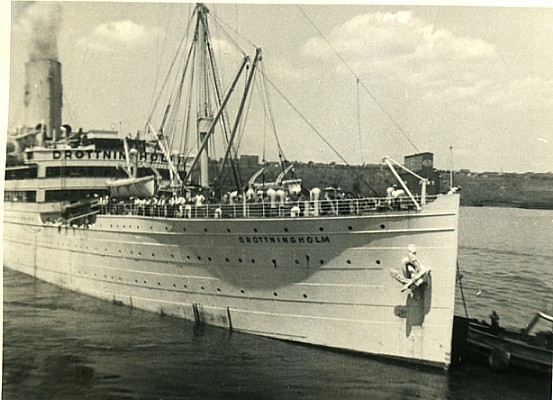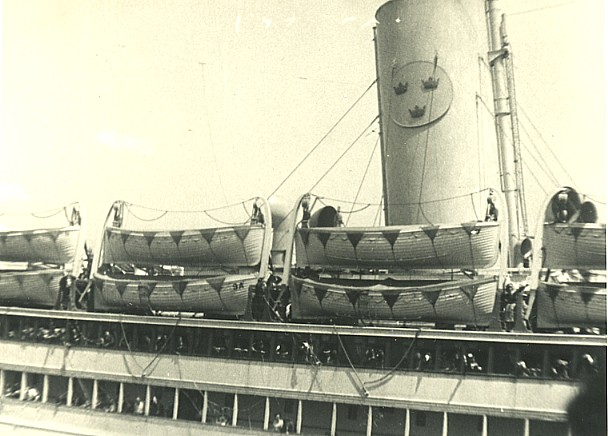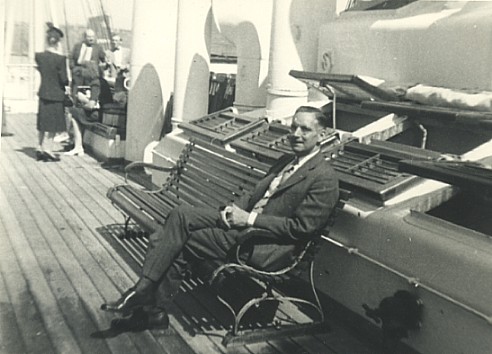 Mr Joseph C. Langer of Norwood ( Philadelphia), PA, (1893-1984).

Greta Garbo's first voyage to the United States
Passenger list from
Greta Garbo's first voyage
to the U.S.

Greta Garbo and director,
mentor Mauritz Stiller
on the list's supplement

Contributed by Dan Baker

---
Many thanks to Chief Steward C-G Quant's son Göran Quant for the photos below.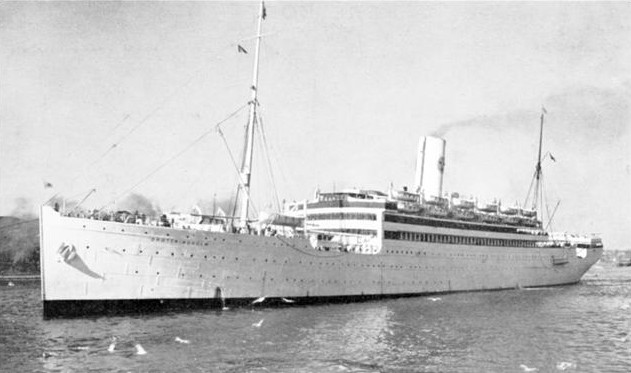 Drottningholm.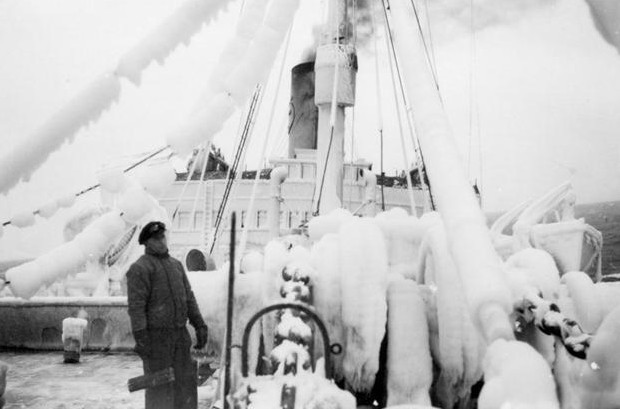 The North Sea in February 1948.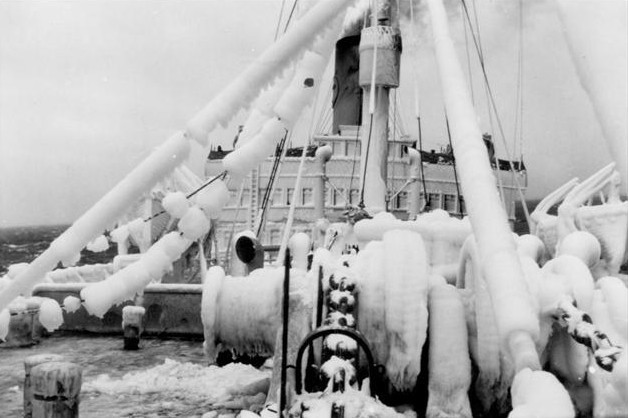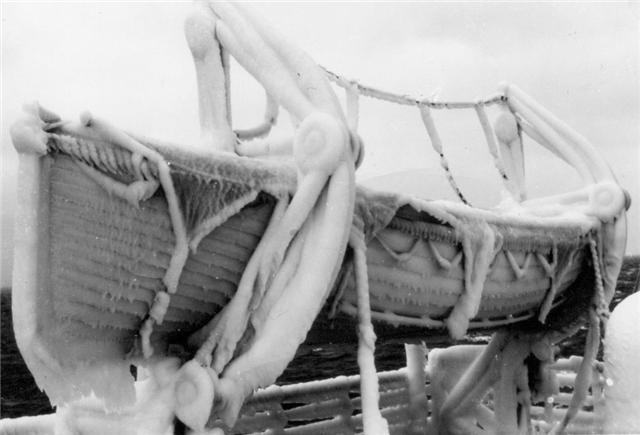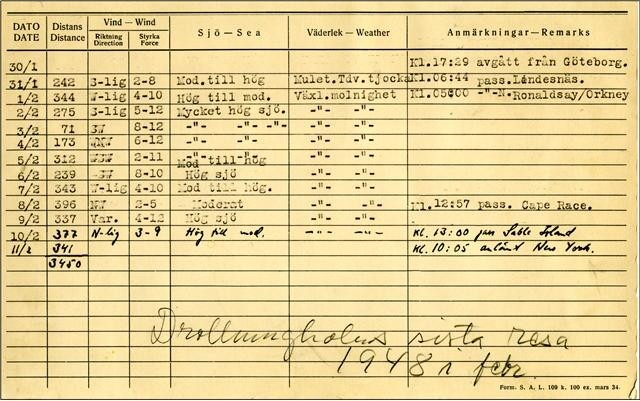 Weather log from Drottningholm's last voyage from Gothenburg to New York, February, 1948.
Wartime memory of Drottningholm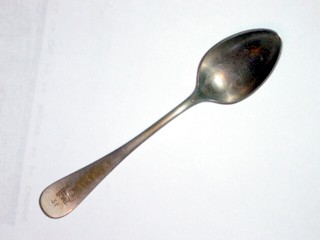 Wolfgang Hochman was exchanged on the Drottningholm's August 1944 voyage to England. He was about 9 years old then. He has kept this spoon all these years since as a reminder of the voyage away from occupied Europe. Wolfgang's father was a British veteran of WWI who married a German woman in Leipzig and remained there. They had three children. The oldest daughter was killed at Auschwitz, but the other two children and the parents were at Vittel. Many thanks to Susan Pentlin for this story.
---
See interior photos of Drottningholm
Read a SAL advertisement from 1923.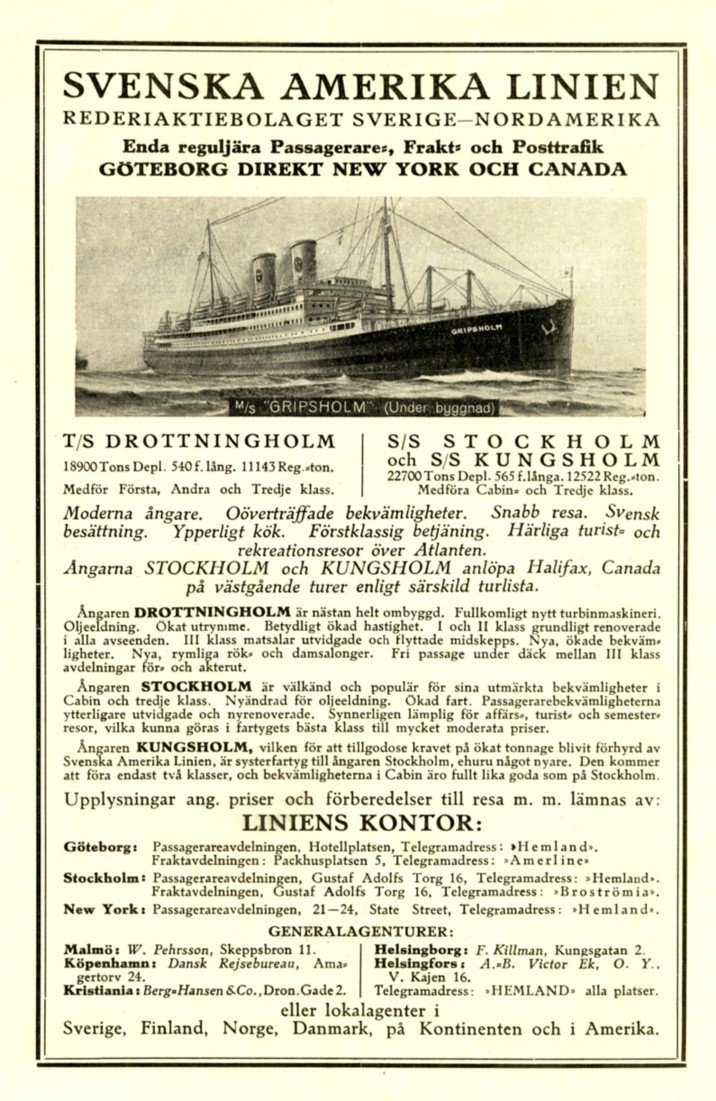 Excellent site!
Don't miss a visit to Henrik Ljungström's and Daniel Othfors' excellent website
The Great Ocean Liners where you can find lots of information about the SAL liners.
---
More than 250 web pages developed and maintained by Lars Hemingstam ©1998-2023
Hasse Gustafsson and Tommy Stark have interviewed crew members and contributed many of the stories.

Email us
This site does not use cookies, nor do we save visitors' IP-addresses. We do not send information to any third party. If you find information or a photo about yourself, or a relative, and want do delete it, please email salship@yahoo.com, and the information or photo will be removed. (The General Data Protection Regulation (GDPR) does not apply to deceased persons.)
Denna webbsajt andvänder inte cookies, vi sparar inte heller besökarnas IP-adresser. Vi skickar ingen information till tredje part. Om du finner information eller ett foto om dig, eller en släkting, och vill ta bort det, skriv till salship@yahoo.com så tar vi bort informationen eller fotografiet. (EU-regeln GDPR omfattar inte avlidna personer.)
---
The New SAL Guestbook
Since the new guestbook can take some time loading, it has been moved to a separate page, and is not being displayed at the bottom of every page.
---