The Folk Dance Teams
Page 1
Please email us if you can identify persons whose names aren't noted below the pictures. If you recognize yourself or a relative, and in any way are offended by the picture being published, please send an email and the picture will be removed.
Please help us identify the persons on the photos.
salship@yahoo.com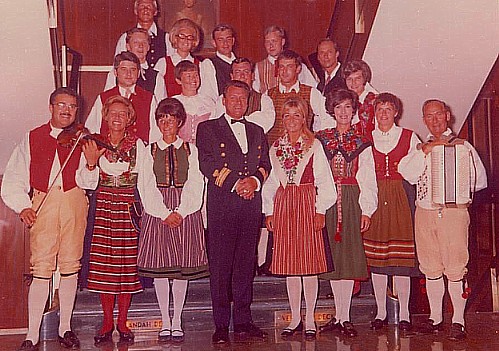 Gripsholm Around the World Cruise 1968.
Violinist and orchestra leader Franz Racz made 26 cruises around the world.
Many thanks to Sven Fürst, Crew Purser/Cashier on the Gripsholm 1965-1968, for this photo.
Kerstin Wennerström has identified herself standing second from the right in the second row.
Kerstin worked in the same pentry on B-Deck as José Martinez, Birgitta Palmér och Else Larsen
during the spring of 1968.
Liz Brokmose has identified the following folk dancers above:
First row left, Franz Racz, next Hanna
Left, 2nd row: José Martinez, far right Else Larsen
3rd row, second from left Birgitta Palmér
Stewardess Lois "Lulu" MacNeil has identified Ann-Marie Wiberg,
second from right in this photo.

Udo Ulrich, Austrian living in Stockholm today,
Dining Room Waiter, MS Gripsholm 1966-70, writes:
"4th from left in the middle row (northeast of Curt Dawe) - thats me.
We had a helluva time celebrating with Svart Vinbärs Brännvin (Curt Dawe's favorite)
after the performances."
---
The Kungsholm Folk Dance folder,
early 1930's
The crew's folk dancing performances on board the SAL ships were introduced in the early 1930's by musician Jacob Velt, who had played music in movie theaters in Gothenburg before he joined SAL. During WW2, the Kungsholm was purchased by the US Government and turned into the troop transport ship John Ericson. The Drottningholm and the Gripsholm were initially laid up in Sweden before the exchange voyages started in 1942. The folk dancing ceased, and Jacob Velt emigrated to the U.S. Purser Hugo Billén organized the dancing teams again after the war.
The list of performers in the folk dance folder below include Stina van Ginhoven and Lennart Sundqvist, crew members on the Kungsholm and Gripsholm in the pre-war era. Stina's nephew, Dan van Ginhoven, has contributed the following information:

"Stina van Ginhoven and Lennart Sundqvist worked on the Gripsholm when World War 2 broke out. After the attack on Pearl Harbor, they left the ship, and Stina worked in the USA. Lennart served in the U.S. Army in the Pacific. They returned to Sweden after the war, were married, and had a son. They lived many years in Västervik, where Lennart was an engineer at Electrolux, and Stina was a gymnastics instructor. Later, they moved to Mariestad, where Electrolux has a plant. Today, Stina has passed away, and Lennart still lives in Mariestad. Stina van Ginhoven had three brothers and two sisters. Stina van Ginhoven was my aunt. Stina and Lennart are among the relatives that I remember with fondness from my childhood, they were happy and enjoyed their lives."
Dan van Ginhoven

"The infectious gaiety of the dancers as caught by the camera."

The dances given tonight are a presentation of the Kungsholm Folk Dance Team, a voluntary organization of the ship's personnel, of which each member has given part of his, or her spare time for the long rehearsals necessary to bring the dances to their present perfection.

It was formed when the ship's personnel discovered that among its members were representatives of each province of Sweden. The research to make certain that the dances, costumes, and music were absolutely authentic, was long and arduous.

Program:
1. Hand-clapping dance
2. Herrskapsvalsen
3. Väva vadmal
4. Träskodansen
5. Schottis
6. Västgötapolska
7. Långdansen - a Swedish Snake Dance.
The dancers this evening:

Stina van Ginhoven

Olle Cobbel

Kajsa Lindquist

Ingemar Stéen

Greta Samuelsson

Eric Sandström

Ester Hultgren

Gunnar Svärd

Britt Lindesjöö

Evert Malmberg

Signe Mårtensson

Arne Jupén

Margit Andersson

Rune Nilsson

Eva Jurell

Lennart Sundqvist

Kristina Ahlin

Carl-Olof Axén

The fiddler:
Baltzar Lundwall

---
The color pictures below have been contributed by Carl-Gustav Kruse's son Magnus Kruse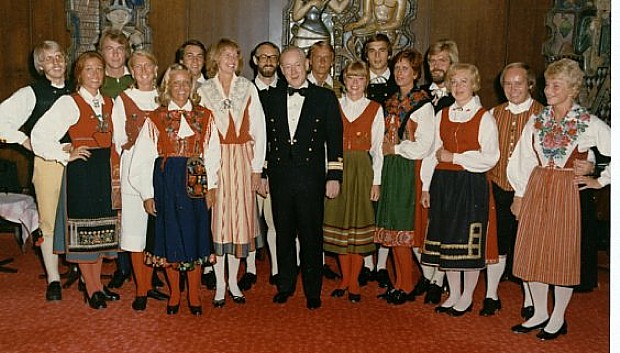 K-1. Colonial-West Indies Cruise
Gripsholm 1974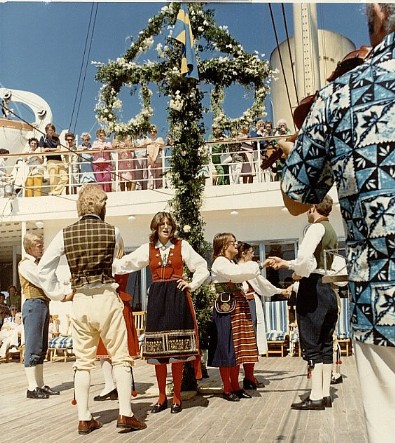 K-2. Mediterranean-Riviera Cruise
Gripsholm 1974
K-3. Luigi Poli in center.
K-4. MS Gripsholm.
Monica Walkenfors (Evnell as unmarried) is the second
girl from the right in front of her dancing partner Kjell.



| | |
| --- | --- |
| | |
| K-5 | |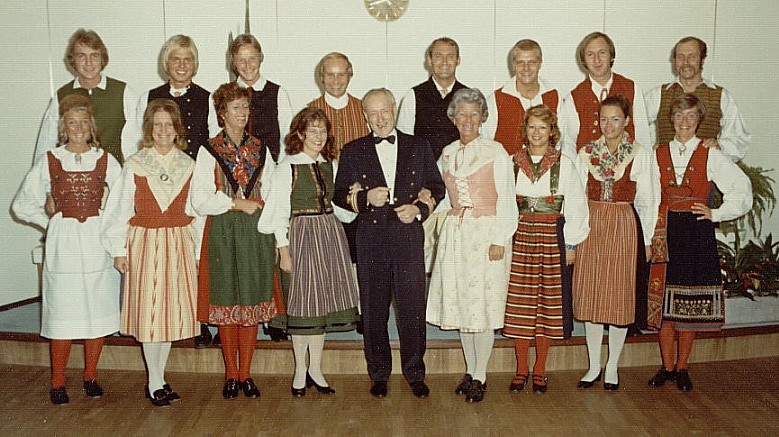 K-6. Lis Brokmose has identified the following persons, from left to right:
Lars Isaksson, piccolo, Birgitta Palmér (stewardess M-deck Aft), Lasse?, Kerstin Eng (stewardess B-deck),
Göran Bjurström, asst. Deck Steward, Gerd Mårtensson stewardess B-deck, Lille Sigrid (Pursers Office),
Kjell Nilsson, Bar Stew., Kjelle Deck Steward, Intendent Kruse, Sten Hedlund, Deck Stew., "Kerstin i tvätten",
Annemarie Ståle, Monika Benoit, Christina Areskough (Russel Terrier).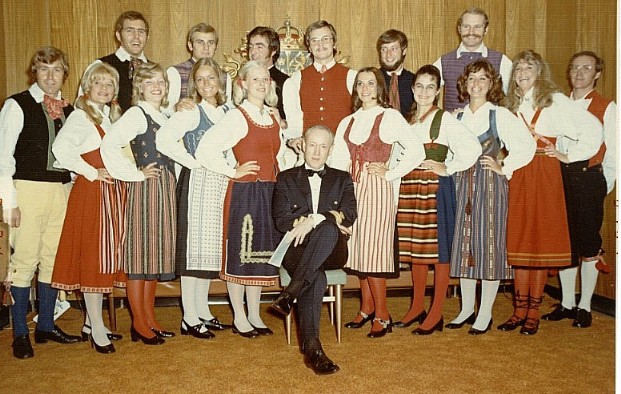 MS Kungsholm.
K-7. Center, right, crew members Anita Olsson (blue vest) and Luigi Poli,
Back row, left: Werner Steinberger, Hans Schloegl, and Patrick Zeller.
Heinz Krapf, Birgitta Baumann, and Herbert Baumann are also in this photo.
Kerstin Gren has recognized herself and her cabinmate Birgitta Andersson.
Kerstin is in the front row, 18 years old, blond, and wearing a blue vest. .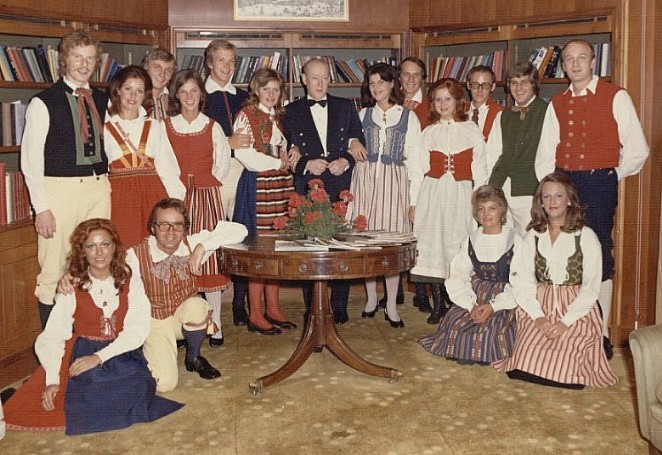 K-8. MS Kungsholm World Cruise 1974

K-9. MS Kungsholm, South Seas Cruise 1969
Top row from the left: Nr 1: Heinz Krapf, Nr 2: Kenneth Christofferson, Nr 7: Per Bergström
Next row: Nr 1: Sigrid Lundström, Nr 3: Eva-Lena Christofferson (previously Vernersson),
Chief Purser Lennart Håkansson, Nr 6: Ullabritt Kovarik, Nr 9: Gun-Lis Svensson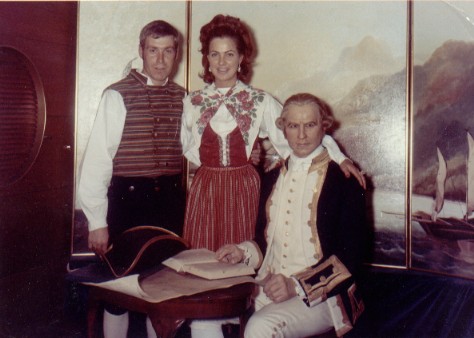 Heinz Krapf, Sigrid Lundström and Captain Cook,
South Seas Cruise 1969


---

The following pictures have been contributed by Gunnar Hallert,
assistant waiter and assistant cabin attendant on the Kungsholm.


The pictures are from the Kungsholm South Seas Cruise 1965. The Folk Dance team was headed by Ragnar Ringborn, on the far right, and his son is on the left, next to the accordion player. Gunnar Hallert is in the top row, and below, with passenger.
---
More than 250 web pages developed and maintained by Lars Hemingstam ©1998-2023
Hasse Gustafsson and Tommy Stark have interviewed crew members and contributed many of the stories.

Email us
This site does not use cookies, nor do we save visitors' IP-addresses. We do not send information to any third party. If you find information or a photo about yourself, or a relative, and want do delete it, please email salship@yahoo.com, and the information or photo will be removed. (The General Data Protection Regulation (GDPR) does not apply to deceased persons.)
Denna webbsajt andvänder inte cookies, vi sparar inte heller besökarnas IP-adresser. Vi skickar ingen information till tredje part. Om du finner information eller ett foto om dig, eller en släkting, och vill ta bort det, skriv till salship@yahoo.com så tar vi bort informationen eller fotografiet. (EU-regeln GDPR omfattar inte avlidna personer.)
---
The New SAL Guestbook
Since the new guestbook can take some time loading, it has been moved to a separate page, and is not being displayed at the bottom of every page.
---