---
Updated Jan 3, 2010
Länspumpen om SAL:s Östersjötrafik
Länspumpens årsnummer 2009 beskriver historien om Svenska Amerika Liniens Östersjötrafik med tonvikten på de små passagerarångarna Borgholm, Kastelholm och Marieholm, men även atlantfartygen. Över 170 foton på 60 sidor! Flera unika foton som aldrig tidigare varit publicerade. Turlistor, ritningar m m.
SAL bedrev en omfattande trafik med de små ångarna från 1924 till krigsutbrottet 1939, samt med SAL:s stora fartyg på Östersjökryssningar.
Skriften kan beställas genom att sända in 60 kr på plusgiro 81 57 68 - 7, Tidningen Länspumpen. Ange namn och adress.
Läs mer här.
Tack till Bertil Söderberg, Örjan Slätte och Jörgen Areskough för denna information.
Se även bilder från en Östersjökryssning med Gripsholm 1932.
---
Updated Sep 7, 2009
Waterline - Images from the Golden Age of Cruising
John Graves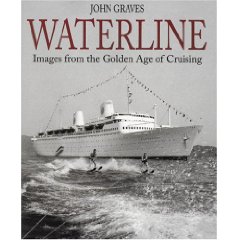 Örjan Slätte, ex Information Officer on the Gripsholm, recommends Waterline - Images from the Golden Age of Cruising by John Graves, published by the National Maritime Museum in London in 2004. It is based on photos by Marine Photo Service, which were acquired by the museum in 1996 The book features many photos from SAL cruises.
Please note that the book's edition at Amazon.co.uk may not have the Kungsholm on the cover.
Örjan Slätte, Informationsofficer på Gripsholm, rekommenderar boken Waterline - Images from the Golden Ages of Cruising. Boken är utgiven år 2004 av National Maritime Museum i London som 1996 förvärvat Marine Photo Service (MPS) samlingar. Redan omslagsbilden föreställer Kungsholm 1953 med två vattenskidåkande ynglingar i fronten. MPS fanns i många rederier och där finns många mycket bra foton från SAL:s kryssningar. Våra fotografer var mycket yrkesskickliga med konstnärlig talang. Man kan förmoda att de tidvis kände för att fotografera annat än leende, välklädda pax med cocktailglas i hand. Fina miljöer från fartygens "omvärld".
Anser boken vara av god kvalité. 255 sidor, inkl. noter. Här i Göteborg hittade jag den i Haga i en butik som köper in restupplagor (remainders) och säljer till bra pris, ca 160 sek. "Böcker som vi gillar till pris som ni gillar": Bokrummet i Haga, Skolgatan 11, 413 02 GÖTEBORG, bokrummet, tfn 031-7010028. De har ett traditionellt antikvariat, Bokmalen, Haga Nygata 16.
---
Updated July7, 2008
MERCY SHIPS
by David Miller
| | |
| --- | --- |
| | |
| | Mercy Ships |
During World War 2 the Drottningholm and the Gripsholm were used as repatriation ships and made 33 voyages to exchange prisoners of war, diplomats, women and children, between the warfaring nations. David Miller has written a book about the exchange and repatriation voyages,with an emphasis on the British experience. It is loaded with facts about these voyages of mercy.
Read more about all the exchange and repatriation sailings during WWII here.
---
EXCHANGE SHIP
by Max Hill
This is an eye-witness report, written by an Associated Press reporter in 1942. Max Hill was a passenger on the Gripsholm's first long exchange voyage. The book can be found on amazon.com or ebay.com.