The Gripsholm's crew members were given U.S. Coast Guard passes, and could see movies and attend USO dances when the ship was laid up in Yonkers. There was no USO organization in Yonkers when the ship arrived for the first time, but a group of ladies formed a chapter. Many crew members were employed in bars and restaurants ashore.
The crew was also offered to study at Columbus University. Only two crew members accepted the offer, one of them was Rune Dahlstrand. He studied import/export administration and English. He was studying while the ship was at sea and took examinations when he returned to New Jersey.
When the Kungsholm was purchased by the U.S. Government after the attack on Pearl Harbor, and renamed John Ericsson, many members of the Kungsholm's crew decided to stay in the United States. In order to become U.S. citizens they served in the Armed Forces. After the war, the army veterans were given priority to purchase army surplus products. Rune Dahlstrand left SAL after the war and teamed up with two of the Kungsholms ex crew members who had served in the army. Together, they started a business selling army surplus goods in Sweden. Later, Dahlstrand traveled the USA, selling imported Swedish products to American retailers.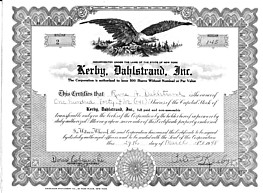 U.S. stock certificate for
Kerby Dahlstrand Inc., from 1948.