These pictures have been contributed by Hans "Hasse" Gustafsson,
who started as a potato peeler in 1971 and advanced to
deck waiter and bar steward in 1973/75.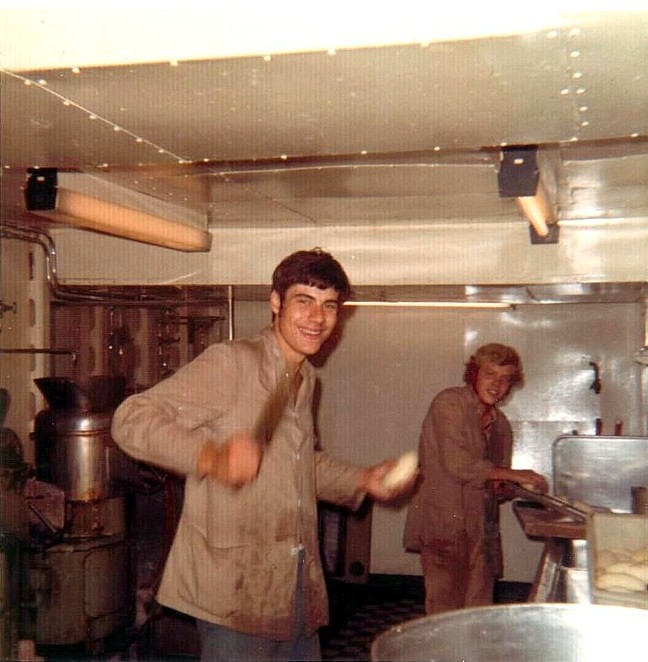 Hasse's first job onboard 1971 as a potato peeler implied many working hours with a knife in one hand and a potato in the other. In the background Morgan Johansson is making potato chips at the cutting board.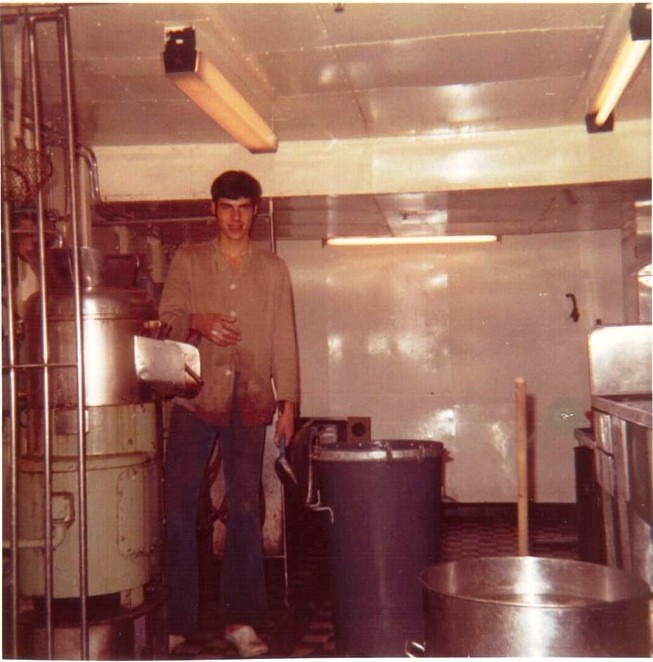 Potato peeling was a wet and soggy job, and there was no daylight in this dusky part of the ship. Big rumbling machines did the rough peeling first. Hasse stands by to take it on from there. In the foreground a large stainless pot with ready-peeled potatoes.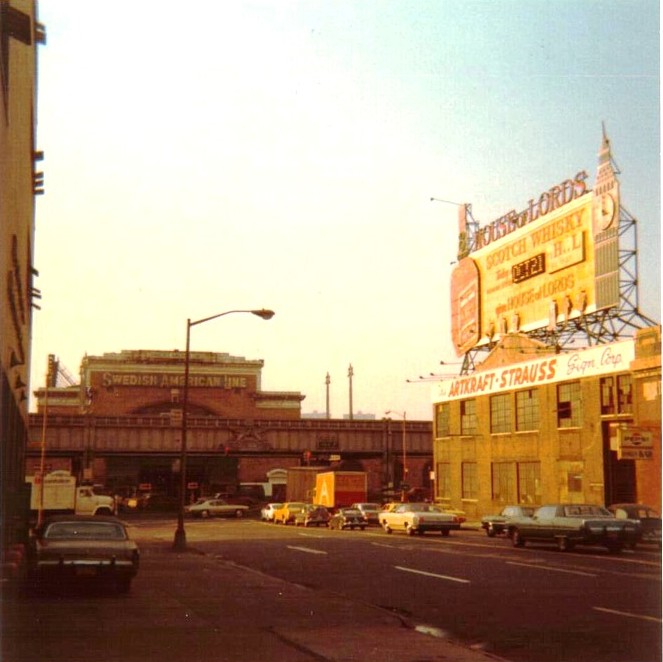 Pier 97 in 1971. Picture taken from just outside I.J. Gonons General Merchandise, on W57th Street. Hasse's first visit to New York was an exciting experience. On the opposite side of the street there was the taxi garage from which Robert De Niro took his car to the streets of New York in the movie "Taxi driver".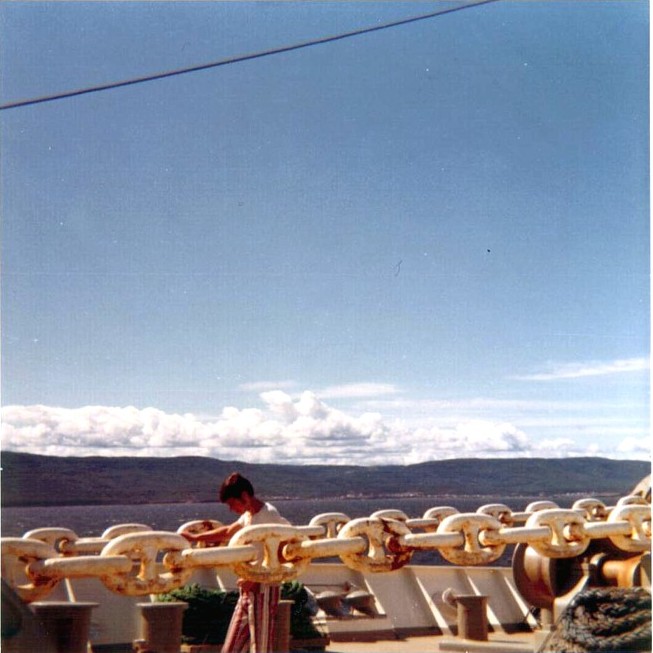 The Kungsholm itself offered many new experiences for an 18-year old that had just left school. Her sturdy anchor chains made impression on Hasse, who often went up to the foredeck or the aft for fresh air and some daylight when the day's quota of potatoes had been completed.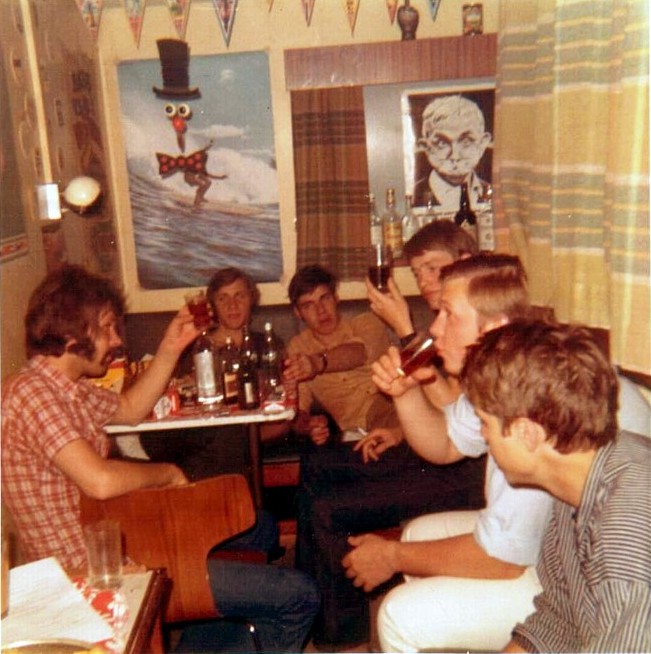 After-work in the potato peelers' cabin 1971. From the left Berne Lindgren, Anders Nyhlén, Hasse Gustafsson, unknown, Torbjörn Kolfach, Per Snitting.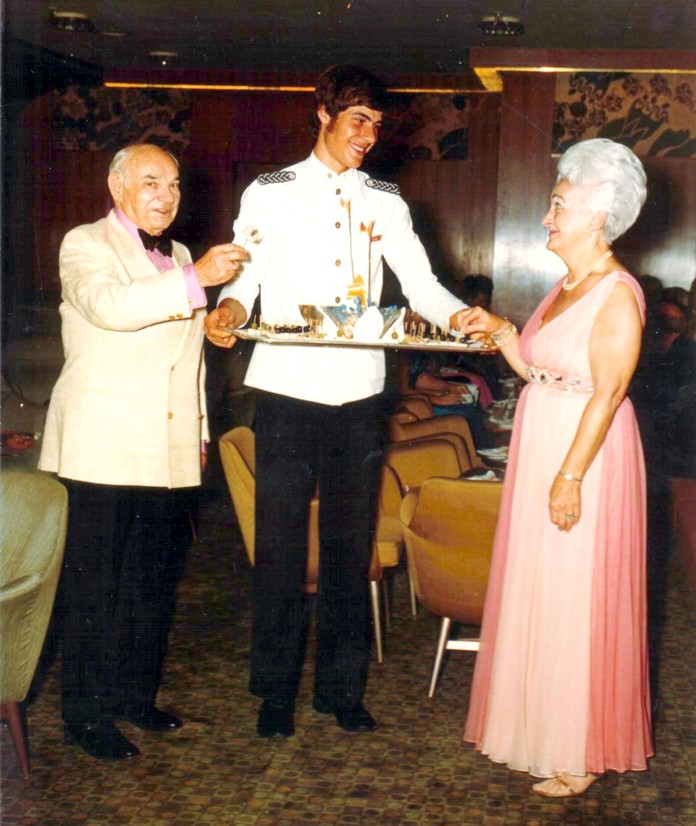 In September 1971 Hasse was promoted to "Barnisse" (Bar boy) and from that day a
completely new life onboard opened to him. One of his standard duties on the new job was to serve cold and hot "Hors d'Oeuvres" i.e. cocktail snacks in the Forward Bar on the portside of the ship. Young Hasse seems to have connected well to this passenger couple.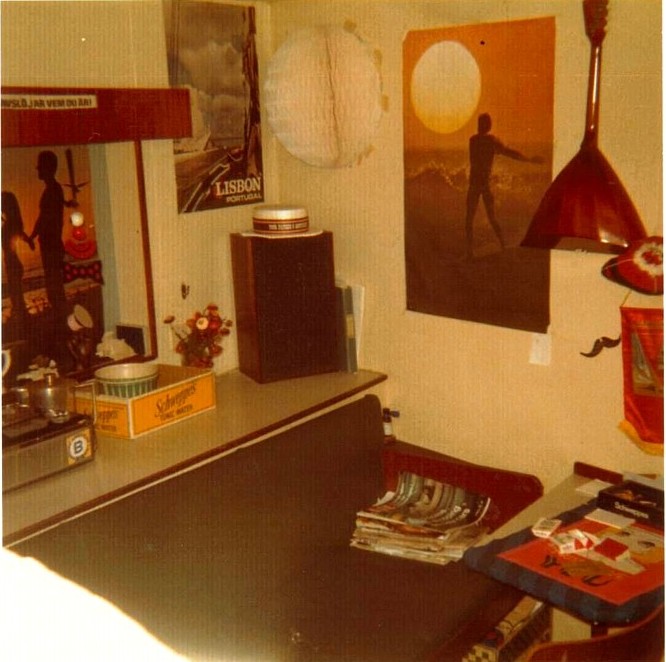 Changing job onboard implied moving to new quarters since cabins were allocated according to crew categories and positions. When promoted to bar boy, Hasse moved to this cabin in the very aft of the ship, located just above the propeller shaft and the rudder engine.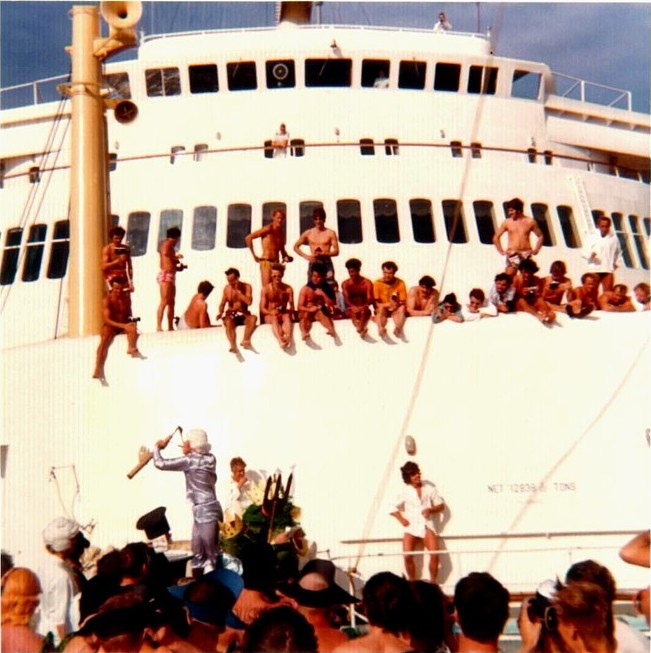 In November 1971, between Senegal and Brazil, Hasse crossed the equator for the first time. The crew members crowded on the prow's foredeck to watch the Neptune ceremony, sitting, standing and clinging everywhere to get a good view. King Neptune's lookout with a monocular telescope scouts for the equator line in order to start the spectacle. There are people on the bridge keeping an eye on the event.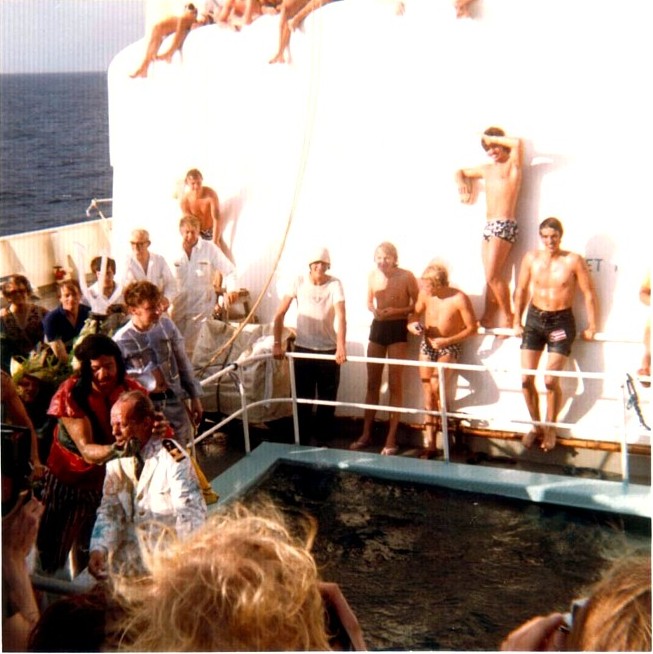 A few senior officers were baptized too that day... This one was an engineer. Standing in the back in white overalls is the ship's electrician and the carpenter Jensen

.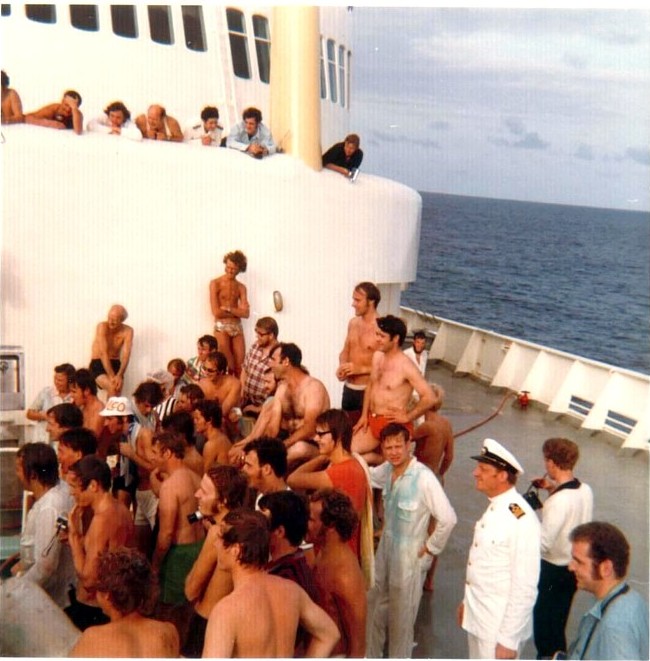 On the portside of the prow, chief officer Kjell Smitterberg has descended from the bridge to take a closer look on what is going on.A memory shared by so many passengers.