Information Officer
Lars-Erik Jansson
Page 1
Lars-Erik Jansson served on SAL ships 1963-64, 1966-71, and 1974-75.
For many years he was Information Officer on the Kungsholm and Gripsholm.
---
The ship's Information Officer was responsible for preparing and presenting the necessary documents, such as passenger manifests, for port-, customs-, and immigration authorities at ports of call. He also had duties in the Main Lounge, such as organizing entertainment and games.
Lars-Erik Jansson, now a resident of Malmö, Sweden, will also be remembered for various antics and his knack for practical jokes. A Swedish columnist, Stig "Gits" Olsson, once wrote about an Atlantic crossing on the Kungsholm, departing December 27, 1967. The weather was terrible, and there were only 150 passengers on board. He writes confoundingly about a certain officer Jansson who seemed to be everywhere, entertaining the passengers in the Main Lounge for days, from the Hebrides to Newfoundland, reading aloud from the Swedish Army Instructions for Bicycle Maintenance.
During an officers' party in Sydney in the 1960's, Jansson transformed his cabin into a Playboy Club, with female crew members as bunnies. Lars-Erik Jansson is widely known as Pastor Jansson.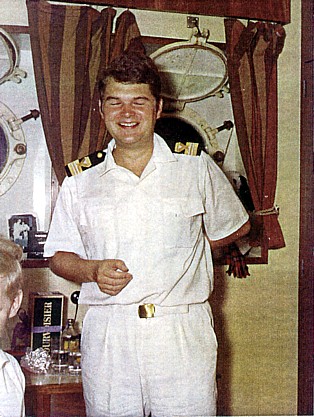 Lars-Erik Jansson at the Equator, January 29, 1971.
---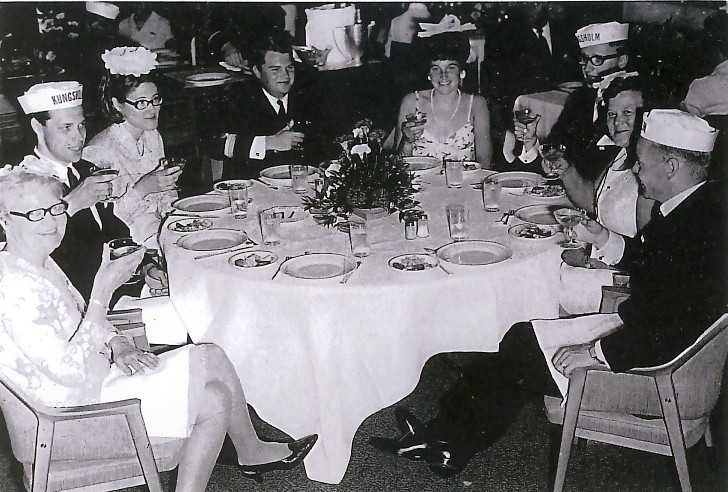 Farewell Dinner on the North Atlantic on the Kungsholm in the 1970's.
Lars-Erik Jansson is proposing a toast.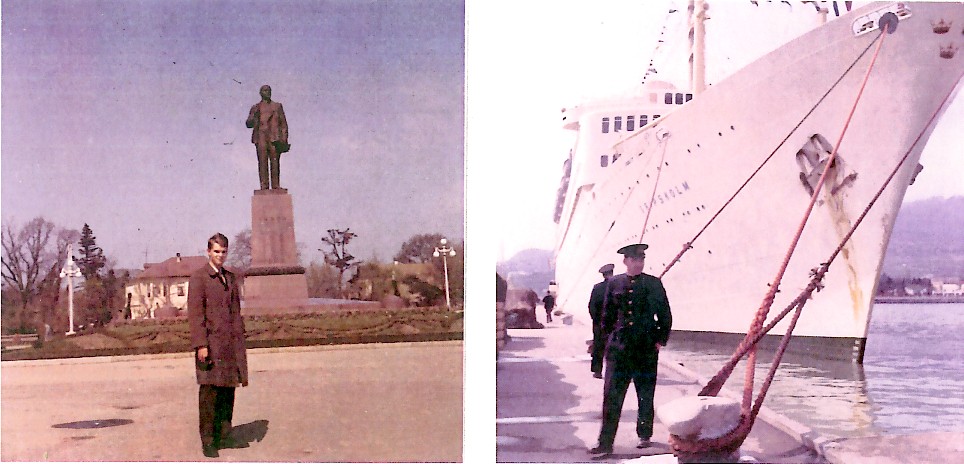 The Gripsholm in the Black Sea, visiting Sochi and Yalta, Russia, March 31 - April 1, 1964.
---

Serving on SAL's ships was a way for young Swedes to see the world, in a time when
international air travel was extremely expensive, and out of reach for most citizens.
In 1964, when Lars-Erik Jansson served on the Gripsholm as a bus boy and elevator piccolo,
he visited the World's Fair in New York.

---
---
Use Google Translate to translate this text to English. Copy and paste into Google Translate:
Hösten 1969. Runt Sydamerika, genom Panamakanalen och Magellans Sund, anlände MS Kungsholm den 11 november 1969 till Port Stanley, Falklandsöarna i Sydatlanten.
Telegramledes hade vi fått en inbjudan från öarnas guvernör, till minne av vapenstilleståndet, första världskriget, den den 11 november 1918.
Vi, fartygets intendent (skåning), läkare och undertecknad, informationsofficer, möttes av en flaggprydd Austin Princess. Till residenset och lunchmottagning. Very British. Tilltugg med utsökta drycker. Vi som var vana att dricka whiky med is eller soda fick nu uppleva en ny smaksensation, Chivas Regal med några droppar vatten. Vid avfärden hade vi med oss gåsblod, som fartygsläkaren bar med stor försiktighet. Guvernören hade i förväg genom telegram fått veta att gåsamåltiden i november var en svensk tradition, i synnerhet i Skåne. Sålunda hade vi blod till svartsoppan.
1810 ankaret upp. Kurs mot Buenos Aires. Ombord njöt vi av den goda svartsoppan som inledning till en minnesvärd måltid. Våra tankar gick till Sverige och Mårten Gås.
Lars-Erik Jansson
Detta var ett bidrag till Pernod Ricard Sweden's tävling "Ditt bästa whisky-minne". L-E Jansson blev belönad med Jim Murray's Whisky Bible 2010.
---
The Gripsholm anchored off Ushuaia, because of weather conditions and size of the dock. Seven persons from the local authorities arrived on their own boat on the evening of arrival. The Information Officer's report informs about arguments with the authorities about which landing cards were to be used for passengers and crew. The customs officer had forgotten his official seal stamp, and had to return to shore to fetch it. After a round of drinks were ordered, the argument faded out.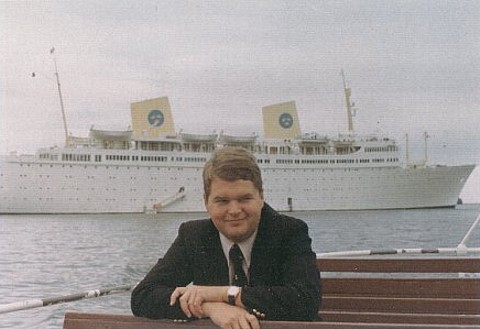 Lars-Erik Jansson and the Gripsholm in Ireland in 1975.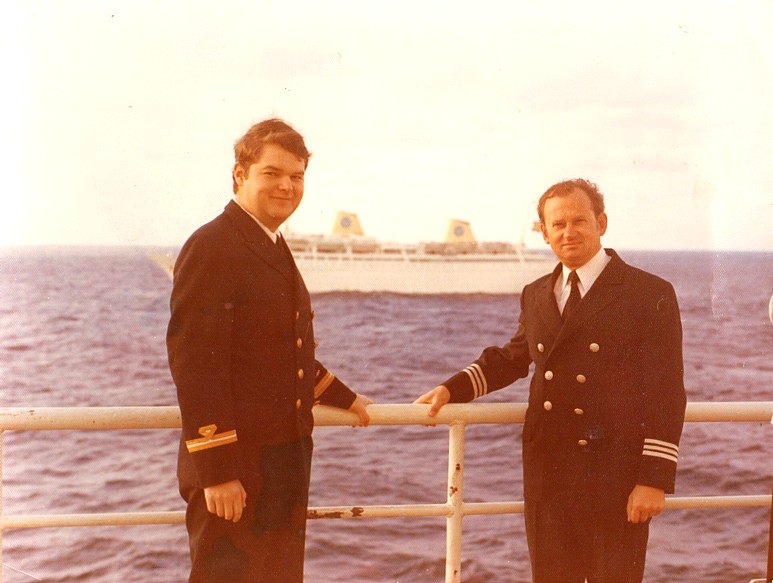 Lars-Erik Jansson and Gerhard Kummer with the Kungsholm in the background.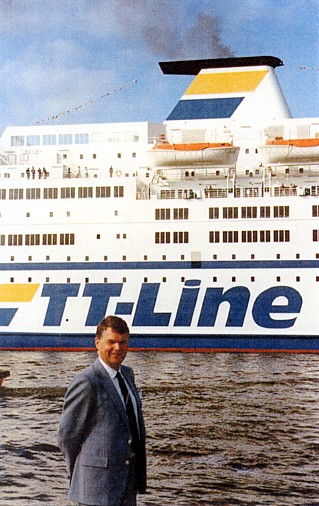 After leaving SAL in 1975, Lars-Erik Jansson joined
the TT-Line from 1976 to 1994, a shipping company
operating ferry lines between Sweden and Germany.
---
Bornholm Revisited
Lars-Erik Jansson Jansson served on board the Kungsholm on the North Cape Cruise
in 1969. On July 20, 2009, exactly 40 years after the Kungsholm visited Bornholm,
he made a nostalgic trip back to the island in the southern Baltic Sea.
Jansson visited the Kungsholm's shipping agent from 1969, Plum. Moller & Skovgaard A/S
& Ejv. Hansens Eftf. A/S, the Bornholms Tidene newspaper, as well as the Ronne Library,
where he looked up a newspaper clipping from 1969.

Lars-Erik Jansson, passenger, Lecturer Derek J Swinnerton and Purser's Office Clerk J Wiklund at
the North Cape, on July 7, 1968. Derek J Swinnerton was a former high ranking submarine officer
in the Royal Navy. In addition to holding travel lectures in the auditorium, he had a morning
radio show on board the Kungsholm called "Greet the Day with Derek J". When the ship
passed through the Panama Canal, Swinnerton would hold an impressive and detailed narrative
during the entire passage, from the bridge over the ship's PA system, not using a manuscript.

After riding a tender from the Kungsholm to Hornvika,
L E Jansson and J Wiklund climbed up to the plateau.


At the plateau.
Ship's Doctor Hey, Nurse Else, Cashier Skafte,
Nurse Anna Karin (?), and Information Officer Jansson,
barely visible to the camera by the light of the Midnight Sun.



North Cape Diploma 1966

The Royal and Ancient Polar Bear Society 1966

The Royal North Cape Club 1994



Lars-Erik Jansson returned to the North Cape in the
summer of 1994. Here at the monument commemorating
Swedish King Oscar II's climb to the North Cape summit in 1873.