---
Updated September 12, 2010
Mona Lisa, ex Kungsholm, Interior Photos, 2010
Photos by David Leidenborg
Design historian David Leidenborg visited the Kungsholm in the Gothenburg harbor as a child and has been interested in the Swedish American Line since then. He was a passenger on a two-week North Cape cruise on the Mona Lisa in 2010, and was granted permission by the captain to take photos all over the ship, from the bridge to the laundry room. Mr Leidenborg preferably took photos of remaining original design features from 1966.
David Leidenborg's comments:
"The Forward Library, the Dining Room, and the Forward Lounge, designed by Sigvard Berbadotte, are mostly unaltered. Many of the staterooms still have the original design. I stayed in an inside cabin on Upper Deck, (called Aloha Deck on the Mona Lisa) that was intact, apart from minor details. The stoves and control panels in the kitchen are still original, delivered by Elektro Helios in 1965. The hot mangle and dryers in the laundry department are from 1966. Talk about quality!"
We are now able to show about 200 of these photos as a slideshow here.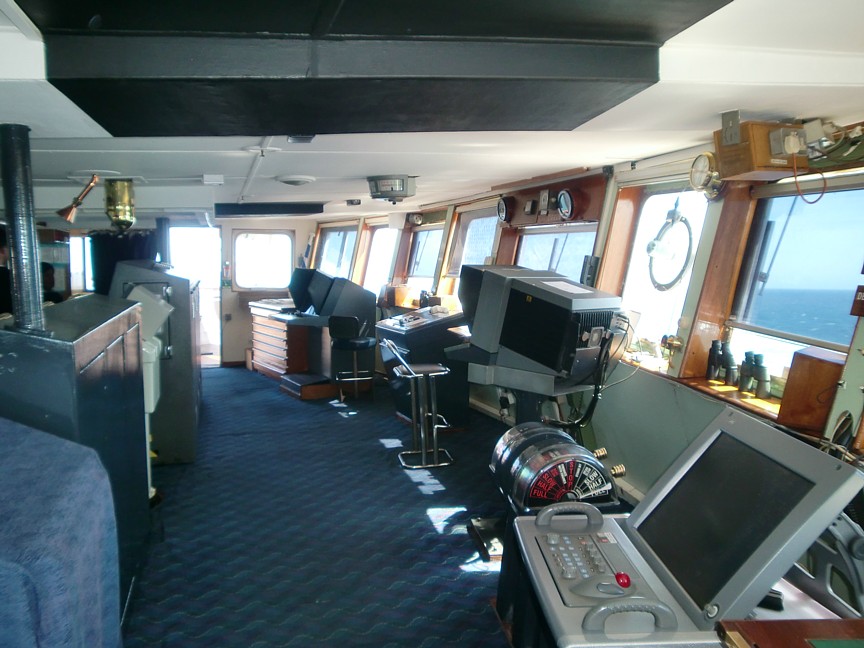 The Bridge
Photos by David Leidenborg