Bridge & Crew Pages
Read about SAL reunions,
in the past and upcoming.
Mr Bengt Johansson, former employee at the SAL Crew Office in Göteborg, 1957-1975,
will answer questions about former crew members.
You can phone Mr Johansson at +46 31 44 14 66, (inom Sverige 031 44 14 66),
weekdays 18.00-21.00 hours, Central European Time.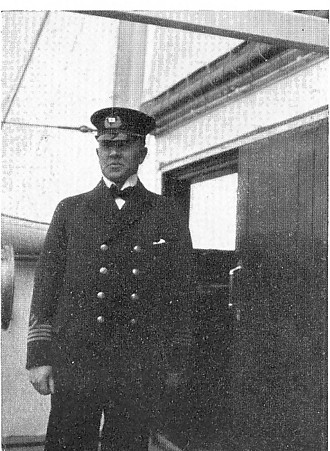 Captain J N G Anderberg
on the Gripsholm in 1926.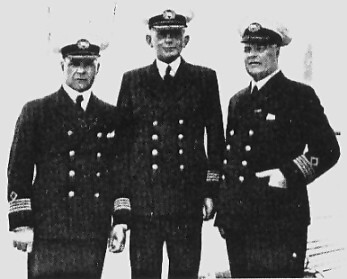 During Midsummer of 1937, Drottningholm, Gripsholm, and Kungsholm, were all docked in Göteborg, a unique event. The photo shows the three captains at that time, Sigfrid Ericsson, Helge Ellsén, and Melcher Renström.
The Commanders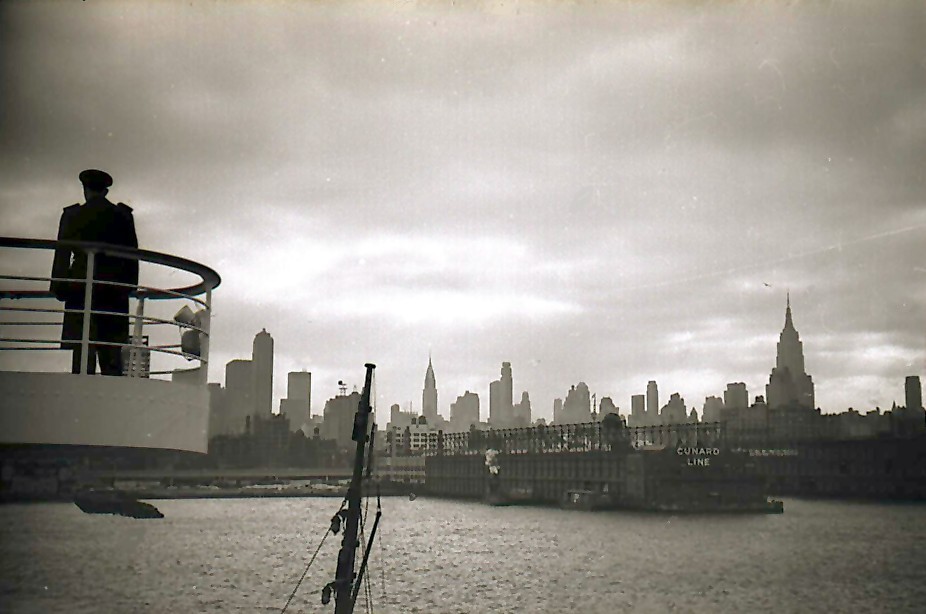 Gripsholm leaving for the West Indies, 1961
Photo:Björn Wallde
See more photos of Manhattan's Pier 97 here.
Find more information about the SAL Commanders and SAL ship's here.
J N G Anderberg

Gripsholm

Evert Borg

Kungsholm

Carl-Otto Claesson

Drottningholm

Helge Ellsén

Gripsholm

Sigfrid Ericsson

Drottningholm

Lars-Erik Granqvist

Gripsholm

Bertil Grönberg

Gripsholm/Kungsholm

Axel E Håkansson

Stockholm

Hazze Nilsson

Gripsholm/Kungsholm

Rolf Nordell

Gripsholm

Gunnar Nordensson

Stockholm

John Nordlander

Kungsholm

Sjunne Olsson

Carl-Eric Olterman

Gripsholm/Kungsholm

Melcher Renström

Kjell Smitterberg

Lindblad Explorer 1976-1977

Gripsholm 1972-1975

Kungsholm1972

Per-Erik Sjölin

Gripsholm/Kungsholm

Henry Sölje

Gripsholm/Kungsholm

Carl-Otto Wijkmark

Gripsholm/Kungsholm
---
Updated April 25, 2014
Chief Engineer O Z Pehrson
Passenger list from the Drottningholm
showing O.Z. Pehrson as Chief Engineer. This was the sailing that brought Greta Garbo to the USA for the first time. Click on the picture to enlarge,


O.Z. Pehrson
Enid Rendahl, 94, daughter of Chief Engineer O.Z. Pehrson has contributed a photo of her father. O,Z. Pehrson mustered on the first Stockholm in 1915, and served on several SAL ships until he retired as Chief Engineer of the last Stockholm in 1950. He was also present at the launching of the Stockholm in Monfacone in 1938, which sank outside Trieste in 1944, and never served for SAL.
Organisationen ombord 1959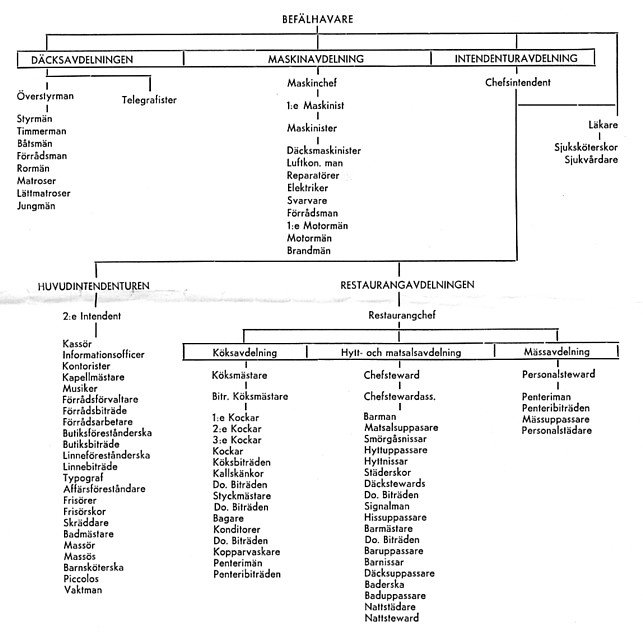 From the Dawe collection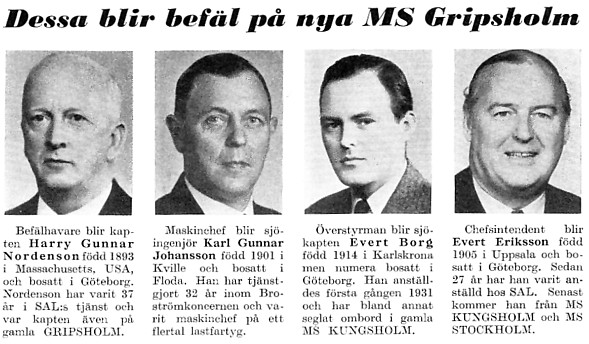 SAL-Nytt, April 1957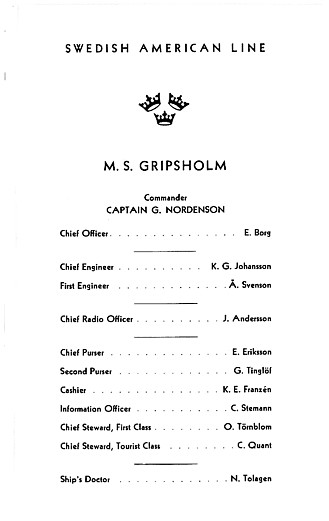 Officers on the crossing from New York
on June 28, 1957, voyage number 2, eastbound.
Most likely the same as on the maiden voyage.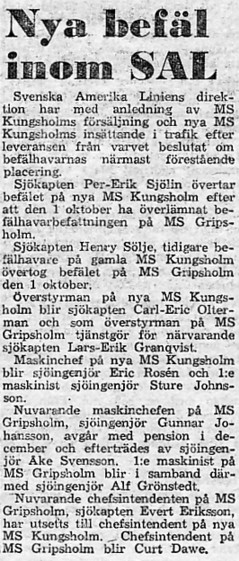 The SAL crew is back on board - now on the passenger list.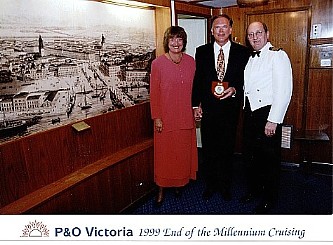 Göran Börjesson, assistant bar steward on Gripsholm 1968 and assistant cabin steward
on Kungsholm 1969, celebrating his 50th birthday 1999 with his wife on a two week cruise
on Victoria, ex Kungsholm, now named Mona-Lisa. Here with Victoria's captain Chris Sample.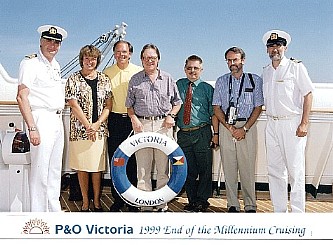 Göran and his wife were invited back on board with fellow shipmates
when Victoria later called at Copenhagen. Victoria's captain (name to be added) on the left
and Chief purser Zak Coombs on the far right. Roland Arvidsson holding the life saver.

---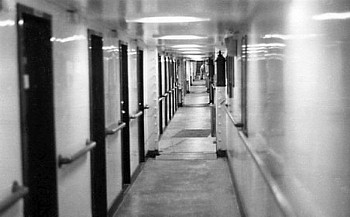 The Gripsholm crew's quarters on C-deck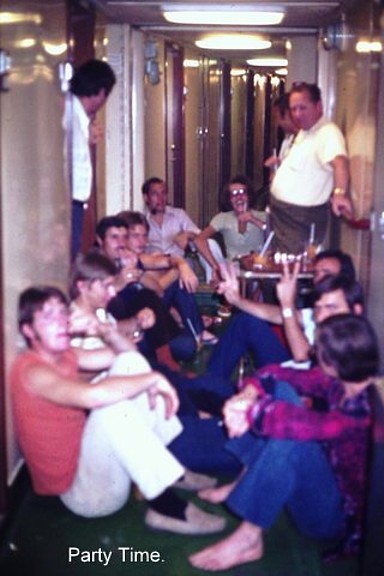 Contributed by Patrick Zeller.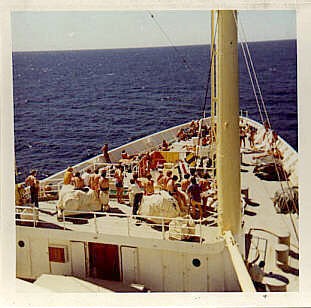 View from Gripsholm's bridge over Backen, the forward deck area.
Photo by Roy Johansson.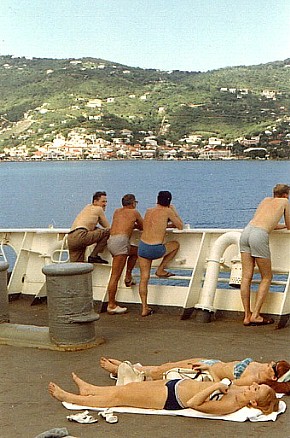 The Gripsholm crew off Grenada tanning in the crew's leisure area.
Contributed by Carl-Gustaf Edhardt, Assistant Deck Steward on the Gripsholm 1965-1967.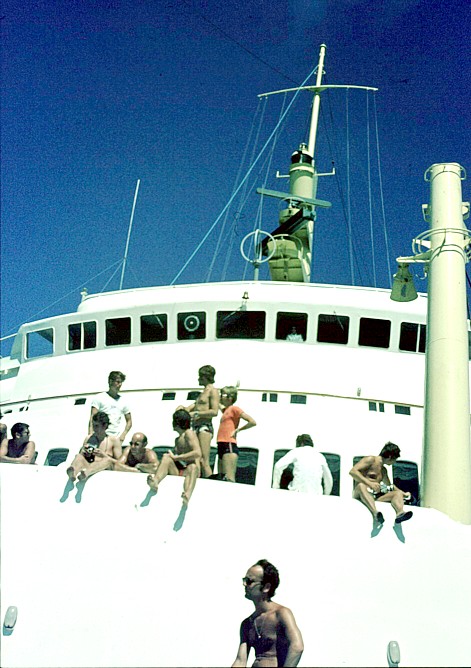 Contributed by Franz Havranek.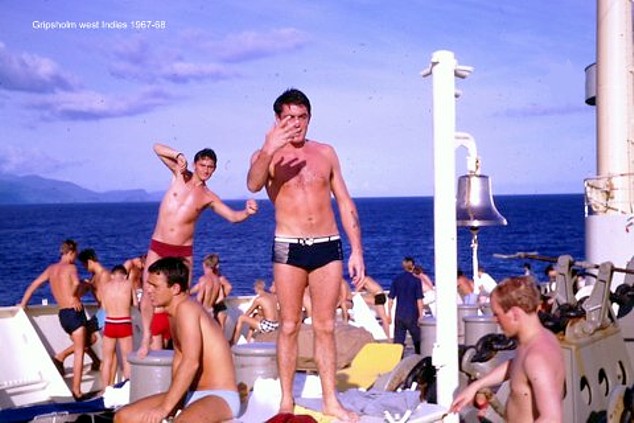 Contributed by Patrick Zeller.
---
Former crew member Gunnar Hallert has contributed these photos from a crew show in Kungsholm's auditorium on the South Seas Cruise 1965.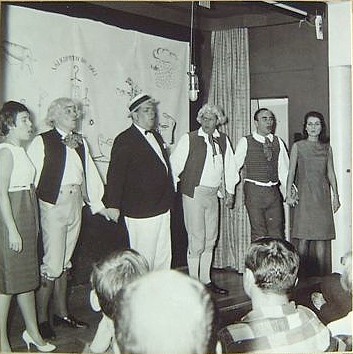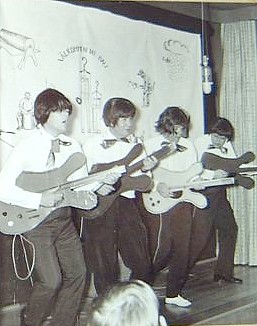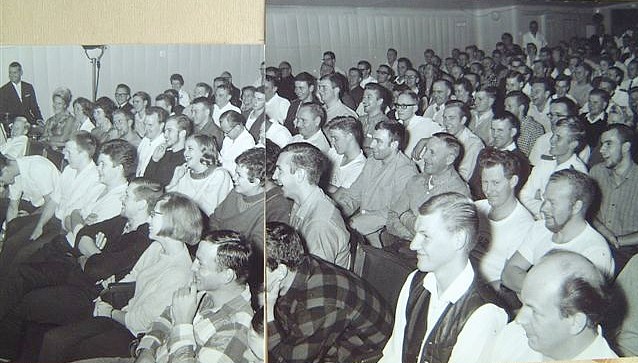 ---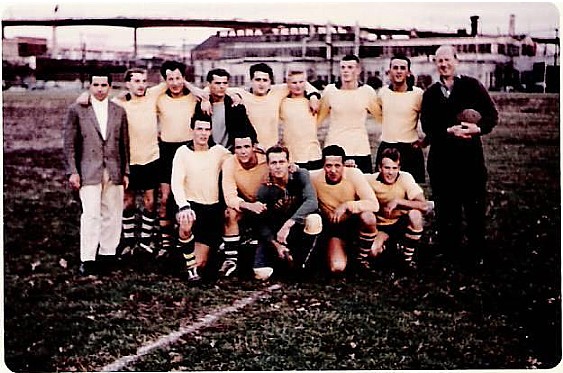 The Gripsholm's soccer team in New York, December 1961.
Contributed by Asko Salkola.
How many team members can you identify? Email us.
---
Soccer Champions
Kungsholm's soccer team won the Atlantic Cup in 1958.
Back row: Tore Westberg, Roy Enesten, Curt Dawe
Front row: Pasquale Mirrabella and Rolf Horstman
SAL-Nytt, Aug, 1959.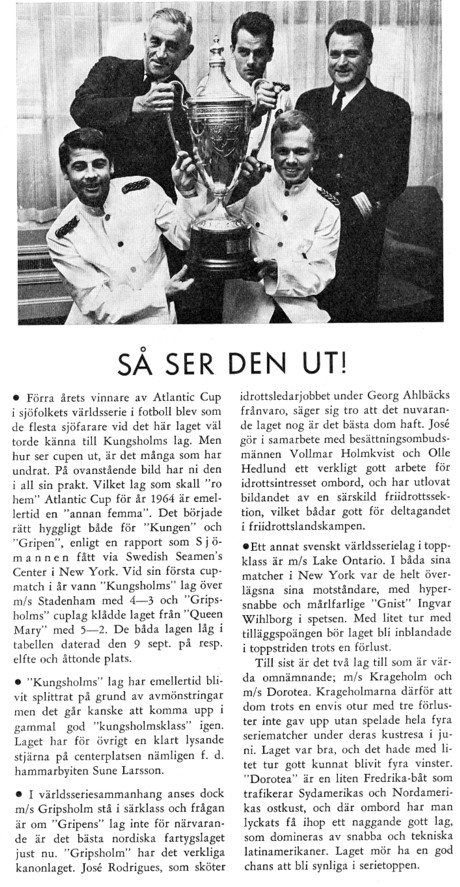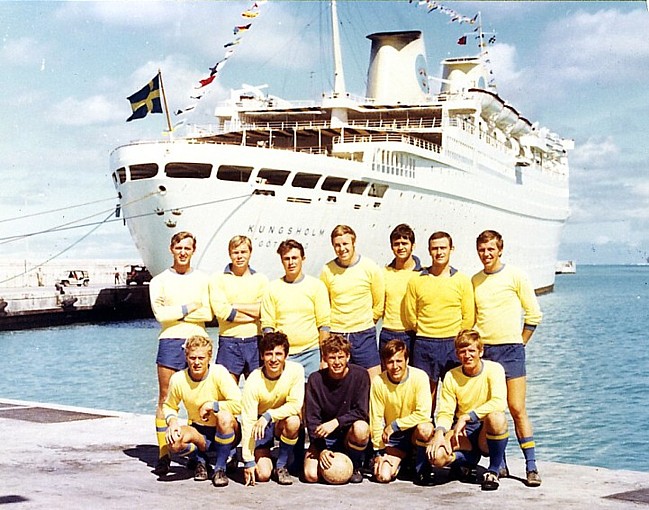 The Kungsholm Soccer Team 1970. See their names below.
From the Dawe collection.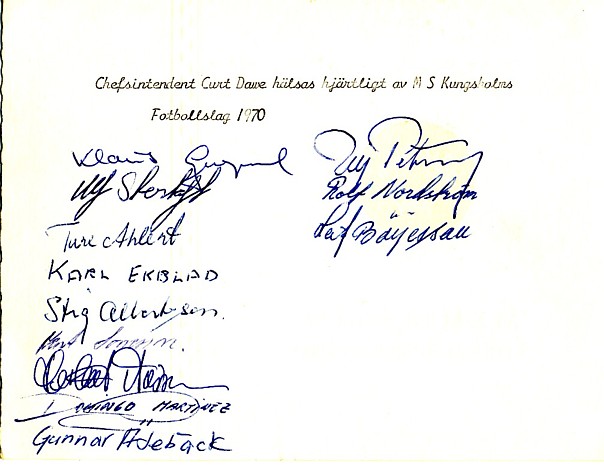 ---
SAL Soccer Team in the 1930's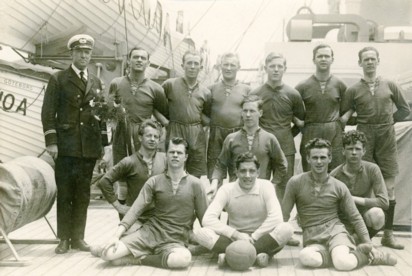 SAL soccer team. Click on the image to enlarge.
The Swedish American Center in Karlstad, Sweden,
is hosting a SAL exhibition, which has been extended throughout 2011.
Read about it here.
The exhibition is based on Mr Torsten Torstensson's collection of
SAL memorabilia. The photo above shows a soccer team on
one of SAL's ships, most likely in the 1930's
Do you have more information about this photo?
Email salship@yahoo.com
---
Johnny Grahm, Dining Room Waiter 1965-66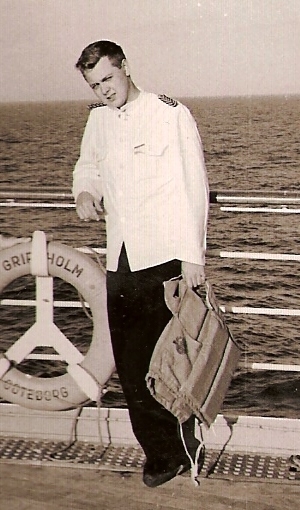 Johnny Grahm has contributed a photo from his time on
the Gripsholm and Kungsholm as a dining room waiter
in 1965-66, when he sailed around the world.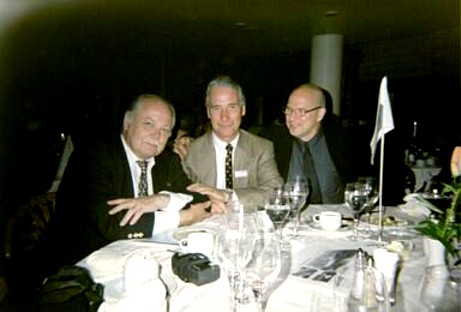 Johnny Grahm, Carl Yrwing, and Jan Wisén
at the reunion in Stockholm in 2000.
---
---
Dining Room Photo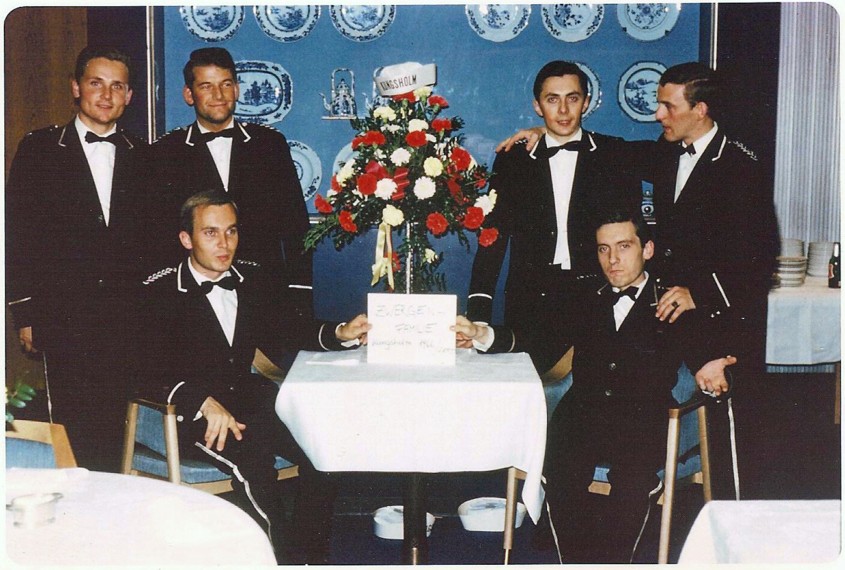 Reinhard Postl from Austria, since the 1970's living in Germany, has contributed this photo. He worked as a dining room steward on the Gripsholm 1962-63, and on the New Kungsholm for the Maiden-Voyage in 1966 until 1970.
"I did many trips, Round South America, North Cape, Many Caribbic-West-Indies-Cruises, Mediterranean, South-Seas and of course Trans-Atlantic Göteborg-New York.
The is picture is taken 1966 in the New Kungsholm Dining Room, and shows from left to rght,
back row: Toni Bruner, Vienna (died 1992), ? – ?, Reinhard Postl, Gschmeidler??,
front: Hans Kolbeck (Germany, now Sweden), Horst Reichhart (Vienna).
All the best wishes and greetings to all who knew me (well it's long time ago).
Reinhard Postl"
---

Bali 1965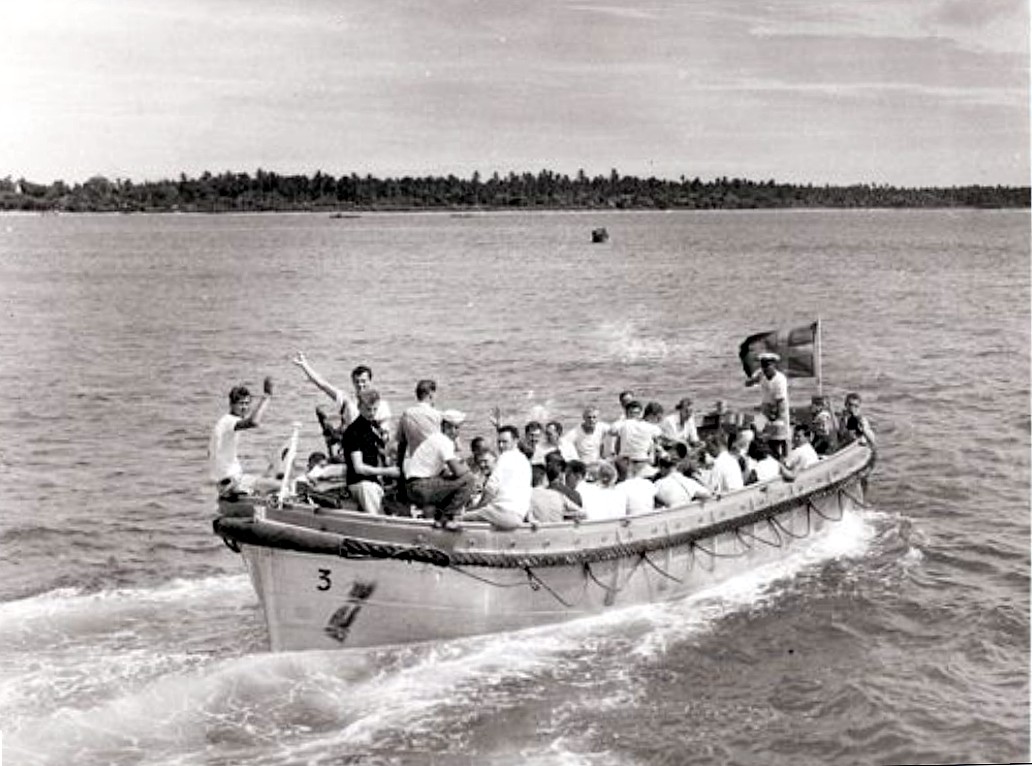 Crew members returning to the Kungsholm during the ship's visit to Bali 1965,
some holding carved wooden souvenirs. Photo contributed by Sven Fürst,
Crew Purser/Cashier on the Gripsholm and Kungsholm 1965-1968.
Sven Fürst is seated far aft on the port side.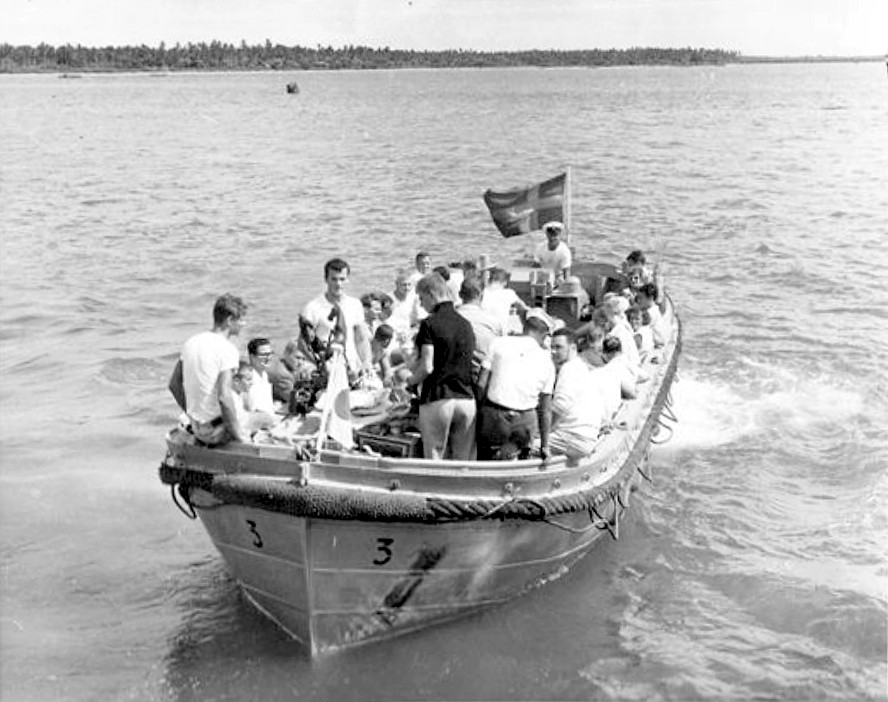 ---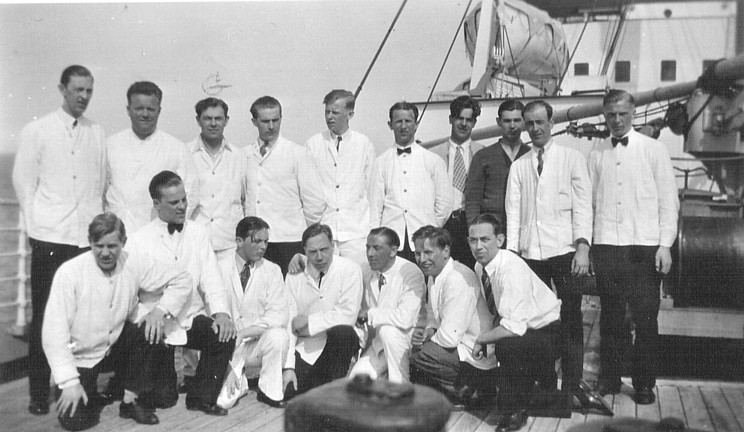 Helene Carlsson in Mölndal, Sweden, has sent us three photos of her grandfather, Karl Gustav Ingemo,
serving on one of the SAL ships in the 1930's. Karl Gustav Ingemo is the man underneath the letter G.
He was born in Björkö, as Karl Gustav Karlsson, in 1903, and passed away in Gothenburg in 1973.
Helene would like to get in touch with anyone with knowledge of her grandfather.
Do you recognize anyone in the photo? Email salship@yahoo.com
Karl Gustav Ingemo.

---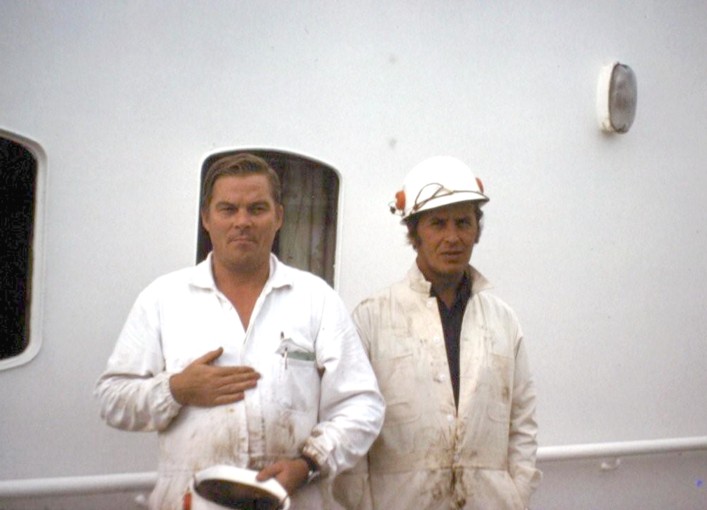 Carpenter Reo Salminen and Boatswain Anti Leskinen,
have been identified in this photo from Kungsholm's Final Voyage.
Many thanks to Mats Jangsell and Sven Ottosson
for helping out with this.
(Matts Jangsell sailed on the Kungsholm as able seaman from
September 1972 until May 1973, and another period September 1973
until May 10, 1974. Matts turned 18 years old on May 6,1974.)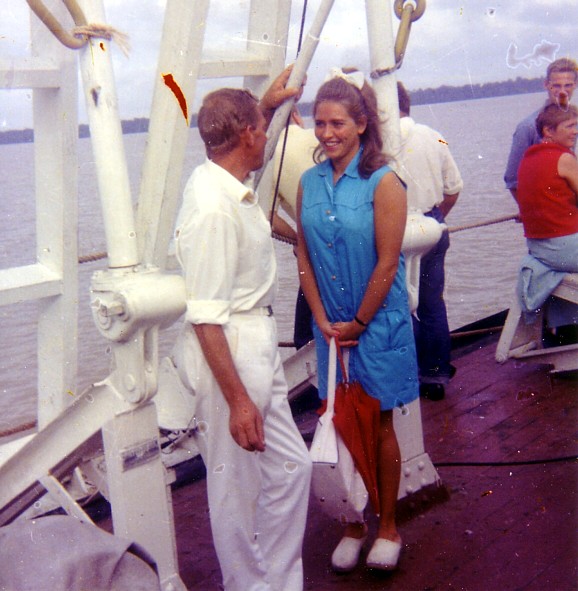 Fireman Gunnar Olsbrand talking with crew member.
Do you know her name and the year? salship@yahoo.com
Sven Fürst, Cashier on the Gripsholm 1966-1968,
has sent the following reply:
"The year was either 1966 or 1967, the girl was
working in the Ferdinand Lundquist shop,
unfortunately I forgot her name, she worked
there with Marianne Johansson."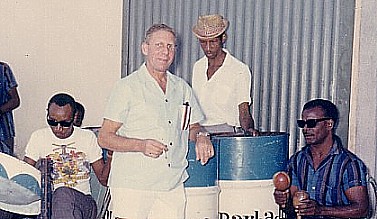 Gripsholm Fireman Gunnar Olsbrand in Barbados.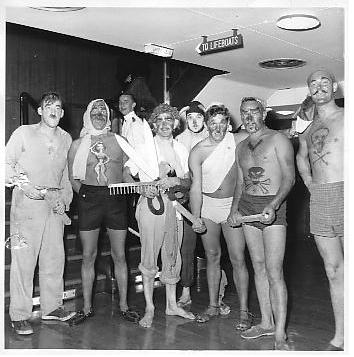 Members of the Gripsholm crew, ready to meet
King Neptune during the crossing of the equator.
Do you know the names and date? salship@yahoo.com
---
Kungsholm 1973/75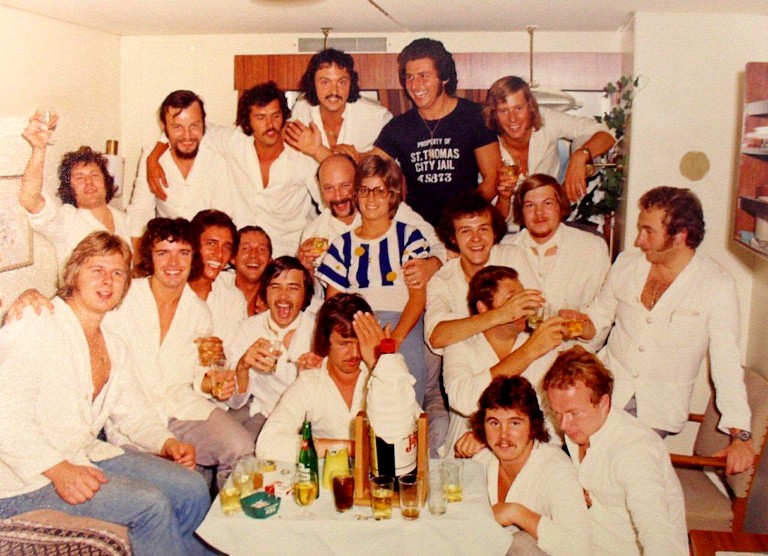 In this photo: Johannes Geueke, Günther Stelzel, Peter Hepp, Roland Sager, Toni Pyringer,
Gert Hummer, "Weltmeister"-Patissier, Manfred Galuska, Sven (Fischkoch),
Pröhls, Girardi, Birgitta Kalkenker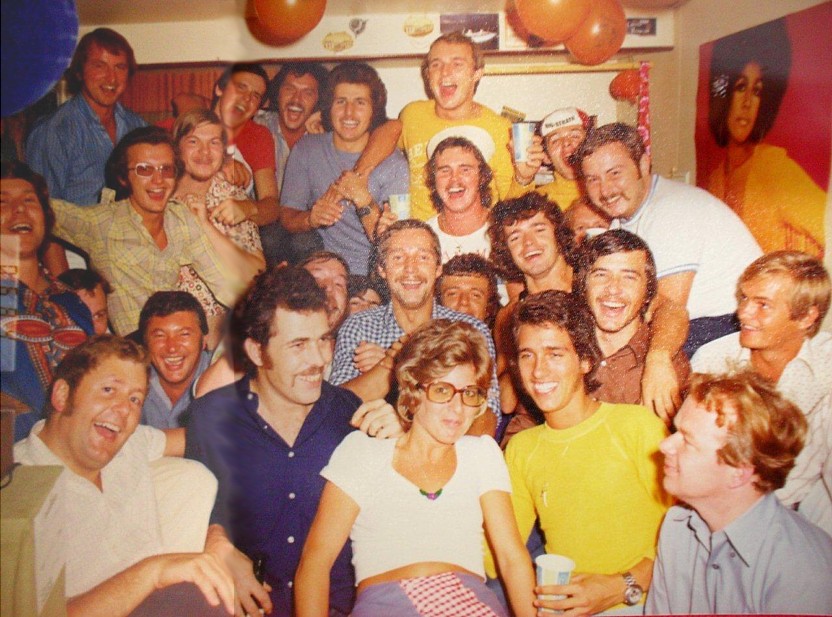 In this photo: Günther Sylli, Harry Sticker, Engelbert Gamsriegeler,
Robert Heinzelmann, Oscar Greif, Miculka, Gust
---
Officers' and crew pages
Captain Carl-Otto Claesson's pages
Chief Purser Hugo Billen's page
Engineer Magnus Baecklund's page
Chief Purser Curt Dawe's pages
Seaman Benny Doverhagen's pages
Chief Purser Evert Eriksson's page
Quartermaster Roy Johansson's pages
Chief Purser Carl-Gustav Kruse's pages
Stewardess Lois "Lulu" MacNeil's page
Återbesök på Kungsholm, av Sven Hovne
Kungsholms sista resa, av Sven-Olof Svensson
Articles from Gripsholmsposten, the crew's newsletter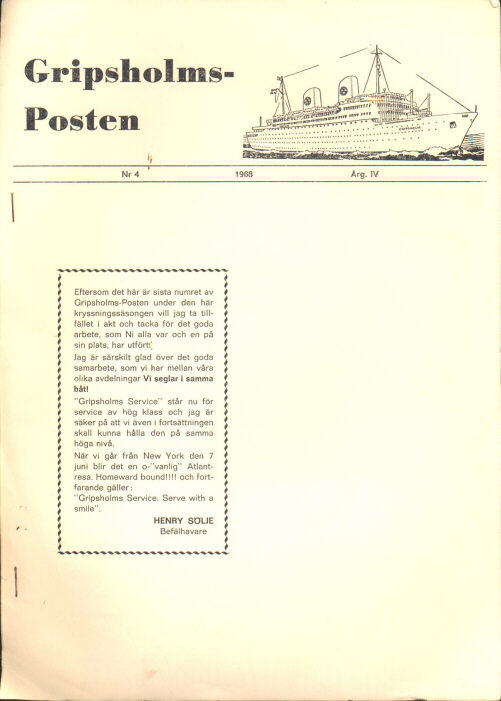 A newsletter by the crew, for the crew.
A message from the Captain on the cover page:
As this is the last issue for this cruise season,
I want to thank everyone for the great work you have done...
When we leave New York on June 7th, it will be an
(extra-)ordinary Atlantic sailing. Homeward bound! And remember,
our motto still is: Gripsholm's service. Service with a smile!
Henry Sölje
Commander
In Memory...
2022
Chief Steward Ingwar Gemzell passed away on January 11, 2022,
at the age of 84. He started his career in SAL in 1956, and worked on
the Stockholm, two Kungsholms,and the Gripsholm.
2018
Second Purser Lennart Angelmo passed away in March,
He worked on SAL ships from 1967 to 1975.
2017
Second Purser Ingvar Torstensson passed away in January.
He worked on SAL ships from 1970 to 1975.
2016
Chief Steward Gerhard Kummer passed away in October. He served on SAL ships from 1959 until 1975.
2014
Volker Roloff, a true SAL veteran, passed away in May. Roloff, worked on the Gripsholm 1962 - 1975, as Dining Room Steward, Cabin Steward, Wine Steward, Assistant Chief Steward and Chief Steward.
2009
Claes Feder, the architect behind the beautiful Kungsholm of 1966, passed away in October.
2008
Lennart Håkanson, 2nd Purser, Chief Purser, and Catering Inspector for SAL, from the mid-1960's and during the 1970's, died in Gothenburg on November 8, 2008.
Kalle Winberg, Orchestra Leader on the SAL ships, died on November 8, 2008.

2007
Cruise Manager Herbert B Colcord passed away, 83 years old.
2000
First Officer Sven Brorsson died in his home in Helsingborg in March, only a few weeks after having signed the guest book of this site. Sven Brorsson served on the SAL fleet from 1966 to 1975.
1999
Captain Torkel Tistrand, well known to all SAL employees as manager of the Sea Personnel Deparment, died in Göteborg in May.
Chief Purser Carl-Gustav Kruse passed away in his home in Båstad in October.
Carl-Gustav Kruse served on both the Gripsholm and the Kungsholm.
Chief Purser Poul V. Lange died in Göteborg during the autumn of 1999.
Poul V. Lange was Purser on the Gripsholm and the Kungsholm. Sea burial has taken place.
---
More than 250 web pages developed and maintained by Lars Hemingstam ©1998-2023
Hasse Gustafsson and Tommy Stark have interviewed crew members and contributed many of the stories.

Email us
This site does not use cookies, nor do we save visitors' IP-addresses. We do not send information to any third party. If you find information or a photo about yourself, or a relative, and want do delete it, please email salship@yahoo.com, and the information or photo will be removed. (The General Data Protection Regulation (GDPR) does not apply to deceased persons.)
Denna webbsajt andvänder inte cookies, vi sparar inte heller besökarnas IP-adresser. Vi skickar ingen information till tredje part. Om du finner information eller ett foto om dig, eller en släkting, och vill ta bort det, skriv till salship@yahoo.com så tar vi bort informationen eller fotografiet. (EU-regeln GDPR omfattar inte avlidna personer.)
---
The New SAL Guestbook
Since the new guestbook can take some time loading, it has been moved to a separate page, and is not being displayed at the bottom of every page.
---