SAL in the United States
Please email us if you can identify persons whose names aren't noted below the pictures. If you recognize yourself or a relative, and in any way are offended by the picture being published, please send an email and the picture will be removed.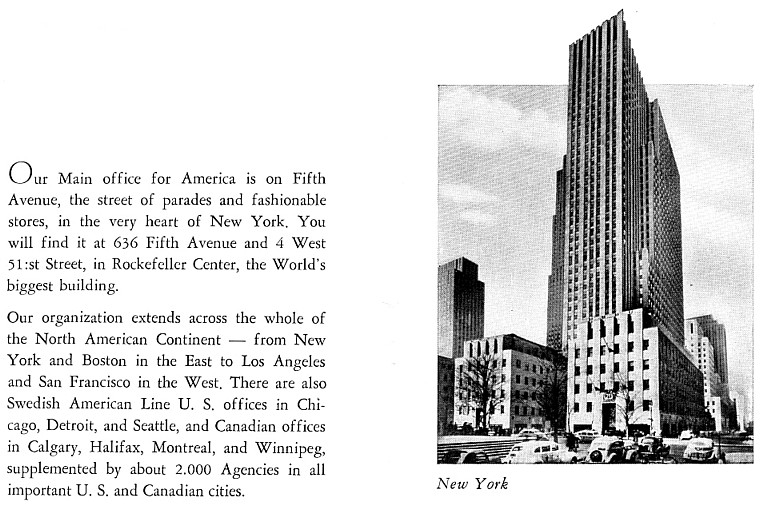 - SAL info in 1954 -


From the Dawe collection.

The SAL New York Office in 1941.

See the building today on Mapquest


G Hilmer Lundbeck Sr in 1935.

G Hilmer Lundbeck Sr represented SAL in the U.S. from the start in 1915, at Nielsen & Lundbeck, in a basement at 24 State St, NYC, long before the office moved to 636 Fifth Avenue. He was "Mr Swedish American Line" in the United States. After WWII he was succeeded by his son, Hilmer Lundbeck Jr, who had been originator of the cruise business.




G Hilmer Lundbeck Sr and Axel Johnson

G Hilmer Lundbeck Jr and Erik Wijk



The original Nielsen & Lundbeck office on State Street in the early 1920's.
Image contributed by Jesper Bergvall.



On the right, Earnest Bearnarth,
Vice President, Passenger Traffic,
with Chief Purser Curt Dawe.
From the Dawe collection.





John M. Fraser Jr., son-in-law to Hilmer Lundbeck Jr.,
succeeded Mr Lundbeck as head of SAL in the USA.
From the Dawe collection.




John M. Fraser Jr, as Cruise Manager on a North Cape Cruise in 1961.



NY100. Staff members at the New York office 1963 - 1964
L-E Jansson has identified Shore Trip manager Olof Ollen, third from left.
Contributed by Annica Roussetos and Irja Hier.

Please help us identify the persons in these photos.
salship@yahoo.com





NY-110. Staff members at the New York office 1963 - 1964.
L-E Jansson has identified Mr Carl Hallengren on the far right,
and Captain Hugo Bergman in the back, third from right.
Contributed by Annica Roussetos and Irja Hier.

Read about Annica Rousettos and Irja Hier who worked at the office in New York 1963-64
---
Swedish Flag from the SAL Office and Kungsholm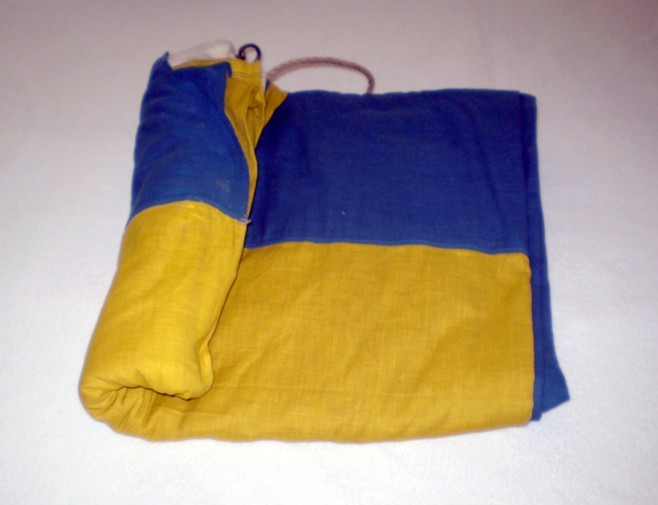 Barbara Case (maiden name Burall) of Tolland, MA, made eight cruises on SAL ships with her mother, Mrs. Stephen Burrall or Frederica Burrall. Barbara's mother participated on many more cruises, starting when she was 14 or 15 years old and continuing until the Kungsholm was sold to P&O. She was called the "Penguin Lady", because of the toy penguin she brought along on the cruises. Barbara has donated a very large Swedish flag, which was given to her by Mr Walter Capelli of the SAL New York office. The flag has flown on the Kungsholm, and is to be used at special SAL events.
---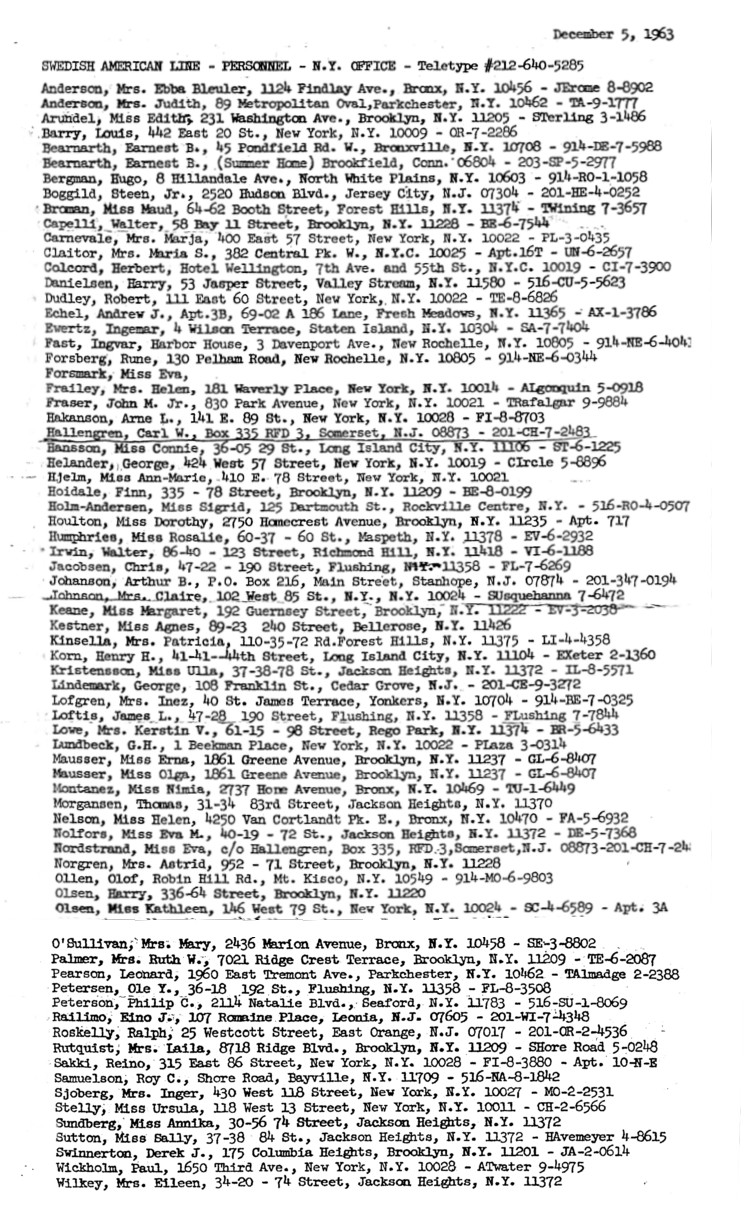 Personnel at the NYC Office in 1963.
More than 70 people were employed there.
Contributed by Annica Roussetos and Irja Hier.
Irja Hier compiled this list in 1963, but left out her own name by oversight.
---

Comments to the list of personnel


Management

G Hilmer Lundbeck Jr

Maud Broman
Secretary to Mr Lundbeck
Earnest Bearnath
Vice President, Passenger Traffic.
Laila Rutquist
Secretary to Mr Bearnath
John Fraser
Eva Forsmark
Secretary to Mr Fraser
Hugo Bergman
Captain
Inger Sjöberg
Secretary to Captain Bergman
Publicity Department
Carl Hallengren
Manager
Reino Sakki
Photographer
Olof Ollen
Shore Trip Manager
Kerstin Lowe
Secretary to Mr Ollen
Cruise Staff
Herbert Colcord
Cruise Manager
Robert Dudley
Cruise Staff
Helen Frailey
Social Directress
Derek J Swinnerton
Lecturer
Booking Department
Walter Capelli
Rune Forsberg
Walter Irwin
Chris Jacobsen
Henry Korn
James Loftis
Ole Peterson
Ralph Roskelly
Ingvar Fast
Landing Agent
Ingemar Ewertz
Landing Agent
Correspondence Pool
Louis Bary
Manager
Erna Mausser
Olga Mausser
Ursula Stelly
Office Administration
Sally Sutton
Switchboard
Helen Nelson
Filing
Eino Railimo
Photos, etc

---

Contributed by Annica Roussetos and Irja Hier.

---
---
Lecturer Derek J Swinnerton

Derek J Swinnerton was a former high ranking submarine officer in the Royal Navy.
In addition to holding travel lectures in the auditorium, he had a morning
radio show on board the Kungsholm called "Greet the Day with Derek J".

When the ship passed through the Panama Canal, Swinnerton would hold
an impressive and detailed guidance during the entire passage, from the
bridge over the ship's PA system, not using a manuscript.
---
Mr Carl Hallengren
My father was the ship's agent in Weymouth (Cosens and Co) when the Kungsholm and Gripsholm used to visit during the 1960's and 1970's on their Spring Adventure Cruises. It may be of interest that my parents and I were part of a small troupe of entertainers who performed dressed as Pearly Kings and Queens when they visited Weymouth. These concerts were organised by my father Mr Sidney Davis who was very involved in amateur choirs and theatre at the time.
I have many fond memories of these evenings spent on board. In 1968 I visited The USA and Mr and Mrs Hallengren (he being a Swedish American senior manager) very kindly hosted my visit whilst in New York. Many years later my husband and I met the Hallengrens again at their home in Florida after he had retired. My husband at the time was the British Naval Officer based at Cape Canaveral on a submarine missile programme.
Carl Hallengren and his wife gave me a wonderful time in New York ......including visiting SAL offices and a memorable dinner at a restaurant called The Forum of the Twelve Ceasars where they entertained a Swedish Eye Surgeon and his wife who we met off the liner SS France and took them to their penthouse suite at a hotel in New York which name escapes me at the present. The eye surgeon was visiting the US for an operation to save his sight and normally sailed SAL ....one of the companies regular and valued guests. Also remember visiting a Dr and Mrs Block at their home in the city. The reason being they had been passengers on that years' Spring Adventure Cruise and my father had struck up a friendship with them telling them of my impending visit to the US later that year. It was 1968 and in those days a tourist could only take £50 into the US which even in those days would not have lasted me very long!!!! Dr Block suggested to my father he may like to give him an envelope containing US dollars which I could collect from him on my arrival. The Hallengrens and I turned up at their home and I was handed the envelope my father had entrusted him with.
Happy Daysand oh so happy memories!!!!!
Kind regards, Ann Saunders
---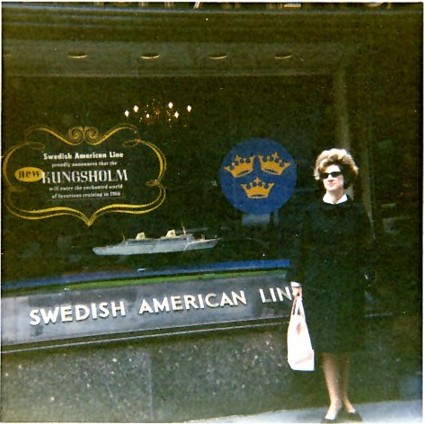 Irja Hier, (formerly Irja Grundtman) outside the SAL office in 1966.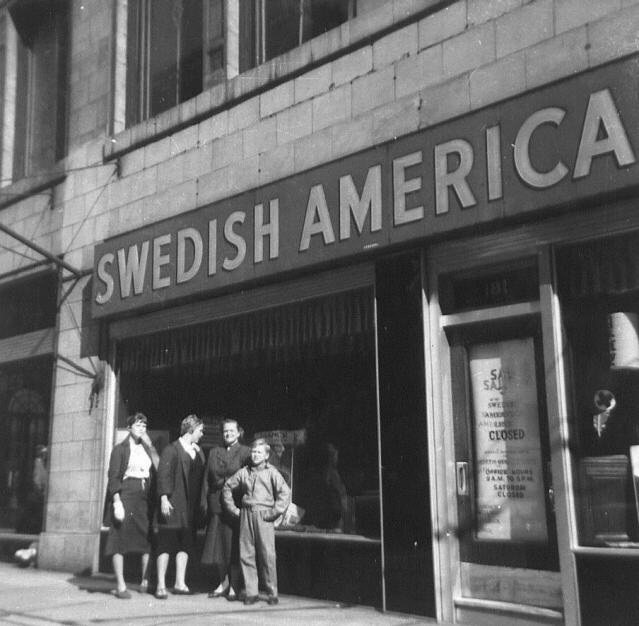 Runa, Gun, Ruth and webmaster Lars Hemingstam, outside the SAL office
after arriving in New York on the Gripsholm in August 1957.
Read about Annica Rousettos and Irja Hier who worked at the office in New York 1963-64 >>
---
This site does not use cookies, nor do we save visitors' IP-addresses. We do not send information to any third party. If you find information or a photo about yourself, or a relative, and want do delete it, please email salship@yahoo.com, and the information or photo will be removed. (The General Data Protection Regulation (GDPR) does not apply to deceased persons.)
Denna webbsajt andvänder inte cookies, vi sparar inte heller besökarnas IP-adresser. Vi skickar ingen information till tredje part. Om du finner information eller ett foto om dig, eller en släkting, och vill ta bort det, skriv till salship@yahoo.com så tar vi bort informationen eller fotografiet. (EU-regeln GDPR omfattar inte avlidna personer.)
More than 250 web pages developed and maintained by Lars Hemingstam ©1998-2018
Hasse Gustafsson and Tommy Stark have interviewed crew members and contributed many of the stories.

Email us
---
The New SAL Guestbook
Since the new guestbook can take some time loading, it has been moved to a separate page, and is not being displayed at the bottom of every page.
---