Gripsholm 1957 - 1975
There were 2 great ships named Gripsholm
Read about the first Gripsholm, 1925-1954

Original name:

MS Gripsholm

Shipyard:

Ansaldo, Genua, Italy

Year:

1957

Tons:

23,215

No of passengers:

778

Delivered to SAL:

1957

Sold:

1975

Sold to:

Karageorgis Lines. Pireaus

Renamed:

Navarino, Regent Sea

Today:

Sank on July 12, 2001
outside Algoa Bay, South Africa
A letter from the Gripsholm's maiden voyage in May, 1957
Memories from Gripsholm's last Atlantic crossing in 1975
Read about the Gripsholm's final voyage in 2001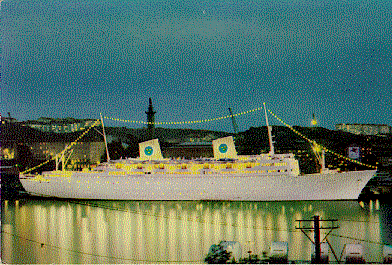 Gripsholm of 1957 in Göteborg.
More than 800 works of art, to be placed in cabins, lounges and crew areas,
were ordered by SAL for this ship. In 1971 she was laid up in Göteborg for three
months to be converted to a pure cruise ship, marking the end of the Gripsholm's Atlantic liner era.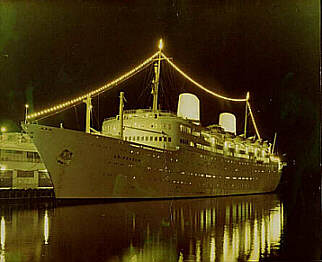 Gripsholm at La Guaira, Venezuela during a Caribbean Cruise 1971.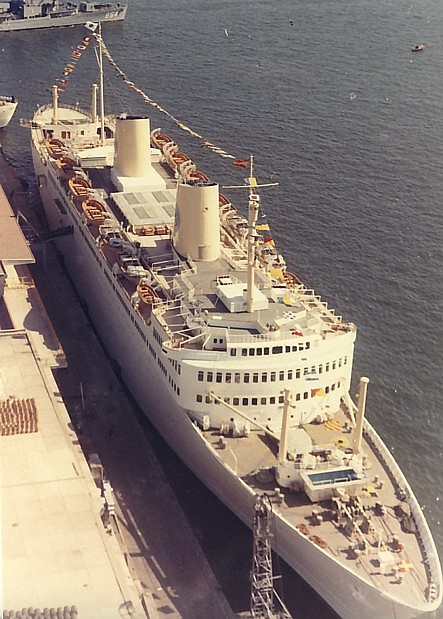 ---
Klas Ericson, son of Ship's Doctor Sten Ericson, who served on the Gripsholm
and Kungsholm in periods from 1965 to 1975, has sent us pictures of the Gripsholm
in Stockholm in 1975. The photos were taken by Dr Ericson from Kungsholm's deck.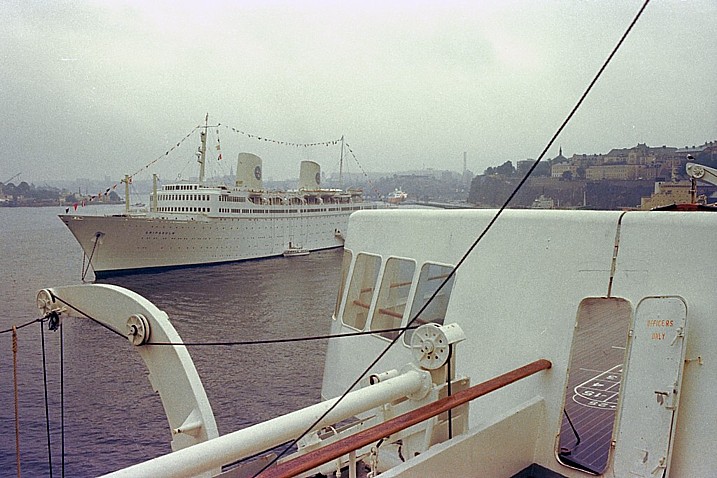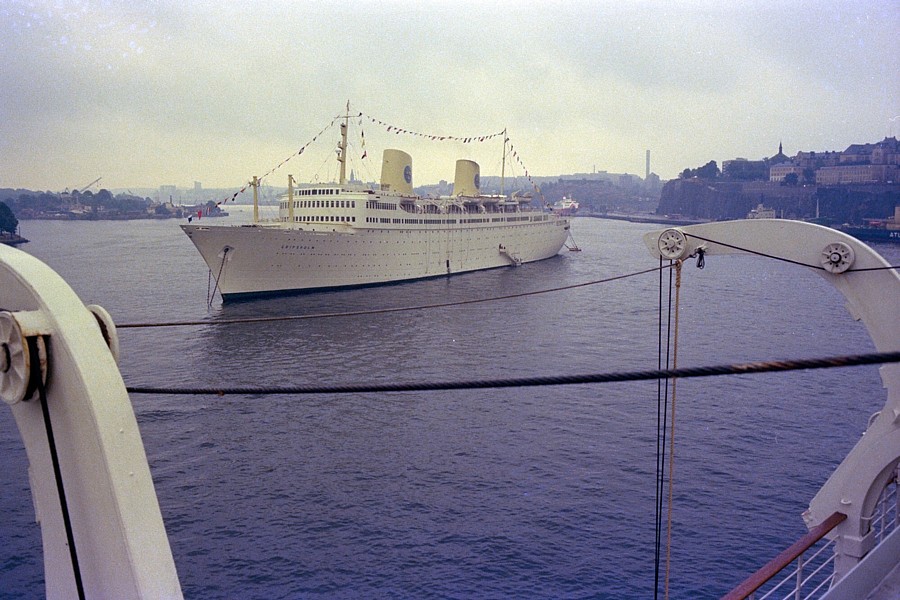 Photos by Ship's Doctor Sten Ericsson
Klas Ericson has contributed three more photos, Photographer unknown.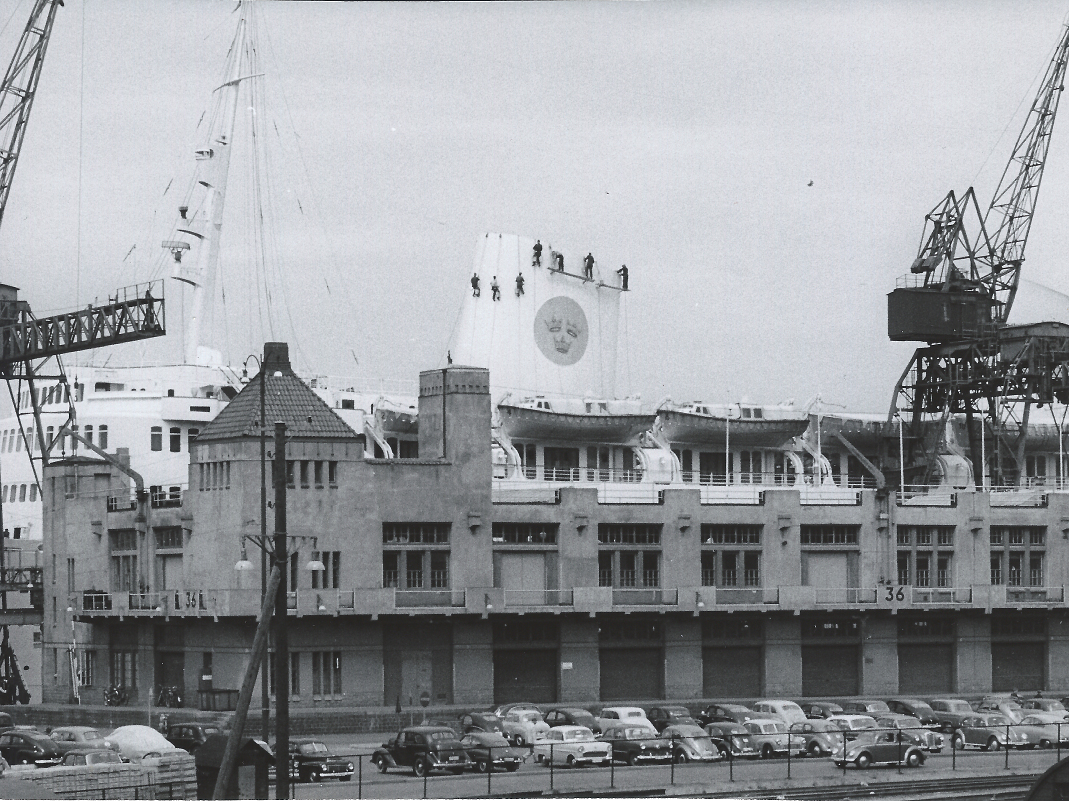 The Gripsholm in Gothenburg, in pristine condition around 1957.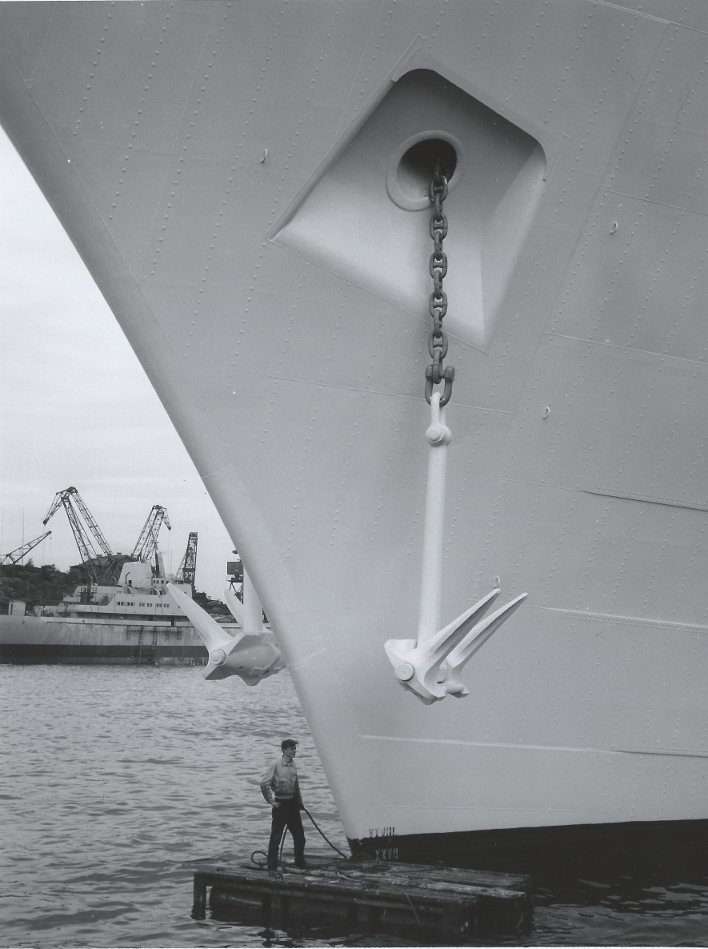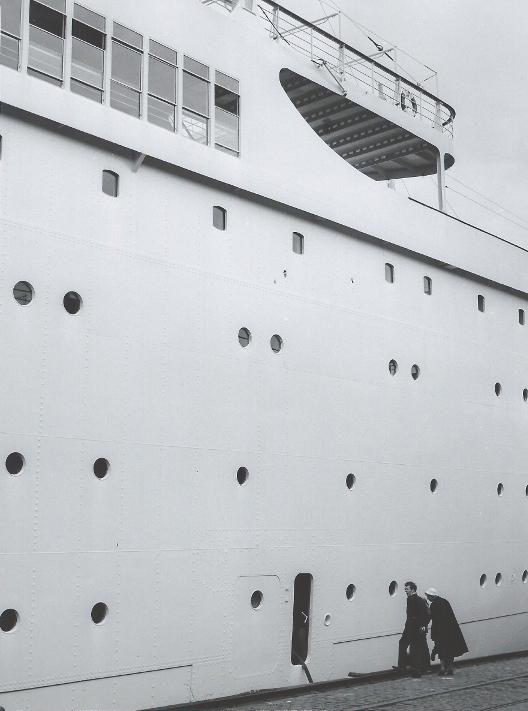 ---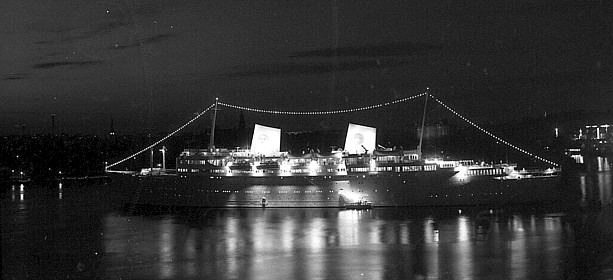 Gripsholm in Stockholm 1975.
Photo by Richard Jacob.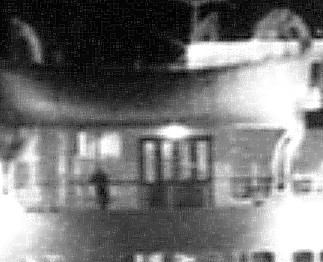 See a high resolution version of the above photo.
What is the person on deck contemplating?
This was Gripsholm's last visit to Stockholm.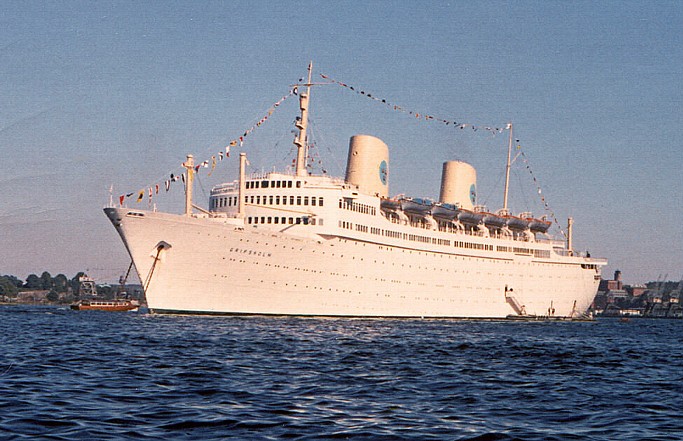 Gripsholm 1966
Contributed by Carl-Gustaf Edhardt
---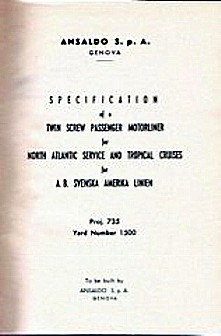 This is the cover of the original specification book for the construction of the Gripsholm of 1957. It has 1,163 pages and covers everything about the ship in the minutest details. Records state that the official contract between the Swedish American Line and the Ansaldo shipyard in Genova was signed on September 15, 1954 and the ship's keel was laid down on May 10, 1955. The Gripsholm was launched on April 8, 1956 and was officially delivered to the SAL a year and two days later on April 10, 1957. Ironically nearly four months after the Gripsholm was launched the Andrea Doria- Stockholm collision occurred and in fact incomplete Gripsholm lay tied up at the same fitting out pier where the Doria herself had been fitted out.
Dan Scott collection
---
Gripsholm leaving Göteborg, Views from the Älvsborgsbron bridge.



Gripsholm at anchor in Stockholm
The 3 photos above have been contributed by Lasse Olsbrand,
son of Gripsholm fireman Gunnar Olsbrand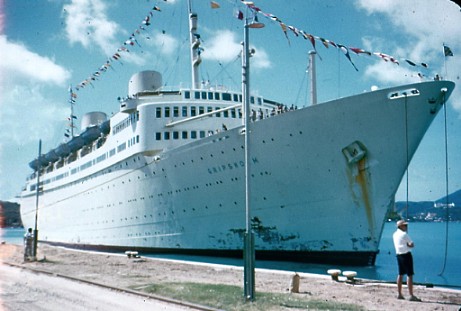 Gripsholm in St Thomas, Virgin Islands, 1958.
Many thanks to Fred Claessen for this photo.


---
Gripsholm Tender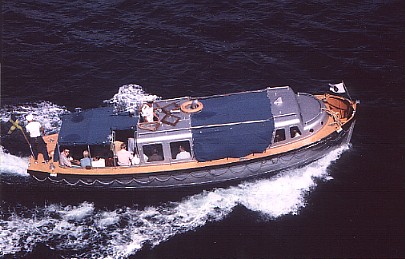 This fine photo was shot from Sun Deck on the Gripsholm
during the Around the World Cruise 1966.
Photographer: Assistant Deck Steward Carl-Gustaf Edhardt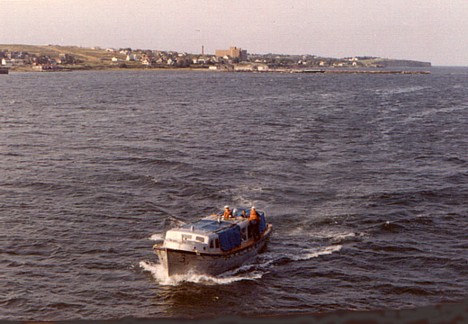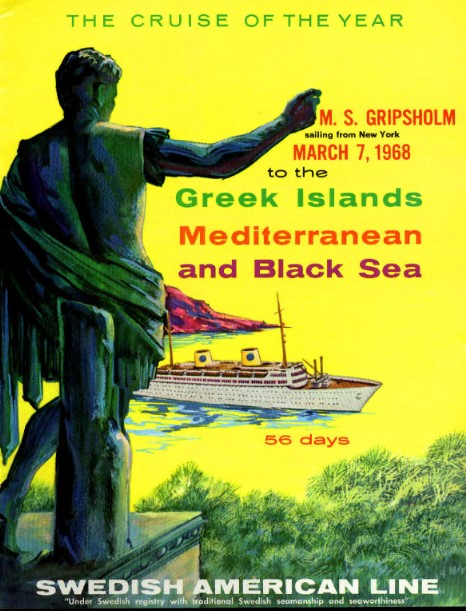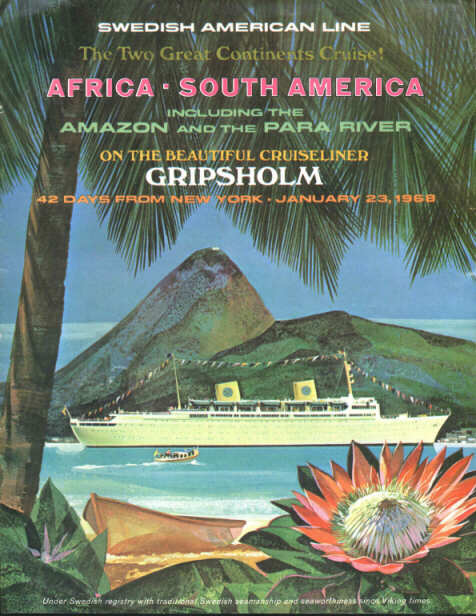 The Cruise of the Year; The Greek Islands, Mediterranean and Black Sea 1968, 56 days.
A Sunshine Special to Africa, South America, the Amazon and the Para River 1968, 42 days.
Happy days are here when you cruise on the nine-story sea-going palace, Gripsholm, for the Gripsholm is a "Happy ship" with a happy crew. Gaiety abounds and fun is as deep as the ocean and as high as the sky. Sites of historic battles, haunts of poets, fabled homes of Greek gods, in a salubrious climate, are yours to enjoy from your home away from home, the Gripsholm...
The sun in all its radiance and warmth is your constant companion on this gala cruise to the lands of summer when it's winter time back home. Bask in the sunshine on the spacious decks of the MS Gripsholm as she loafs her way to the balmy, flower bedecked Azores; explore with us the fascination of that mysterious, intriguing city of renown, Casablanca; revel in the beauty and charm of the Canary Islands...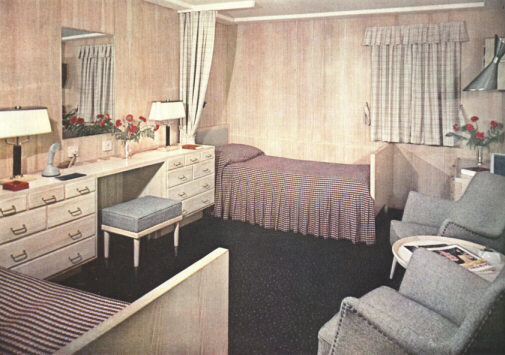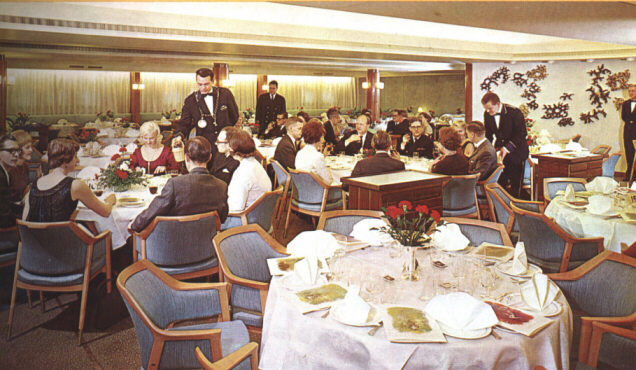 A typical Upper Deck stateroom with all the conveniences of home, including bath and shower, completely air-conditioned, and a telephone for each room.
Snow-white linens and attractive furnishings are unobtrusive dining companions... and behind the scenes carefully trained chefs, anticipating keen appetites...
---

The interior photos below are contributed
by David Chisling, Cruise Staff member:
The Forward Smoking Room
The Dining Room
The Aft Bar
The Aft Bar
The Main Lounge

---

Per Bilén believes this is Dr Ljung.

These photos have been contributed by Per and Ola Bilén, son and grandson of Chie Purser Hugo Bilén.




---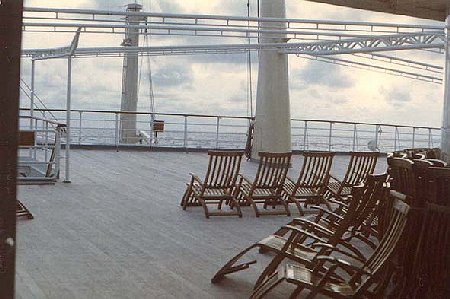 Sun Deck
Contributed by CG Edhardt.
---

World Cruise

Around the World 1966


Shore program for the 1973 World Cruise.

Captain Henry Sölje with guests
Around the World Cruise 1966
Contributed by Carl-Gustaf Edhardt (in white jacket in the background)


World Cruise 1966


Contributed by Carl-Gustaf Edhardt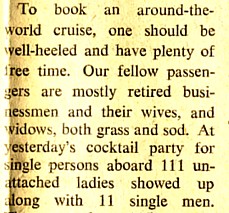 Observation made by Chicago Sun-Times
Travel Editor, Wade Franklin, February 6,1966.
The world cruise lasted 88 days.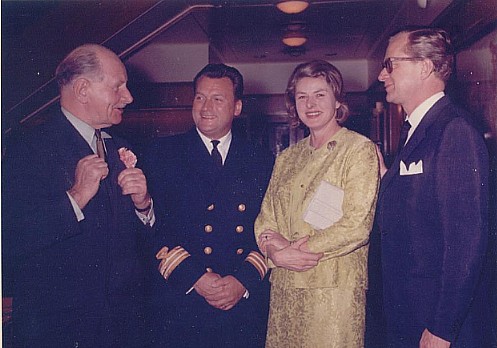 Ingrid Bergman visited the Gripsholm in Hong Kong,
on the Around the World Cruise 1966.
From left: Lecturer Hans Ostelius, Chief Purser Curt Dawe,
Ingrid Bergman, and her husband Lars Schmidt.
Many thanks to Sven Fürst for this photo.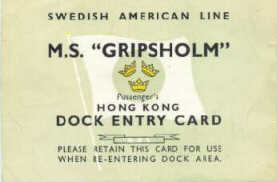 Hong Kong Dock Entry Card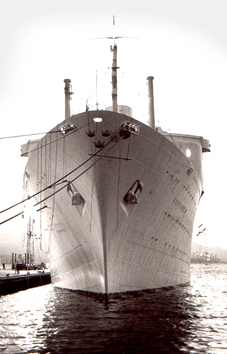 Gripsholm in Hong Kong
Contributed by Carl-Gustaf Edhardt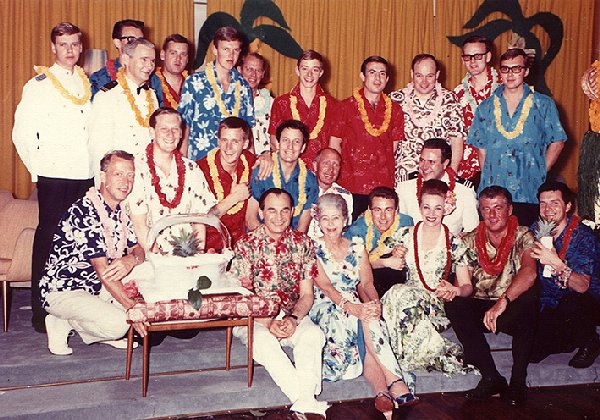 The Gripsholm cruise staff, deck stewards and waiters,
all set to serve and entertain at Mrs Rockefeller's Hawaiian party 1966
Mrs Rockefeller in center of front row.
Also seated in the front row, second from right: Cruise Manager Herb Colcord,
next: Dance Instructor Marlene Pekala, whose husband Michael is sitting to the left of
Mrs Rockefeller.
How many persons can you name? Please email salship@yahoo.com.
Photo contributed by Asst. Deck Steward Carl-Gustaf Edhardt, on the far left in white jacket
Lars Persson, Main Lounge waiter, has let us know that he is in the last row wearing a red shirt.
L-O Rydén, SAL enthusiast in Göteborg, has identified his grandfather,
Bertil Bärgström, in white steward jacket, standing second from left in this picture.

Sven Fürst, Crew Purser/Cashier Gripsholm 1965-1968, has identified two persons.
The person behind Marlene is Erik Frostenius, Chief Steward.
The person behind Michael Pekala is Hans Petter Peterson, Night Steward.
Kent Roos, of Kristianstad, has identified Deck Steward Bo Skogsfors, from Reftele, Småland, and later Lund,
standing second from right. Kent and Bo mustered on the Gripsholm in May 1962.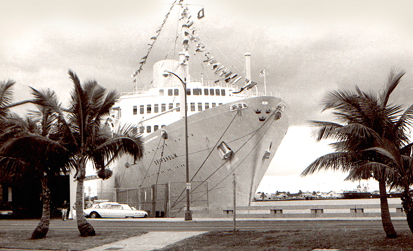 Gripsholm in Honolulu
Contributed by Carl-Gustaf Edhardt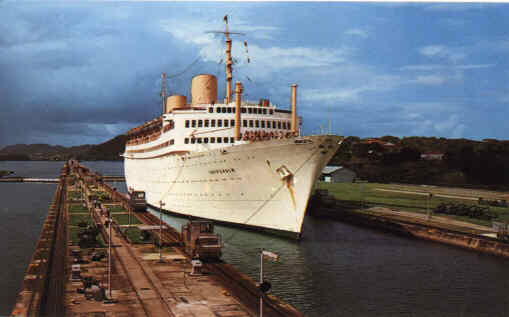 Gripsholm in the Panama Canal.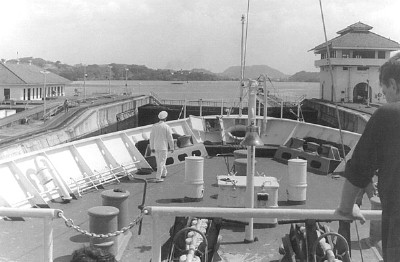 Gripsholm in the Panama Canal.

Gripsholm welcomed to Fiji on the South Pacific Cruise 1972. From The Fiji Times.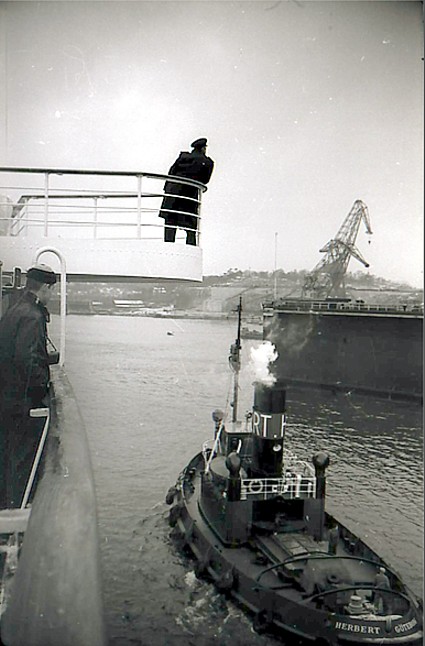 Gripsholm leaving Gothenburg, December 1961
Photo: Björn Wallde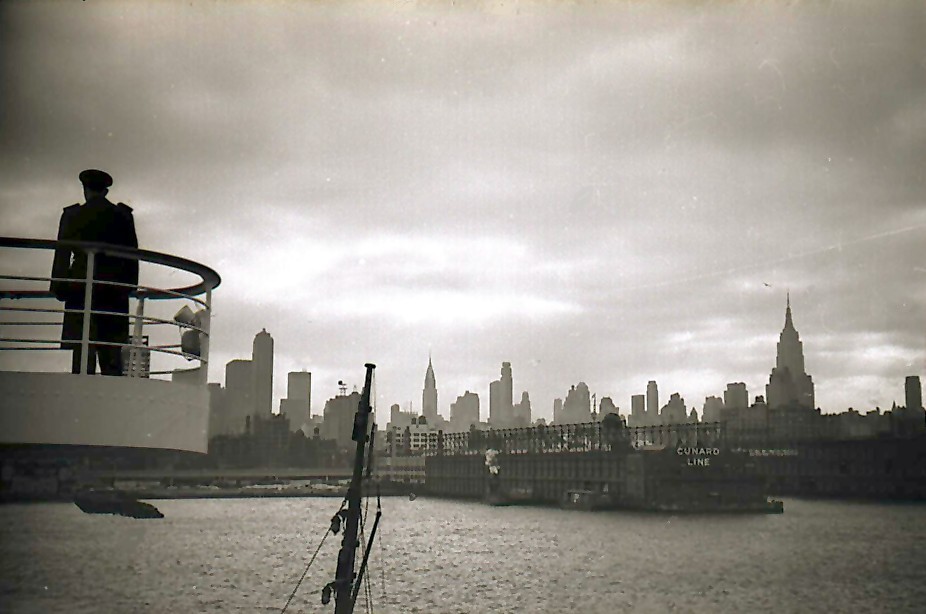 Gripsholm leaving for the West Indies, 1961
Photo: Björn Wallde
See memories of Pier 97 here.
---
A Champ On Board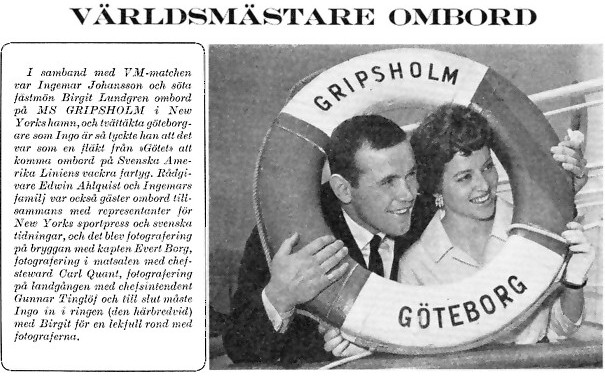 Ingemar "Ingo" Johansson won the World Heavy Weight Championship fight vs. Floyd Patterson at Yankee Stadium on June 26, 1959, New York time. Ingo and his fiancée Birgit Lundgren visited the Gripsholm at Pier 97.
Johansson, a native son of Göteborg, said: "Being on board the Swedish American Line's beautiful ship is like feeling a breeze from my home town."
SAL-Nytt, Aug, 1959
Johansson winning the heavy weight title was a big event for Swedes all over the world.

My father, Tage Hemingstam, born in Jonsered, a suburb of Göteborg, watched the fight being broadcasted live in a theater in Chicago, IL.
- Lars Hemingstam, Webmaster
---
| | | | | |
| --- | --- | --- | --- | --- |
| | This Information booklet was sent to the cruise members before the cruise. It contains clothing suggestions, shopping hints, addresses for forwarding mail, and much more... | | | Memories of a Cruise to the North Cape, 1973. This book was sent to the Cruise members after the cruise, containing a list of passengers, the Cruise News, and Port Highlights. |
---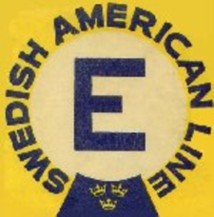 Luggage stickers.
Read about the first Gripsholm, 1925-1954
Excellent site!
Don't miss a visit to Henrik Ljungström's and Daniel Othfors' excellent website
The Great Ocean Liners, where you can find lots of information about the SAL liners.
---
More than 250 web pages developed and maintained by Lars Hemingstam ©1998-2023
Hasse Gustafsson and Tommy Stark have interviewed crew members and contributed many of the stories.

Email us
This site does not use cookies, nor do we save visitors' IP-addresses. We do not send information to any third party. If you find information or a photo about yourself, or a relative, and want do delete it, please email salship@yahoo.com, and the information or photo will be removed. (The General Data Protection Regulation (GDPR) does not apply to deceased persons.)
Denna webbsajt andvänder inte cookies, vi sparar inte heller besökarnas IP-adresser. Vi skickar ingen information till tredje part. Om du finner information eller ett foto om dig, eller en släkting, och vill ta bort det, skriv till salship@yahoo.com så tar vi bort informationen eller fotografiet. (EU-regeln GDPR omfattar inte avlidna personer.)
---
The New SAL Guestbook
Since the new guestbook can take some time loading, it has been moved to a separate page, and is not being displayed at the bottom of every page.
---