The Women of SAL
Work in progress.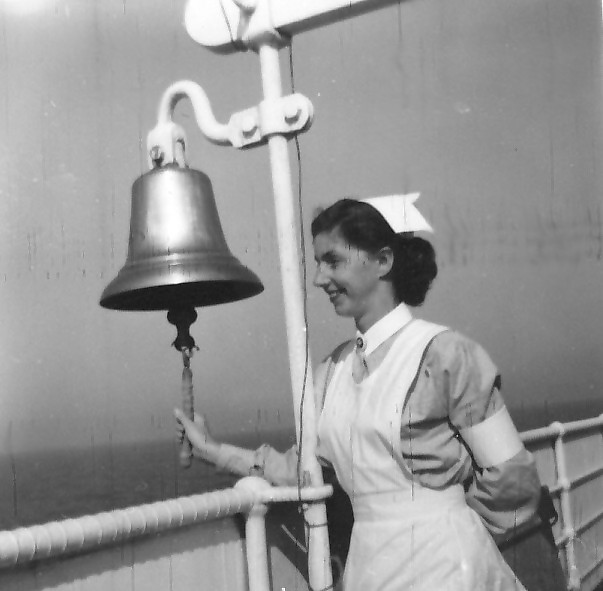 This is a new section devoted to all the women who worked on board the SAL ships,
and at the SAL offices. There are already many pictures of stewardesses, nurses,
and beauticians on these pages, but this new section will have even more emphasis
on their contributions to the greatness of SAL. If you have names, stories, or photos
of the women of the "Happy Ships with the Happy Crew",
please write to salship@yahoo.com .
Please email us if you can identify persons whose names aren't noted below the pictures. If you recognize yourself or a relative, and in any way are offended by the picture being published, please send an email and the picture will be removed.
Former Information Officer Örjan Slätte recalls an episode involving cabin stewardess Hanna Johansson:
Hanna had on a previous cruise served a passenger, who, when ordering her next cruise asked if stewardess Hanna would be on board.
"Only half of the cruise, from Venice", was the reply.
"Excellent, in that case I'm going there by plane", the passenger said, paying for the whole cruise, but only participating on the second half.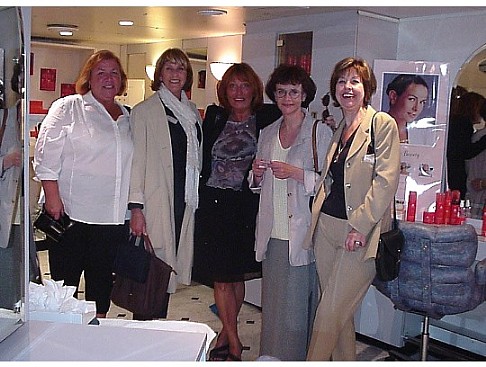 Birgitta Heikki, Birgitta Baumann, Rosalie Ahlén, Maivor Christl, and Mona Hamberg.
revisiting their former work place, the Kungsholm's Beauty Parlor,
during the reunion in Stockholm in 2000.
Photo: Lennart Angelmo.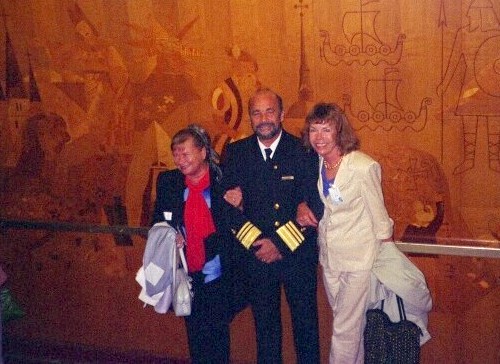 Hair dresser Eila Viena, Mona Lisa's Captain Giannakopoulus, and Margaretha Hillerström,
in front of the intarsia that originally was on the Kungsholm of 1953,
at the reunion in Stockholm in 2005.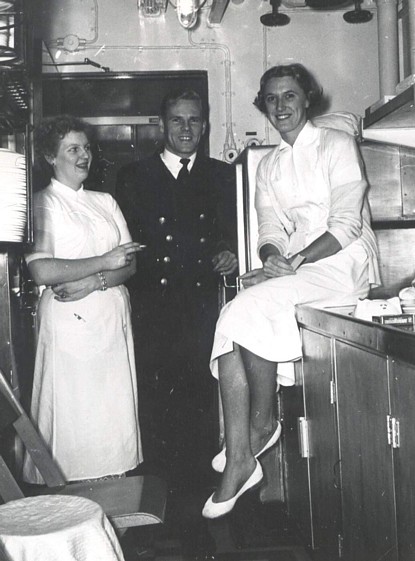 MB5. Kungsholm of 1953.
Seated: Ann-Mari Gundermark, stewardess, B-deck aft.
On the left is her cousin (name to be added) who was a laundress.
There were about 40 women employed in the laundry department
at the time. In the center: 3rd engineer Magnus Baecklund.

The following pictures are from the Dawe collection.
Please help us identify the persons on the photos.
salship@yahoo.com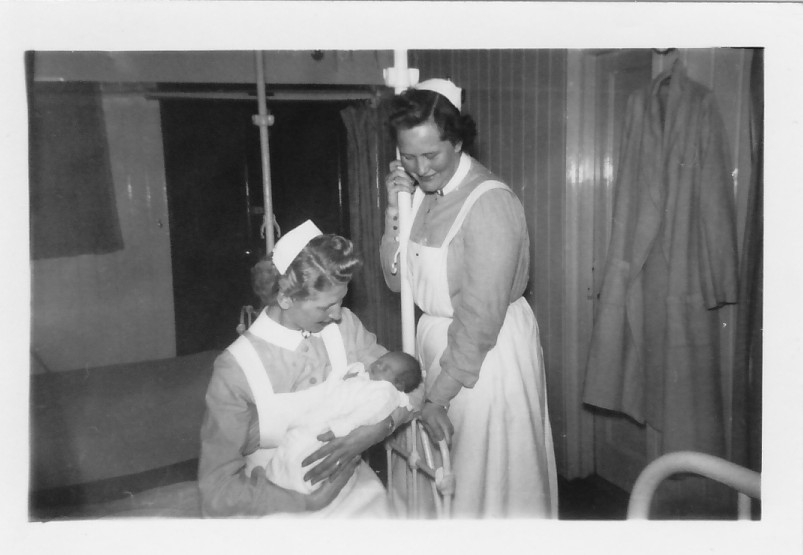 W1. Passenger Irma Lampinen, born May 28th, 1950, on the Gripsholm.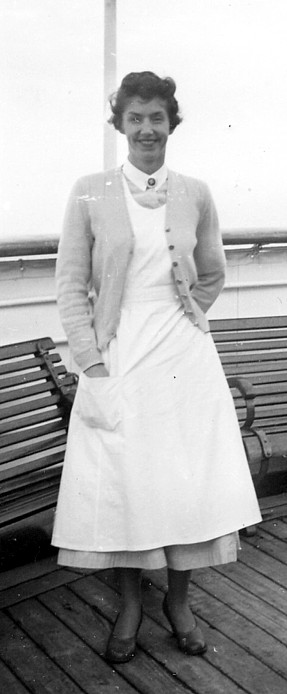 W2.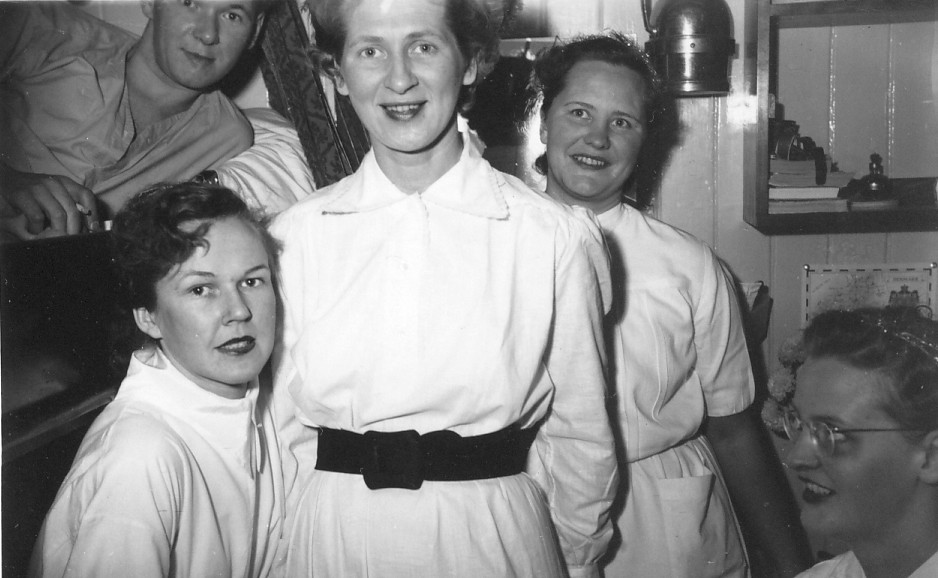 W3.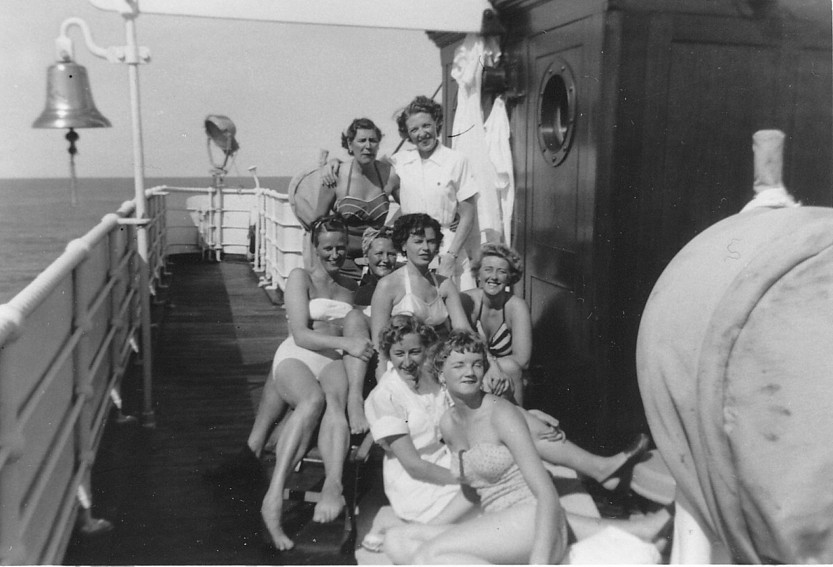 D403. Marianne Gustafsson has recognized her grandmother Anna Maria (Maja) Beckman, standing
in the back row wearing a striped bathing suit. She was a stewardess 1954/55 - 1963, most of the time
on the Gripsholm, but also on the Stockholm at the time of the collision with Andrea Doria in 1954.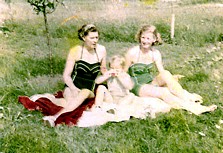 Marianne Gustafsson was a bit uncertan if it actually was her grandmother in the large photo, until
she found this photo from Sweden in 1954/55 of Mrs Beckman, Marianne and Marianne's mother.
Mrs Beckman is wearing the same swimsuit.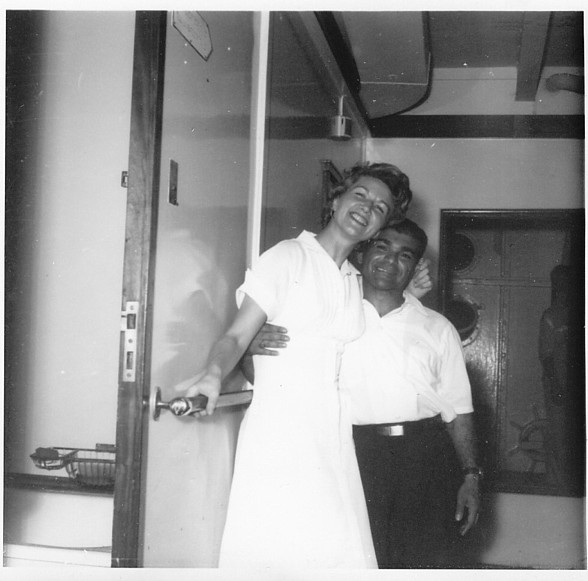 W4.
---
More than 250 web pages developed and maintained by Lars Hemingstam ©1998-2018

Email us
---
The New SAL Guestbook
Since the new guestbook can take some time loading, it has been move to a separate page, and is not being displayed at the bottom of every page.
---