28 JUN to 14 AUG 1962
In Kansas City, MO, just prior my first Swedish American Line/ Svenska Amerika Linien ("SAL") cruise, I watched a movie about the Titanic sinking. It kind of concerned me, as we were going to Iceland and North Cape, Norway, which is 360 NM NORTH of the Arctic Circle. My Daddy, United States Army Ret., Colonel Alexander Murray Neilson, USMA # 5921; O-9321; WWII ; SWPA; silver star (valor), informed me that I should not be concerned. At that time, ships had radar to identify icebergs. Wonderful? Daddy says so. OK.
Daddy was not a passenger on that cruise. My maternal Grandmother (Marie Prugh Davis Giffey and my Mother, Sara Ella Davis Neilson) took me.
Passport photos.
Robert's Grandmother,
Mrs Marie Prugh Davis Giffey, in 1961.

(When she died, the Kansas City chapter of the "Around The World Club" stated that she was their "most traveled member".)
Robert's Mother,
Mrs Sara Ella Davis Neilson,
and Robert, in 1962
We boarded a Santa Fe "Chief" train from Kansas City to Chicago and changed stations there to board the "20th Century Limited", New York Central train to Grand Central Terminal in NYC. A very nice trip indeed. Stayed one night at the Waldorf, been there before for a minimal cost. NOT today!! I knew NYC, at that time, very well.
The next morning, we approached Pier 97 at the foot of W. 57th Street. I was truly amazed by my first sight of the gorgeous M.S. Gripsholm. About 25,000 gross tons and 750+ feet long. Tiny, by today's standards. This was a rare nighttime sailing. 11 PM/ 23:08 HRS. (Late June.) The glory of Manhattan was lit up in her lights. The band was on deck, playing "East Side/ West Side", "All Around the Town", etc., and I loved throwing the streamers.
The "Moran" tugboats were working and tooting their horns and whistles. We sounded the 3 LONG BLASTs of the ship's bellowing horn to warn the Hudson River traffic that we were coming out. I had never heard that before, so, I admit that I was a bit startled, but excited too. Then the Pier started to move, or, so I thought. It seemed that way. Kind of like an earthquake. No, it was the Gripsholm moving. And, so we backed out into the Hudson River and left New York City.
We all went to the lovely and bountiful Smorgasbord on the Veranda Deck forward. We passed abeam of the Nantucket Light Vessel and, onto Reykjavik, Iceland, 5 days at sea.
Our cabin was M-61. Please do not ask me how I now remember that after so many years. Don't know. However, I do fondly remember our cabin stewardess; Saila from Helsinki. Knock down gorgeous and sweet as could be. Beautiful face, great figure, large breasts and did not wear a brassier!! Fascinating for a 9 year old healthy American male!!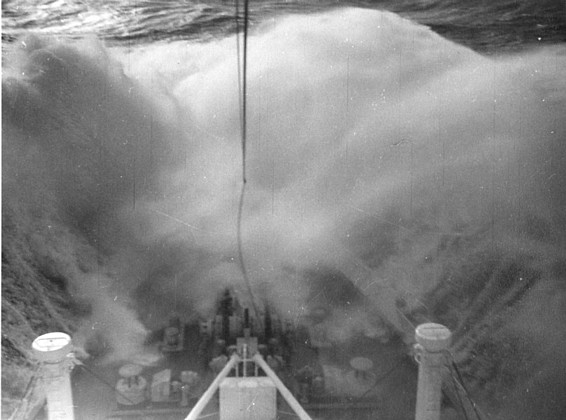 The next morning, I, for the first time ever, met Mrs. Weather/ ocean. Nasty mean oceanic bitch. After breakfast, I went to exploring my new home. I went aft to the stairs on Main Deck and up to the Upper Deck door. I used all of my strength to get out and the door slammed behind me. Our tail was pitching violently in the severe seas. The aft flag staff was bent backwards and locked with the 2 double flag lines both stretced horizontally at right 90 degree angles and tied off on the rails to protect idiots like me.
I climbed forward to the Veranda Deck and got inside the "house". Enough for this midwestern kid on that first morning.
Reykjavik, 5 JUL 62
Forget Iceland. Interesting though it was, if you like seeing sheep sheared for wool. Oh, and, by the way, the sun was staying up later at that latitude. What was far more important, was that I had already met two wonderful gentlemen/officers. Jack Fraser, SVP SAL, and my lifelong Captain / Master Carl Otto Wijkmark, who took me into their very bosom and souls. I became a very close Friend w/ Jack Fraser and, later, over the years, the "adopted" Son of Captain Wijkmark. Outside the love that I hold for my own Father and Captain Wijkmark, there are only 2 other men that I love as much.
Fast Forward...
Geirangefjord, NORWAY
(7 sisters falls) was truly spectacular/beautiful.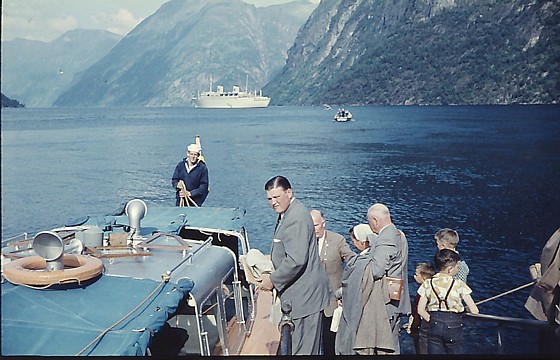 Jack Fraser took me in his private "Buick" sedan car one port south to see snow skiiers fly over the road in July. Jack told my Mother that I reminded him of his own son. We later became very fine friends.
Leningrad. USSR. Now, St. Petersburg.
It will always be Leningrad to me. For the very life of me, I will never understand why we wasted three days there. Depressing as depressing can be. No exaggeration. I do not "buy into" Putin, even a tiny bit. KGB all the way!! Anyone who does so today, is EXTREMELY naive. PUTIN is severe DANGER.
This was the height of the Cold War and only months prior to the Cuban Missile Crisis in October. Prior to our departure, Daddy issued the order that we Neilsons were prohibited to go into the interior of the USSR, including going to Moscow, on the escorted land tour. SERIOUS MIL ORDER. Reason: Colonel Neilson still held classified WWII U.S. military secrets and his Family could not be at risk of capture from the Soviet KGB. Daddy was correct. I could write far more on what I saw in Leningrad. Extremely depressing !!!
We squeezed through the tiny Kiel Canal between Denmark and Germany beginning at 15:45 on 30 JUL and exited at 01:17 on 31 JUL/ 53 NM. The Danes loved us and we loved them, as well. It was a great big deal for them and us too. This was NOT the first time that I was ever proud to be an American. But, I was truly proud that day. We/ the USA freed Europe. I knew that much as a 9 year old kid, and so did those beautiful and appreciative Danes.
Had a great time in Hamburg, Antwerp and Rotterdam.
5 AUG 1962.
My 10th Birthday. I remember that one.
Went on to Ireland . Ports of Dun Laoghaire and Glegarriff. Dublin and Tipperary were gorgeous. 6 & 7 AUG.
Passed Cape Race. 14:00 HRS. 11 AUG 62.
Passed Nantucket Light Vessel. 09:00 AST. 13 AUG 62.
Docked at Pier 97, NYC. 08:35 EST. 14 AUG 62.
Distance: 12,187 NM.
As I left the M.S. Gripsholm that August morning, I was extremely depressed thinking that I would never see her or her wonderful people ever again. I was near tears all the way back to Kansas City on the trains. I remember coming into the Kansas City Union Station area and some worker waved at me with a smile, typical of mid-westerners. I did not even acknowledge him. Not like me to do that. Little that I knew that my SAL life was only beginning and that I would be back on the proud M.S. Gripsholm within just 9 months for another 52 days on a Med cruise in MAR 1963 under Captain Per- Erik Sjolin, who also loved me very much and got me started on my love for seafaring. Captain Sjolin never knew me as well, or for as long, as did Captain Wijkmark, but, I love him, as well. Erik was a "Captain's Captain" for certain. Zero doubt about that.