Kungsholm 1953 - 1965

There were 3 ships named Kungsholm that were owned by SAL.
| | |
| --- | --- |
| Shipyard: | De Schelde, Vissingen, Holland |
| Year: | 1953 |
| Tons: | 21,140 |
| No of passengers: | 802 |
| Delivered to SAL: | 1953 |
| Sold: | 1965 |
| Sold to: | Norddeutscher Lloyd |
| Renamed: | Europa, 1981 Columbus |
| Today: | Scrapped in 1985 |
The Kungsholm of 1953 carried 112,031 passengers across the Atlantic and 22,509 on cruises. She was designed and constructed with cruising in mind and made the first world cruise in SAL history in January 1955.
---
See a wonderful series of slides of the Kungsholm of 1953.
---
See beautiful pictures of the Kungsholm in New York.
---
The luxurious MS Kungsholm - a beauty from any point of view.
The result of seafaring experience and scientific planning, the ship is
a beautiful, smooth-riding product of expert builders and carriers,
throughout, the hallmark of meteculous attention even to minute details.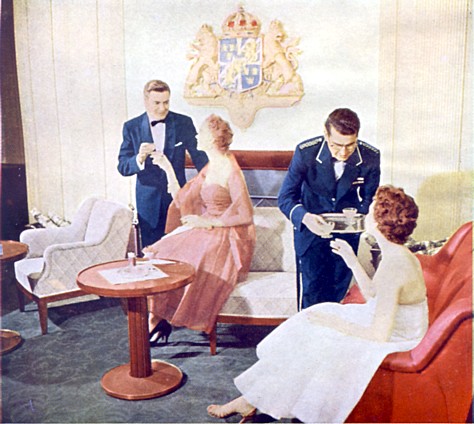 Bleached oak walls, Stig Blomberg's bronze reliefs and the open
fireplace, framed in red sandstone, give First Class Smoking Room
the timeless appeal, comfort and pleasant lived-in feeling of a
distinguished private club. And the luxuriously appointed cocktail lounge
is just a few steps away.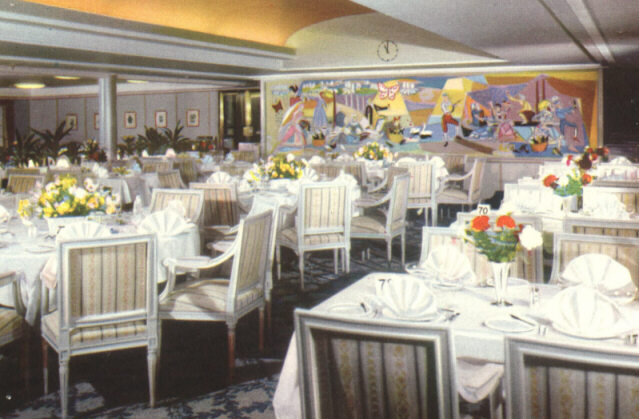 Dining room of the Kungsholm 1953-1965
Smörgåsbord! True Viking Hospitality
--- rare delicacies that taste as good as they look.



Through etched-glass doors you enter into the Dining Room, where graceful Gustavian chairs and murals against a soft pastel-grey background, provide an enchanting atmosphere in which to enjoy the delicacies of the Kungsholm haute cuisine.


We feel we may fairly claim that this tastefully designed stateroom makes a home-at-sea that compares favorably with any high-grade hotel apartment.
All staterooms, both in First and Tourist Class, are completely air-conditioned. All rooms have private lavatories and tub or shower baths. Using your private telephone, you may talk to friends aboard or ashore at any time during the voyage.



Farthest aft on Verandah Deck is he Tourist Class Smoking Room and Bar.
Glass doors and floor-to-ceiling windows make the pastel-colored room share with the open deck outside the brightness of sunny days at sea or the romance of a night under the stars.


The large indoor Swimming Pool is the center of this haven for physical culturists. Vapor baths, real Finnish steam bath, a well-equipped gymnasium and two massage rooms, staffed by Swedish experts, guarantee that you willleave the Kungsholm in good shape for coming activities.
These interior photos of the Kungsholm are from C.G. Kruse's collection.
Dining Room
Forward Lounge
| | |
| --- | --- |
| | |
| Cabin on A-Deck | Stateroom on Sun Deck |
| | |
| --- | --- |
| | |
| Main Lounge | Verandah Lounge |
Snapshots from my father's voyage on the Kungsholm New York - Göteborg in October 1954.

Friends and relatives on Pier 97
wishing Bon Voyage
Life boat drill
My father Tage Hemingstam (left)
with colleague in their
Tourist Class cabin
Farewell Dinner in the
Tourist Class Dining Room
Members of the Kungsholm
Orchestra at large
---

My name is Ingrid Elowsson, born Berg. My parents worked on the Kungsholm of 1928 when the US took over the ship in 1941, after the attack on Pearl Harbor. My father Mats E. Berg worked as a bartender, even efter the war. He was called Frenchi on board. I was born in the States in 1942. My mother and I returned to Sweden on the Gripsholm in 1946, together with the rest of the Kungsholm crew that had been stranded in New York when the war broke out. After the war my father worked on the Stockholm of 1948, and the Kungsholm of 1953, until he was retired. I grew up in Gothenburg, with a father who never was home.



Ingrid Elowsson


Mats E Berg





Jag heter Ingrid Elowsson, född Berg. Mina föräldrar arbetade båda på Kungsholm (tror jag) när fartyget togs i beslag i USA. De fick gå i land där och klara sig bäst själva. Jag föddes 1942 på Svenska sjukhuset i New York och familjen flyttade senare till North Carolina där vi bodde till dess att min mor och jag tog första båten hem till Sverige jag tror det var 1946. Mitt första minne är när jag står på båten och vinkar till min far som ej kunde resa med av någon anledning. Jag kommer också i håg hur alla skulle sätta på sig flytvästar och gå upp på däck när vi passerade minfälten. Min far kom senare hem och arbetade på Stockholm och på Kungsholm när den kom 1953. Jag var med mina föräldrar kanske det var 53 eller 52 och tittade på Kungsholm när den låg i sin docka i Vlissingen Holland. Min far, Mats E Berg, (kallades för Frenchi eftersom han såg fransk ut) arbetade till sin pensionering som Bartender i Turistklass och var med om alla kryssningar som Kungsholm gjorde. Jag växte alltså upp i Göteborg med en far som aldrig var hemma. Jag själv reste med Kungsholm i juni 1962 till New York och kände igen platsen där jag sett min far vinka. Hade en kort vistelse i USA och reste hem redan i augusti med någon av båtarna.
---
SAL Advertisement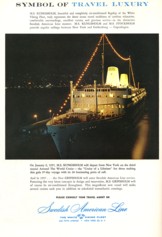 See a SAL ad from 1956, featuring the Kungsholm.
From the Dawe collection.
Excellent site!
Don't miss a visit to Henrik Ljungström's and Daniel Othfors' excellent website
The Great Ocean Liners, where you can find lots of information about the SAL liners.
---
More than 250 web pages developed and maintained by Lars Hemingstam ©1998-2023
Hasse Gustafsson and Tommy Stark have interviewed crew members and contributed many of the stories.

Email us
This site does not use cookies, nor do we save visitors' IP-addresses. We do not send information to any third party. If you find information or a photo about yourself, or a relative, and want do delete it, please email salship@yahoo.com, and the information or photo will be removed. (The General Data Protection Regulation (GDPR) does not apply to deceased persons.)
Denna webbsajt andvÀnder inte cookies, vi sparar inte heller besökarnas IP-adresser. Vi skickar ingen information till tredje part. Om du finner information eller ett foto om dig, eller en slÀkting, och vill ta bort det, skriv till salship@yahoo.com sÄ tar vi bort informationen eller fotografiet. (EU-regeln GDPR omfattar inte avlidna personer.)
---
The New SAL Guestbook
Since the new guestbook can take some time loading, it has been moved to a separate page, and is not being displayed at the bottom of every page.
---

---