---
Updated Dec 10, 2013
Do You have Information about SAL in Canada
and Arthur Anderson?
Regretfully we have no information about SAL in Canada on this website, even though Halifax was a regular port for SAL in North America, and several cruise passengers were Canadians. Laurel Anderson McCallum has sent us an inquiry:
My grandfather, Arthur Anderson, directed the Line for many year from the Winnipeg office in Manitoba, Canada. He also received an award from Sweden for long-time service with SAL. (The award was the Royal Patriotic Gold Medal from the King of Sweden). I know that he was directing the Line in 1949, but he also worked with the Line both earlier and later on, before becoming Swedish Consul in Manitoba and Western Canada from 1955-62.
Laurel Anderson McCallum, granddaughter.
Do you have more information? Please email salship@yahoo.com.

Lisa Roos of Calgary, a relative of Arthur's wife Maj-Lis, has informed us of a book with Arthur Anderson's poetry. Find more information about the book and Arthur Anderson's bio here: www.stoftdustofourbeing.com.
Updated May 3, 2014
More about Arthur Anderson
Laurel Anderson McCallum has sent us the following message:
I am enjoying your site, A Tribute to the Swedish American Line. In Winnipeg, this summer at our 'Folklorama', we are following the theme of 'Ports of Call' in our Scandinavian Pavilion. I am hoping we can have our Swedish room looking somewhat like the inside of the Drottningholm, based on the fantastic pictures on your site.
I am sending you a picture of one of the sailings that my grandfather, Arthur Anderson arranged on the Drottningholm in 1947. He is the smiling one in the front with his foot on the writing.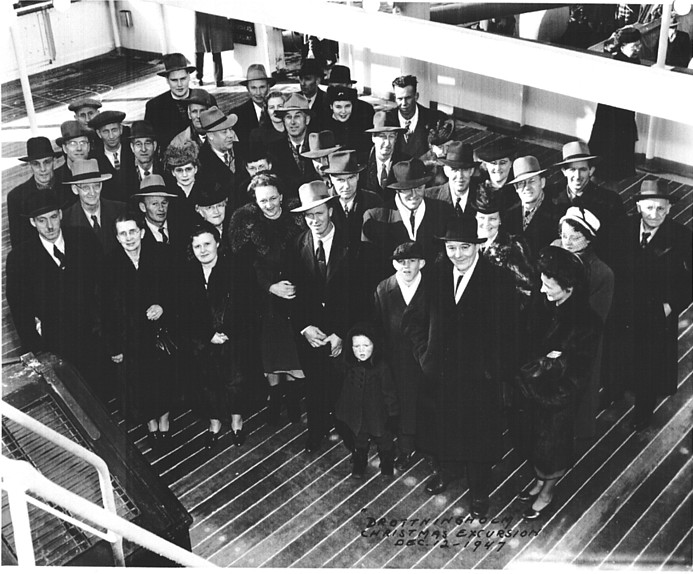 My republished book of his poetry from 1934 is selling quite well; Gallivare Secretary of Culture ordered quite a few and they are slowly starting to move throughout Sweden. You are welcome to visit my site... www.stoftdustofourbeing.com
Laurel Anderson-McCallum
---