Herbert B Colcord
Cruise Manager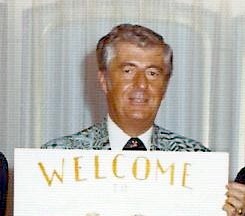 Herb Colcord was a Cruise Manager on the SAL ships for many years. The Cruise Manager and the Social Directress, assisted by the cruise staff, hosted the daily social life on board, and saw to it that the cruise members enjoyed the cruise experience. The Cruise Manager and the Social Directress were extremely social and outgoing people, well suited for mingling with SAL's society clientele.
The Cruise News from the Kungsholm's Spring Adventure Cruise in1967, tells us that Colcord was originally a speech and drama coach.
"His fling at summer stock and his summer stints on the managerial staff of a number of resort hotels, have given him the poise and unruffled attitude that makes any shipboard problems seem insignificant. Despite a very strenuous work load and responsibilities to match, Herb Colcord, with his easygoing manners, blends perfectly with the leisurely, glamour-studded cruise life on board. Always ready to accommodate a cruise passenger, to answer inquiries, give out with a joke or lead a lady passenger through the intricacies of a torrid cha-cha-cha, Herb Colcord is extremely well suited for his job."
Thanks to Lars-Erik Jansson for this information.
Ingvar Torstensson, Second Purser and Chief Purser on SAL ships, informs us that Colcord lived in New Hampshire after 1975, where he took care of an elderly lady passenger's residence. In those post-SAL years, Colcord also traveled as a passenger on the Sagafjord, accompanying the same passenger, when Torstensson served on board. Later, Colcord moved to Tarpon Springs in Florida. Herbert B Colcord passed away in 2007, 83 years old.
Please help us to identify the persons in the photos.
salship@yahoo.com.
Please email us if you can identify persons whose names aren't noted below the pictures. If you recognize yourself or a relative, and in any way are offended by the picture being published, please send an email and the picture will be removed.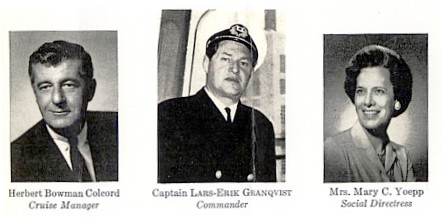 Herb Colcord as Cruise Manager on
the Cruise to the North Cape, Lands of the Vikings,
Russia, and Northern Europe, 1969.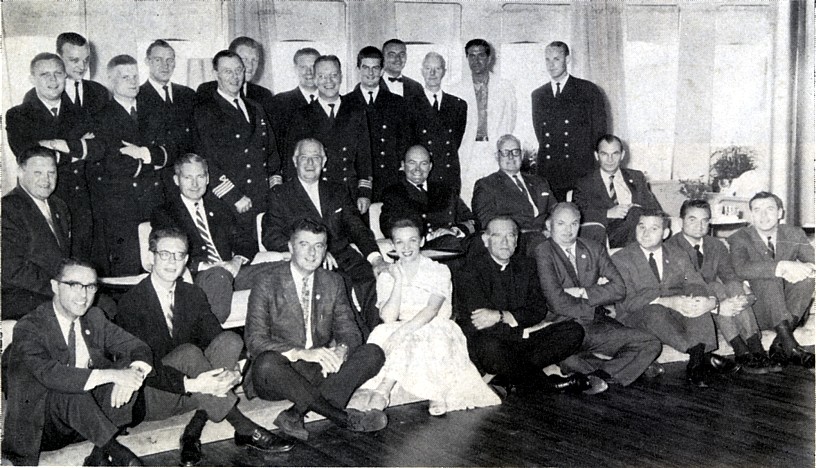 C-1. Herb Colcord as a cruise staff member in 1961,
seated in the front row, third from left.



Asko Salkola, who served in the Gripsholm's Purser's Office 1961-66, has forwarded this picture from Håkan Hansson, Elevator boy/Bellboy on the Gripsholm 1961-62. The picture is from a "Cruise News" leaflet. Asko has identified the following persons;

Standing in the back row, from the left, Arne Hylander, Ralf Odenlund, Asko Salkola (Purser's Office), 6th from the left, partly blocked, Gunnar Tinglöf (Chief Purser) , 9th Sture Hilmerson (Purser's Office), 11th Karl Axel Carman (Cashier), and on the far right, Lars Hjelm (Information Officer).
Seated in the second row, from the left, Olof Ollén, (Shore Trip Manager), John Fraser Jr., (Cruise Manager), 4th from the left Captain Evert Borg, and on the far right, Michael Pekala, (Dance Instructor).
Seated in the front row, 3rd from the left Herb Colcord (Cruise Staff), in center Marlene Pekala (Dance Instructor).
Other names to be added.



---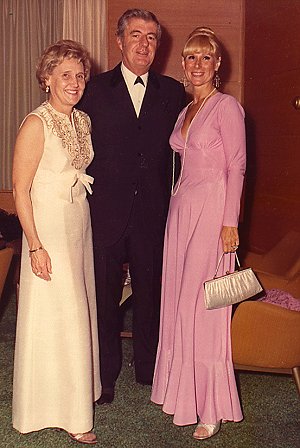 Social Directress, Herb Colcord, and singer Hanna Owen.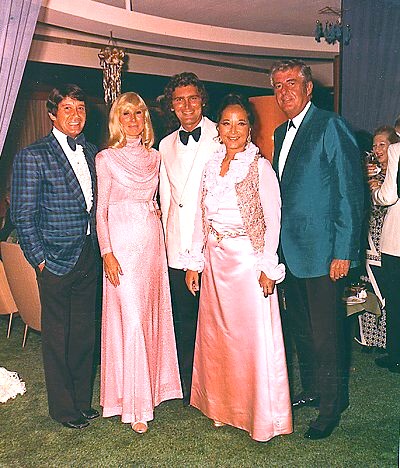 Kungsholm World Cruise, 1974.
Cookie (Cruise Staff Member) and Hanna Owen with actress Merle Oberon and her husband.
Cruise Director Herb Colcord on the right.
---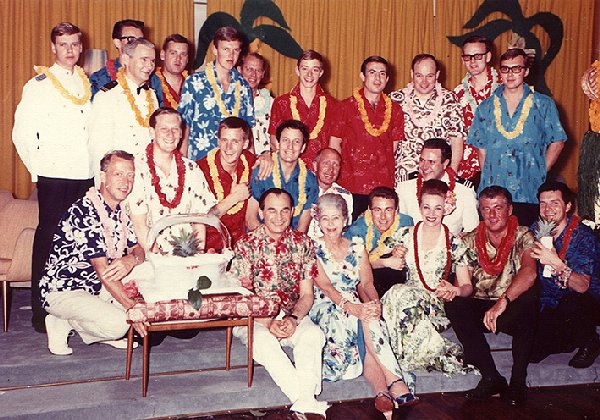 The Gripsholm cruise staff, deck stewards and waiters,
all set to serve and entertain at Mrs Rockefeller's Hawaiian party 1966
Mrs Rockefeller in center of front row.
Also seated in the front row, second from right: Cruise Manager Herb Colcord,
next: Dance Instructor Marlene Pekala, whose husband Michael is sitting to the left of
Mrs Rockefeller.
How many persons can you name? Please email salship@yahoo.com.
Photo contributed by Asst. Deck Steward Carl-Gustaf Edhardt, on the far left in white jacket
Lars Persson, Main Lounge waiter, has let us know that he is in the last row wearing a red shirt.
L-O Rydén, SAL enthusiast in Göteborg, has identified his grandfather,
Bertil Bärgström, in white steward jacket, standing second from left in this picture.

Sven Fürst, Crew Purser/Cashier Gripsholm 1965-1968, has identified two persons.
The person behind Marlene is Erik Frostenius, Chief Steward.
The person behind Michael Pekala is Hans Petter Peterson, Night Steward.
Kent Roos, of Kristianstad, has identified Deck Steward Bo Skogsfors, from Reftele, Småland, and later Lund,
standing second from right. Kent and Bo mustered on the Gripsholm in May 1962,
---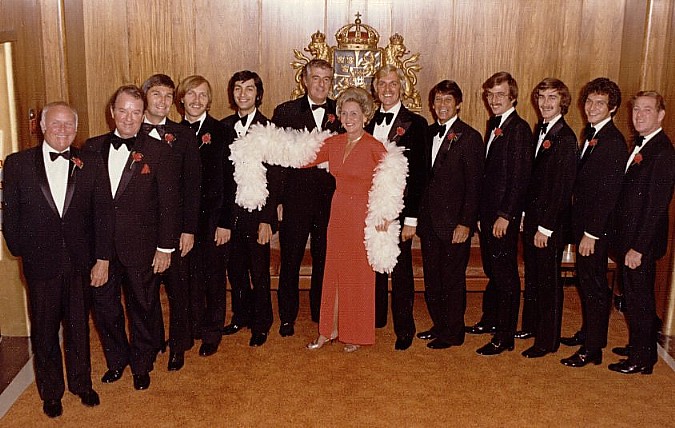 The Cruise Staff, dressed to entertain.
Bill Klingener, Shore Trip Staff member, has contributed the following information, from left to right:
Fred Fields, Ralph Magelsen, Ron Anderson, Bill Klingener, Phillip Panettiere, Herb Colcard Cruise Manager,
Jean Kerr Social Directress, Gordon Meyers, Ralph Alfaro "Cookie" Shore Trip Manager, Alfred Gilbert,
William Knowlton, Philip Hanie, and David Croft – Bridge Instructor.
Bill Klingener worked on both the Kungsholm and Gripsholm for several years and continued after the Kungsholm was sold to Flagship Cruises.
Bill remembers: Most of the staff were hired by " Ollie " in the New York office at Rockefeller Plaza - You had to be recommended by either  a Cruise Manager, Social Directress, Tours Ashore Manager or prior staff - You began as a member of the social staff and you were required to have a college degree, well spoken, able and willing to dance and fill in whenever and wherever needed with different duties on board. Run ping pong, shuffleboard tournaments, produce and deliver Daily newspaper to all passengers, host a table at meal times assist with tours ashore, entertain with programs devised by the singers and dancers. Dance with the single ladies every evening at sea. Assist with fire drills,decorations,attend special cocktail parties, after proving yourself with the social functions you could apply for the tours ashore office which set up and sold tours ashore, escorted them and arranged for private cars, hotels, meals, tickets to events etc. or any other travel arrangements that the passengers wanted. We also assisted with any of the prior duties of the social staff accept not being required to dance every evening while at sea. That picture that you had was of the Staff on the World Cruise on The Kungsholm sailing Jan. 18th 1974. Mrs. Jean Kerr had to borrow the feather boa from a passenger to make the photo more dramatic - the picture was taken early the 2nd day of the cruise. The staff got together and purchased Jean her own Feather Boa at our first stop in Port Everglades, that way she could make a dramatic statement anytime she chose.
---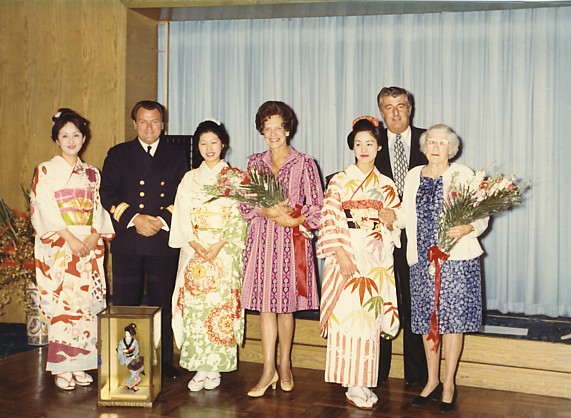 D230. Curt Dawe and Cruise Director Herb Colcord
with visitors in Kobe, Japan, March 1972.
From the Dawe Collection.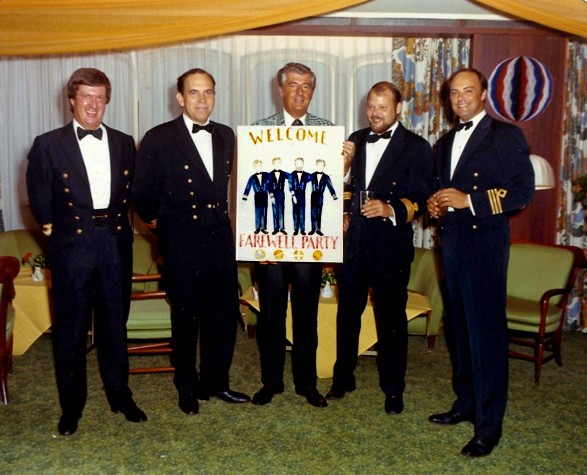 C-2. From left: Ingvar Torstensson, the Ship's Doctor,
Herb Colcord, the Chief Engineer, and Chief Officer Bertil Skarin.


Contributed by Ingvar Torstensson.