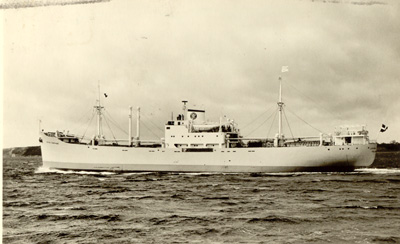 Teenager Lars Helmer's first ship was MS Lovisa Gorthon (built 1953) where he served as a messroom boy and lounge waiter. 
Photo: By courtesy of Kommandobryggan.se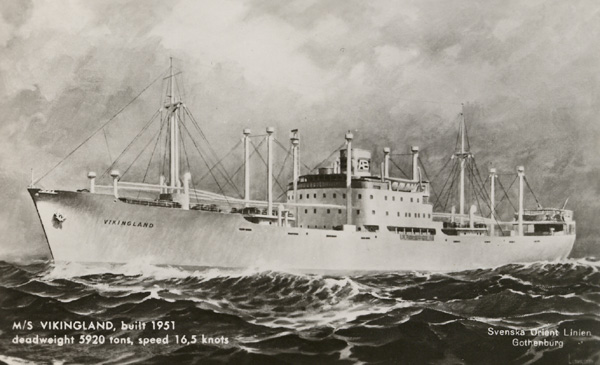 Years later Lars sailed as officer cadet on MS Vikingland (built 1951), among various other ships.  
Photo: By courtesy of Kommandobryggan.se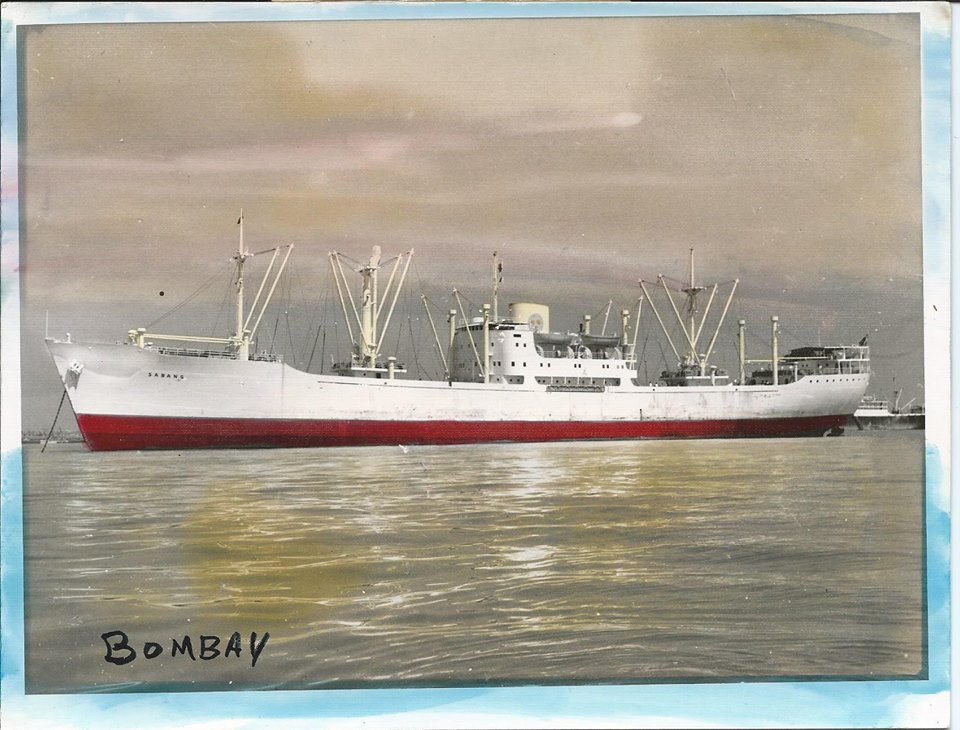 MS Sabang (1955) mooring at anchor in the harbor of Bombay sometime 1968-69 when Lars Helmer was 3:rd engineer onboard.
Photo: By courtesy of Bengt Bohman.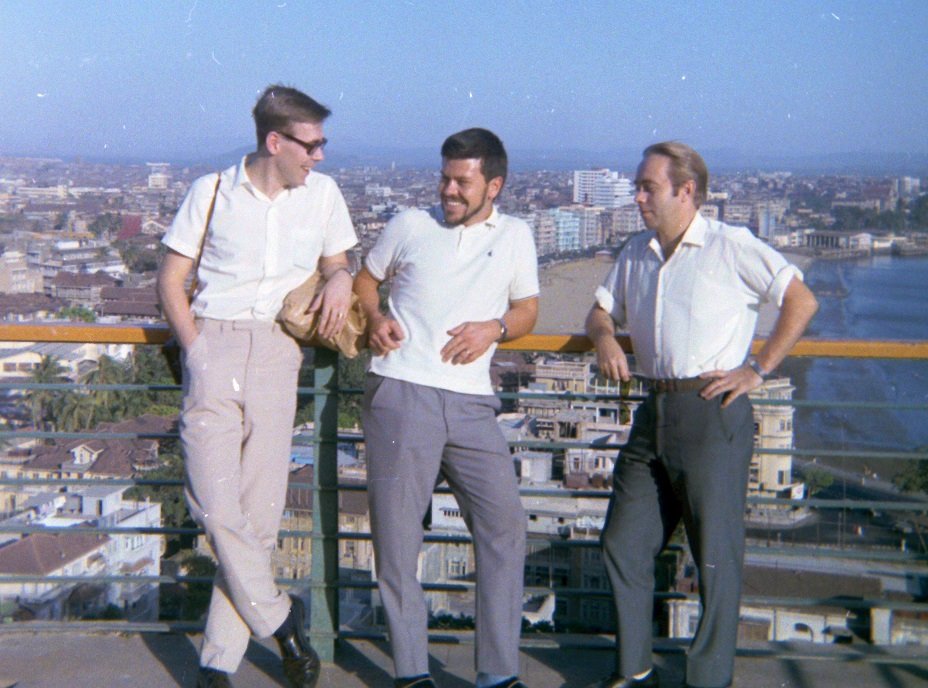 Lars Helmer is 3:rd engineer to the left, having a full day's sightseeing in Bombay sometime 1968-69 together with 2:nd officer Bo G. Nilsson (centre) and a 2:nd engineer (right). Lars remembers carrying around a package under his arm the whole day, containing a bundle of raw silk cloth that he had bought for his wife back home. She later sewed a dress from it.
Photo: By courtesy of Bo Nilsson.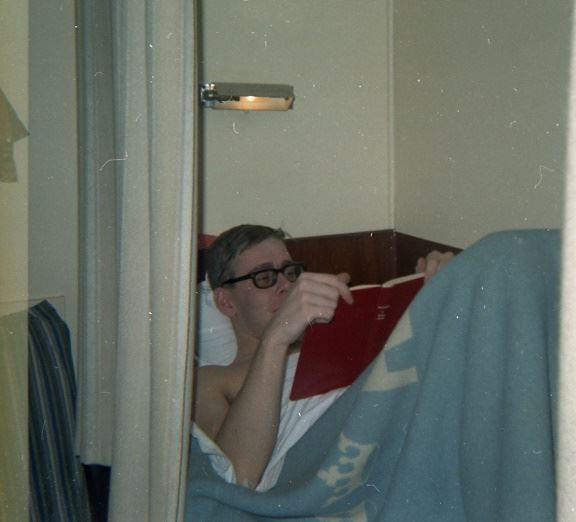 Like many sailors, Lars sometimes stayed in bed with a good book when off duty on the high seas. Here onboard the MS Sabang.
Photo: By courtesy of Bo Nilsson.​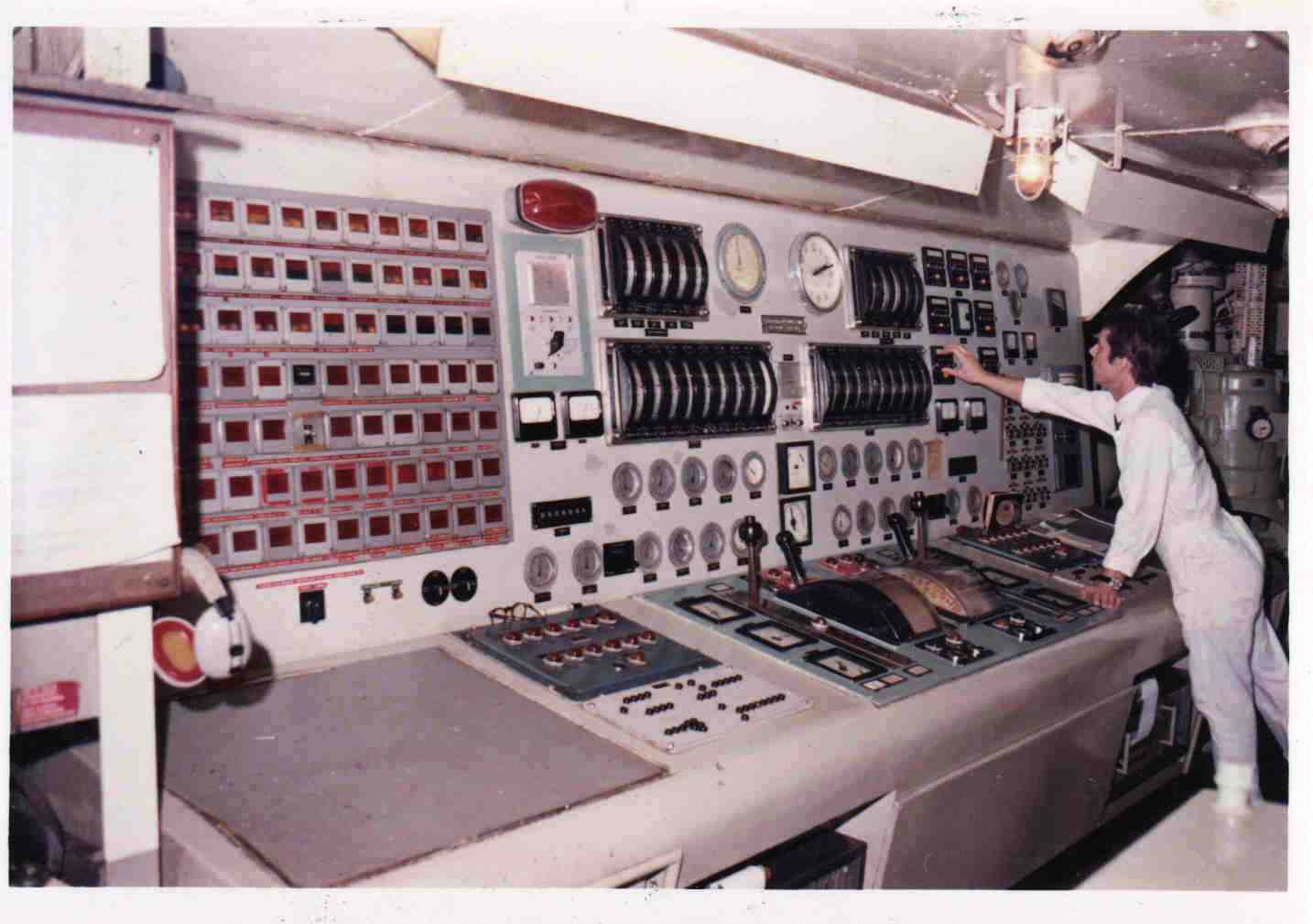 The engine control room of the MS Kungsholm, with 2:nd engineer Christer Runesson in action.
Photo: Lars Helmer.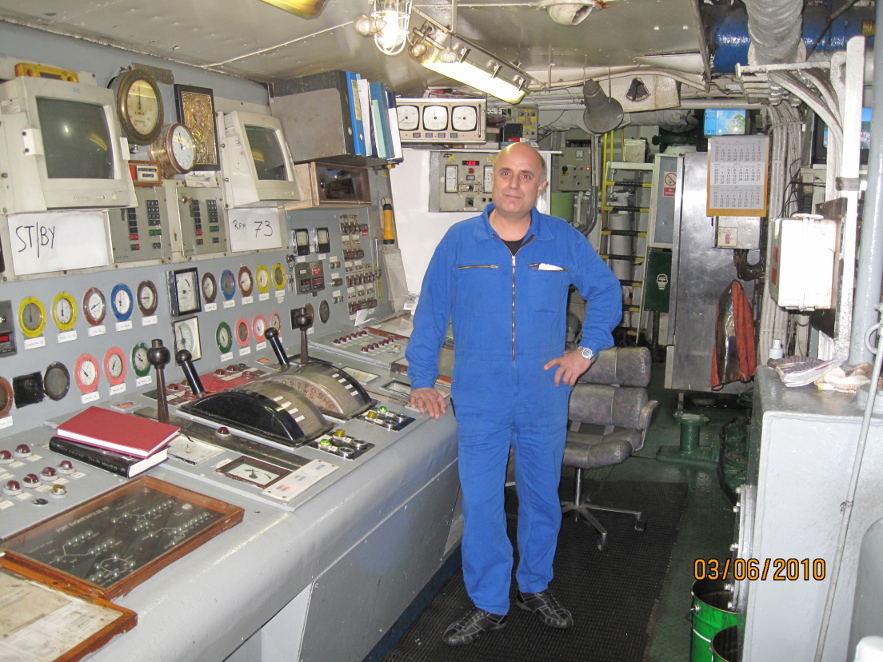 The same engine control room 37 years later on MS Mona Lisa, ex Kungsholm.
Computer screens have replaced some outdated instruments on the wall.
A Greek chief engineer is leaning by the original old machine telegraph.
Photo: Tommy Stark 2010.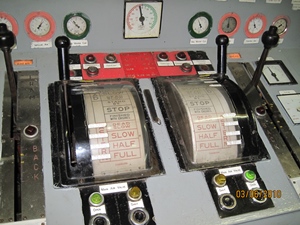 The machine telegraph of the Kungsholm is here 44 years old
and still going strong.
Photo: Tommy Stark 2010.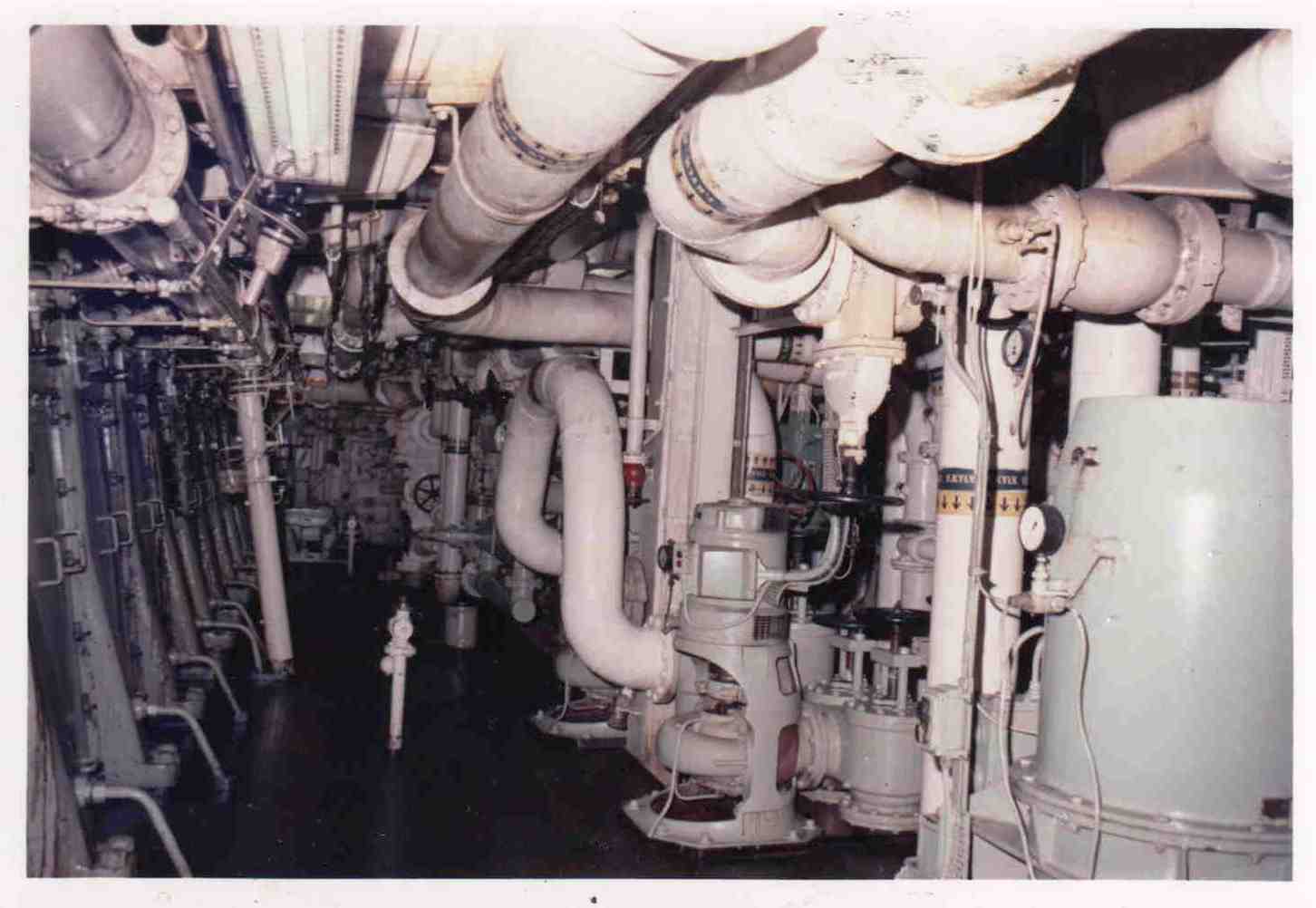 The main engine to the left and cooling water pumps to the right.
Photo: Lars Helmer.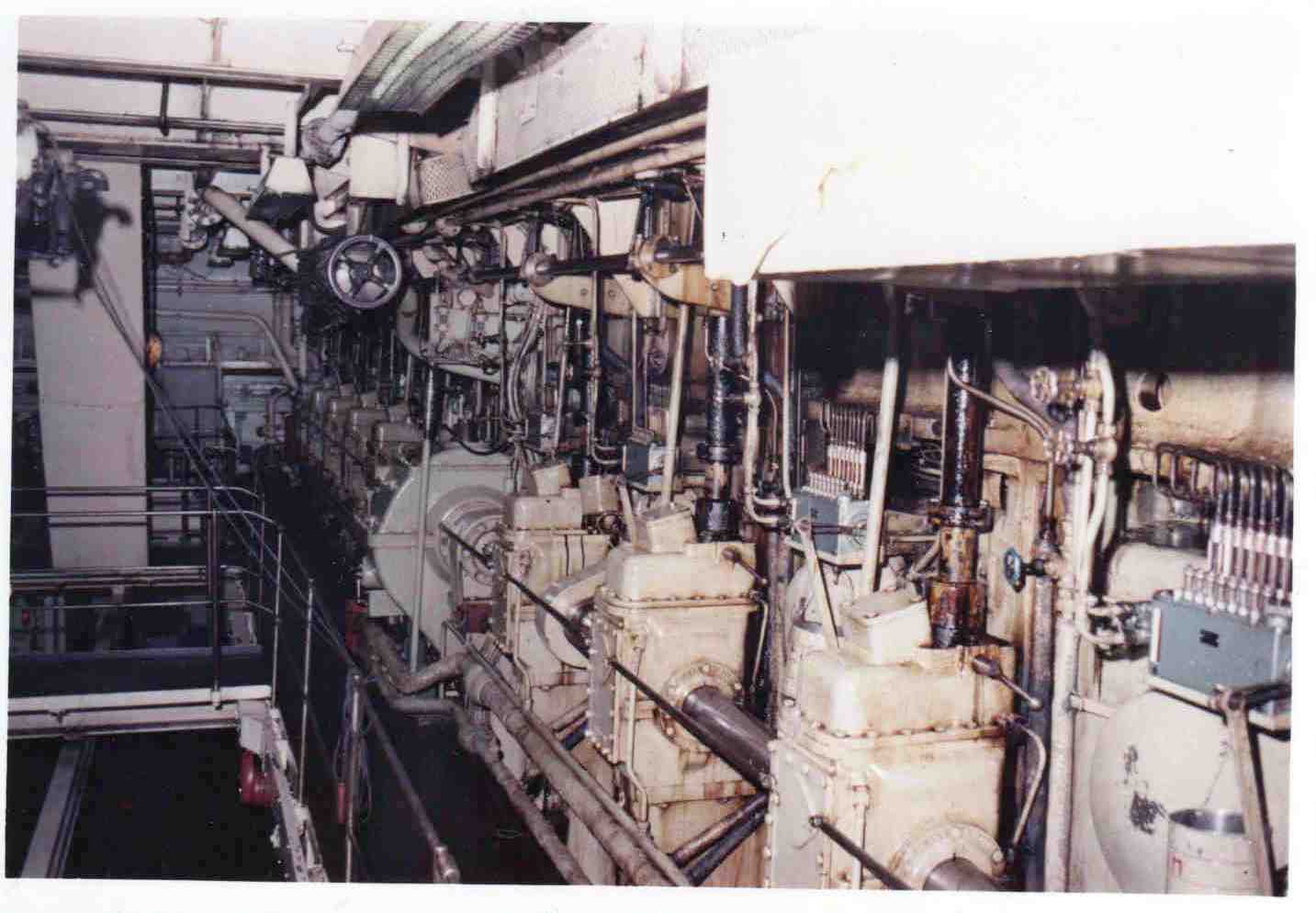 The cam shaft and its lubricator that pumps oil into the cylinder to lubricate the cylinder walls.
Photo: Lars Helmer.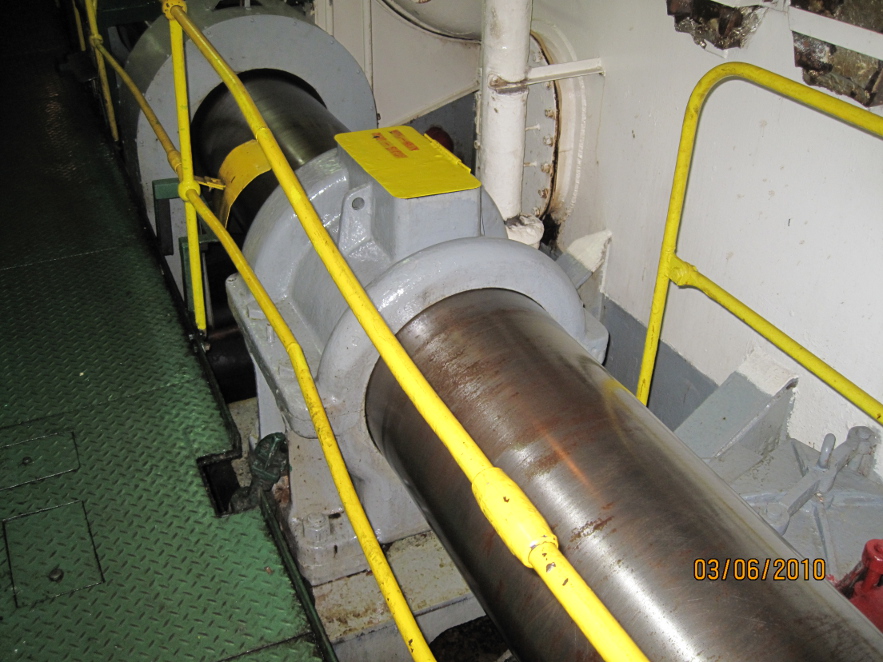 The propeller shaft of the Kungsholm did not require much maintenance, says Lars Helmer:
"We only checked the lubrication level of the bearings and kept an eye open against any overheating there." In addition, "...a good amount of sea water should always drip into the engine room trough the shaft's seal box. It must never go dry!"
Photo: Tommy Stark.