Stockholm of 1915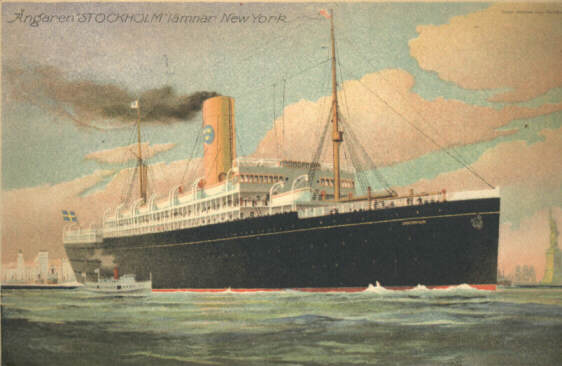 Stockholm 1915-1928.
Dear Irma, when you receive this card mother and I will be home.
We have had rather stormy weather. The boat is terribly crowded.
Mother and I both send our love to you and Hans.
Anna.
The Stockholm was purchased by SAL in 1915, from the Holland America Line,
when the North Atlantic traffic was inaugurated.
She carried 111,664 passengers across the Atlantic. In 1929 she was sold to Norway,
renamed Solglimt, and converted into a whaling vessel.
There were 2 ships named Stockholm that sailed for SAL.
Read about the Stockholm of 1948
And 2 ships named Stockholm that never sailed for SAL.
Read about the Stockholm of 1938 and 1940

Stockholm of 1915
Original name:
S/S Potsdam
Shipyard:
Blohm & Voss, Hamburg, Germany
Year:
1899
Tons:
12,975
No of passengers:
1,120
Delivered to SAL:
1915
Sold:
1928
Sold to:
Norway
Renamed:
Solglimt, 1941 Sonderburg
Today:
Scrapped in 1947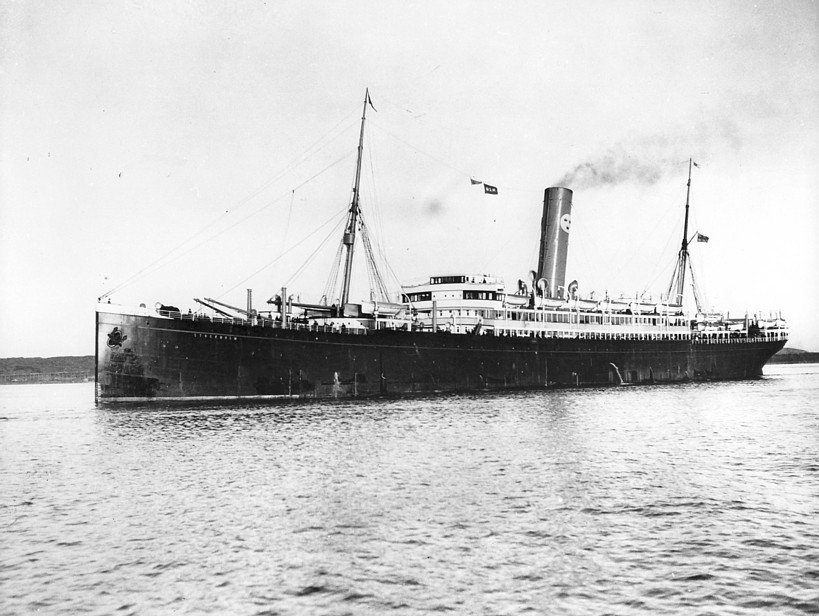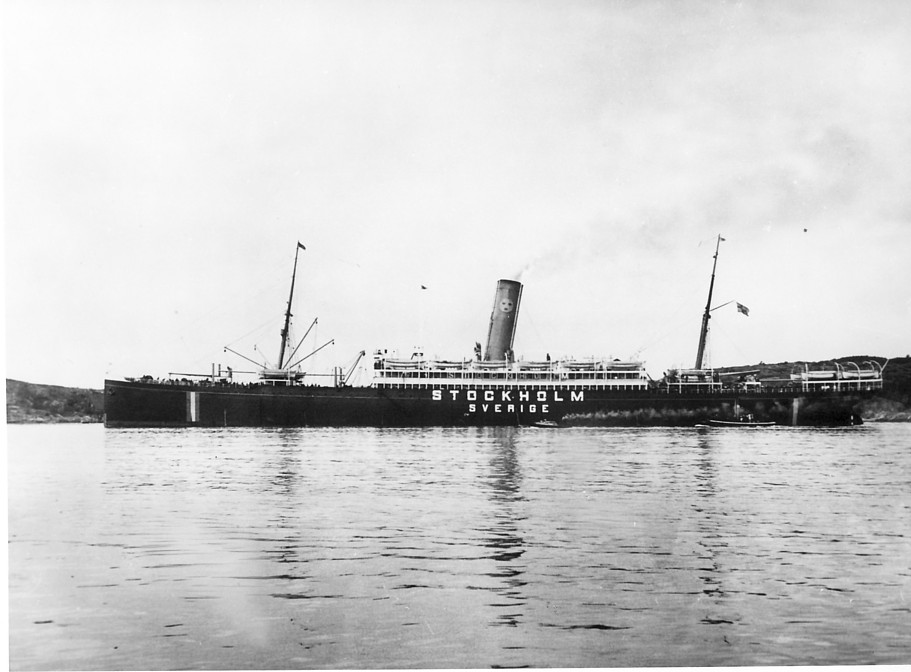 The 3rd class, traditionally on the open deck, was on the Stockholm transformed into a complete system of of cabins, thereby setting a trend toward improved travel conditions for low-fare passengers of which the Swedish American Line has been a pace-setter ever since. The Stockholm sailed on its maiden voyage from Gothenburg on December 11, 1915, under Captain Axel E. Håkansson. It was a trying experience for the 137 passengers.
Off the coast of Scotland, English naval units intercepted the liner, and forced the Stockholm to dock in Kirkwall to be searched for contraband. The mail to the U.S. was embargoed by the British authorities, which immediately resulted in the Swedish Government's refusal to let British parcel post to Russia pass through Sweden. The British, however, had good reason for their behavior. Rumors had been publicized that the Stockholm carried German bullion to be disposed of in America.
The Stockholm continued on her voyage, and after being almost at a standstill for four days in a snowstorm off Sandy Hook, she arrived in New York on December 27th 1915. Thus ended the first voyage regularly linking the two countries.
From The American Sweedish Monthly, February 1956, article by Ellis Folke. (From the Curt Dawe collection)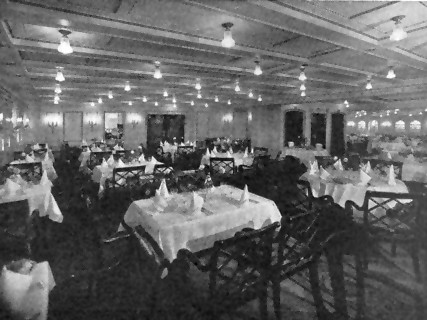 Dining Room.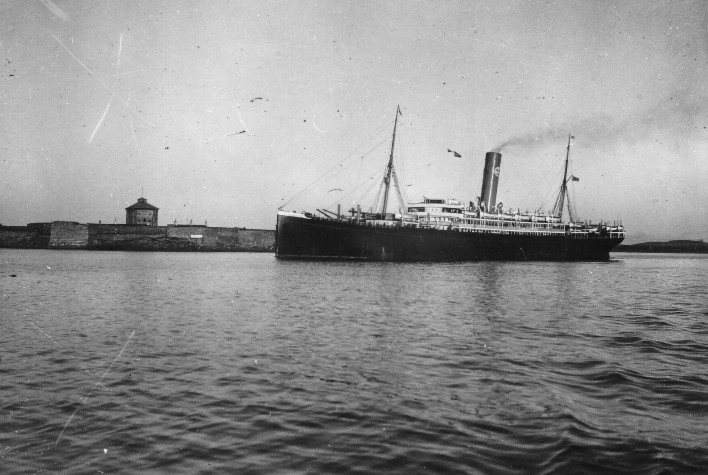 Stockholm passing the Elfsborg Fortress outside Gothenburg.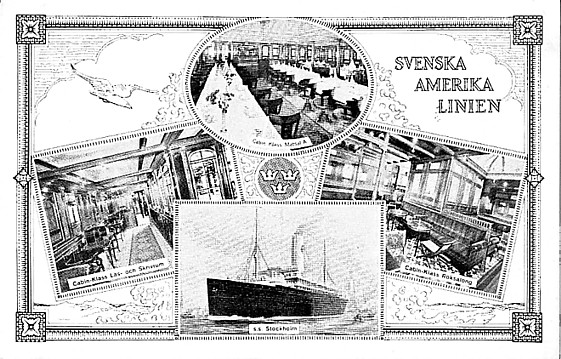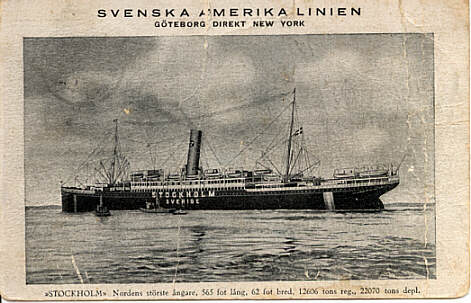 Stockholm 1915-1928.
The postcard shown above was sent by a young Swedish woman, Frida Johanna H to her mother, one day before boarding the Stockholm, bound for New York in November 1916. Two years earlier, unwed, Johanna had given birth to a son, Hilding. In those days, there was a very strong religious awakening in Sweden, especially in the northern provinces. In desperation, believing that she was sinful and unwanted in Sweden, she left her son with his grandmother, convinced it was the best solution for him. Johanna married an Englishman in the U.S., and had another child, a daughter. She never contacted her family in Sweden again, thinking it was best so. In 1972 she received a parcel of belongings from Sweden. Her son Hilding had died. In that parcel, along with a photo of herself as a child, she found this postcard. Her mother, and her son, had kept and cherished this card throughout their lives.
This postcard, and the moving story of a young Swedish emigrant, has been contributed by Johannas granddaughter, Barbro Elin Jonson, living in Rhode Island, USA.
Menu cover
Contributed by L-O Rydén
SAL map and Stockholm postcard
Contributed by Michael J Larson
Read a SAL advertisement from 1923.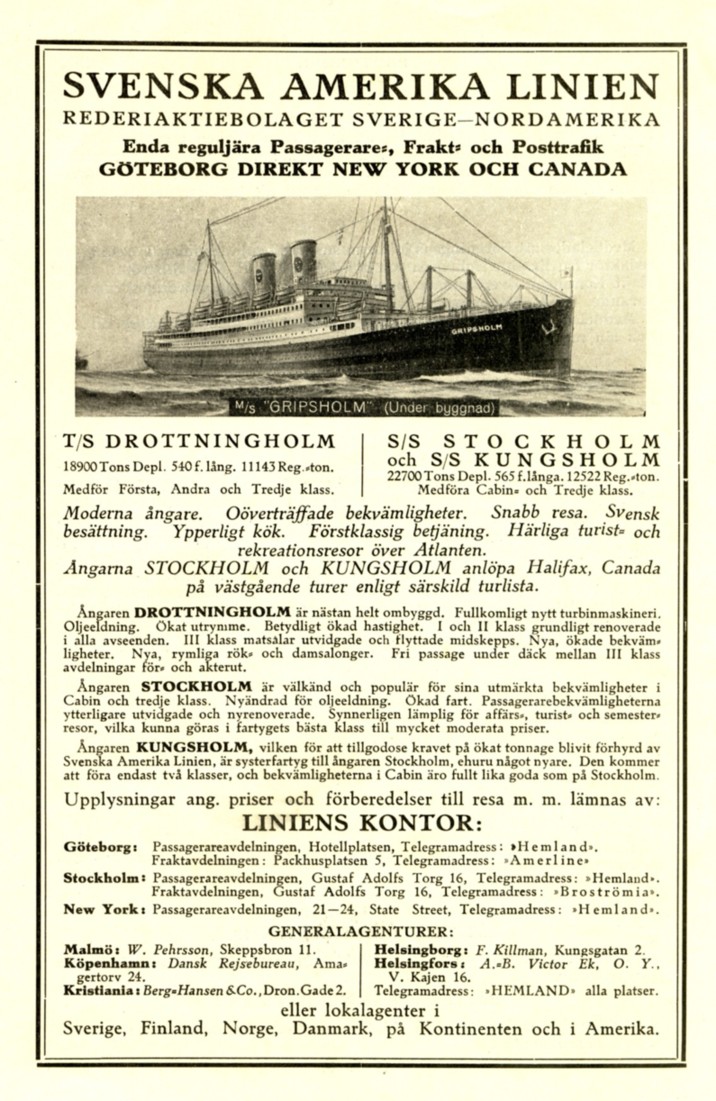 ---
Read more about the Stockholm at: Immigrant Ships, a Reference Site for Genealogists
---
More than 250 web pages developed and maintained by Lars Hemingstam ©1998-2023
Hasse Gustafsson and Tommy Stark have interviewed crew members and contributed many of the stories.

Email us
This site does not use cookies, nor do we save visitors' IP-addresses. We do not send information to any third party. If you find information or a photo about yourself, or a relative, and want do delete it, please email salship@yahoo.com, and the information or photo will be removed. (The General Data Protection Regulation (GDPR) does not apply to deceased persons.)
Denna webbsajt andvÀnder inte cookies, vi sparar inte heller besökarnas IP-adresser. Vi skickar ingen information till tredje part. Om du finner information eller ett foto om dig, eller en slÀkting, och vill ta bort det, skriv till salship@yahoo.com sÄ tar vi bort informationen eller fotografiet. (EU-regeln GDPR omfattar inte avlidna personer.)
---
The New SAL Guestbook
Since the new guestbook can take some time loading, it has been moved to a separate page, and is not being displayed at the bottom of every page.
---

---