The Exchange and Repatriation Voyages
During WWII
Page 2, Photos
During World War 2 the Drottningholm and the Gripsholm were used as repatriation ships
and made 33 voyages to exchange prisoners of war, diplomats, women and children,
between the warfaring nations.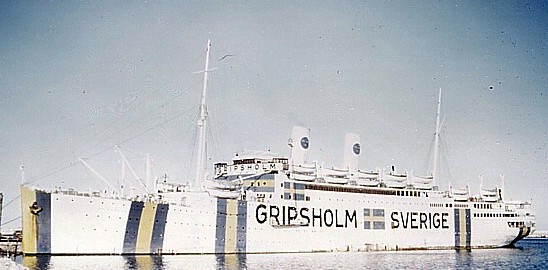 From the Dawe collection.

Can you identify any person on the photos below?
Do you have information to share, or inquiries about the Drottningholm's and Gripsholm's
exchange and repatriation voyages? Please send us an email: salship@yahoo.com
David W Smith has contributed the pictures on this page. The photos on board the Gripsholm and in port were taken by his father who was the State Department Exchange Officer exchanging Allied and Axis internees and prisoners of war. Many thanks for sharing these unique photos.
Japanese Repatriates on Board the Gripsholm
The Exchange
<< Back to the WW2 Repatriation Voyages
---
More than 250 web pages developed and maintained by Lars Hemingstam ©1998-2018

Email us
---
The New SAL Guestbook
Since the new guestbook can take some time loading, it has been move to a separate page, and is not being displayed at the bottom of every page.
---